Congressmen Bacon, Carbajal Visit UNO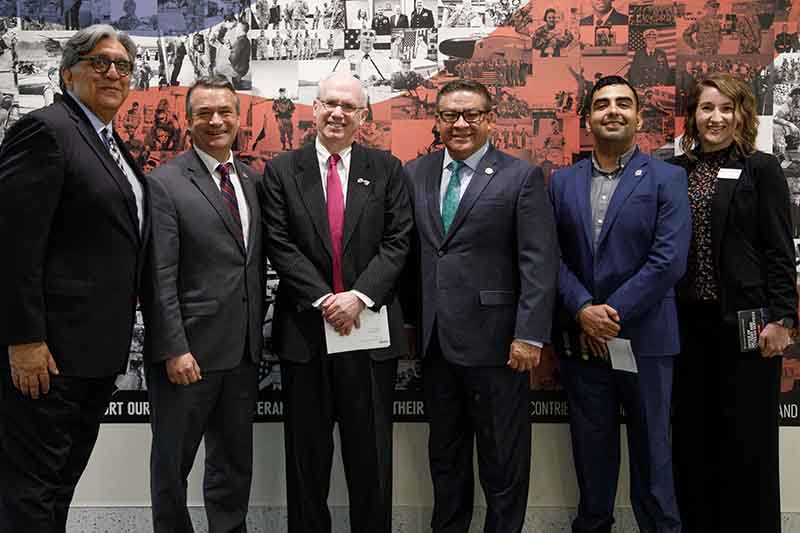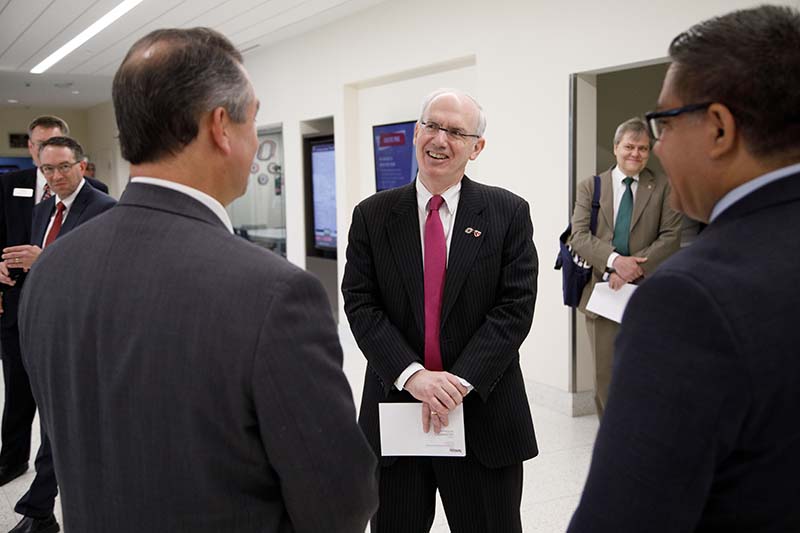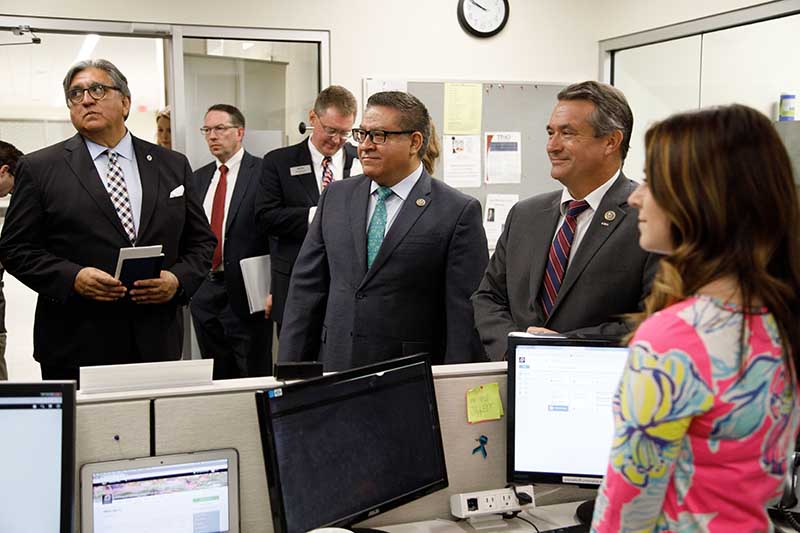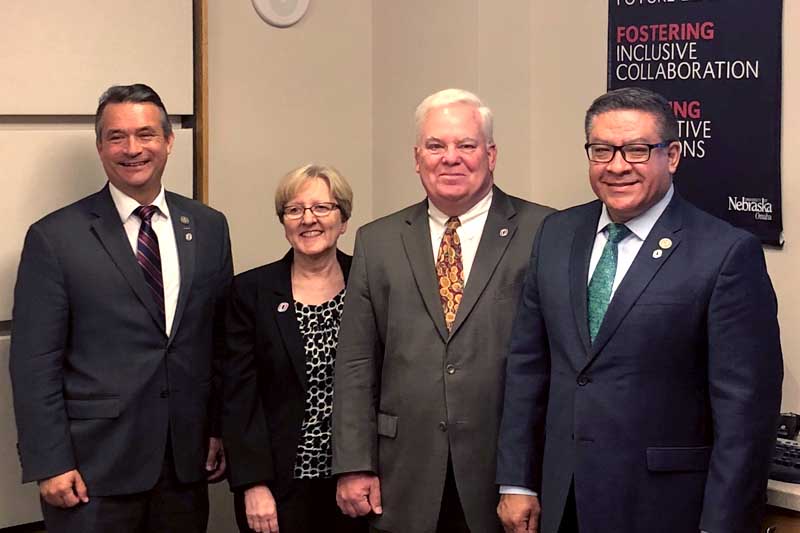 The University of Nebraska at Omaha's (UNO) commitment to students, innovative research and public service was on display as Congressman Don Bacon (R-NE) and Congressman Salud Carbajal (D-CA) visited campus on Monday, May 7, as part of a bipartisan exchange.
Monday's visit marked the last of several stops during a three-day congressional exchange effort where congressmen and women from different political parties come together to visit the others' districts and to learn about the concerns and unique perspectives of the families in their respective districts.
Rep. Bacon, who represents Nebraska's second Congressional district, which includes the Omaha metro area, hosted Rep. Carbajal, who represents California's 24th District, which includes the cities of Santa Barbara and Ventura. Later this year, Carbajal will host Bacon in his home district.
During their visit, the Congressmen had the opportunity to meet with UNO Chancellor Jeffrey Gold, who like Carbajal and nearly half of the UNO student body, is a first-generation college student. Among the topics discussed with Reps. Carbajal and Bacon were UNO's support of military students and DACA eligible students, as well as UNO's role as a public metropolitan university that is also research focused.
Chancellor Gold and the two Congressmen visited UNO's Military and Veteran Services Office, which provides support to military-affiliated students, including those who are active duty, veterans or their families. Through the Military and Veteran Services Office, UNO is able to provide these students with financial aid support in helping navigate their G.I. bill benefits as well as academic support through personal tutors in math and science, as well as dedicated study spaces.
Over the last six years, UNO has been ranked among the top 10 universities in the country for military student support, including two years as the No. 1 university in the country for military-affiliated students. UNO has also been ranked among the top five for military students pursuing degrees in business and cybersecurity.
Reps. Bacon and Carbajal also met with a number of UNO and UNO-affiliated faculty experts, including Doug Derrick, assistant professor of IT innovation; Jim Taylor senior research engineer at the National Strategic Research Institute (NSRI); John Bartle, dean of the College of Public Affairs and Community Service; and Carol Ebdon, professor of public administration.
In their meeting with Derrick and Taylor, the Congressmen discussed research being done at UNO across the Colleges of Information Science and Technology; Business; and Public Affairs and Community Service to examine violent extremism across all ideologies. Derrick explained that he and other faculty have several grants from the U.S. Department of Defense and U.S. Department of Homeland Security that they work with students on to help understand extremist recruitment efforts and self-radicalization among U.S. citizens.
The pair also discussed the success of the USSTRATCOM Strategic Leadership Fellows Program, a UNO-and-NSRI-led effort which launched in 2013 to provide collaborative training for civilian leaders at U.S. Strategic Command. The program recently celebrated its fifth year and graduated its most recent class, which included their 50th participant.
The Congressmen also met with Bartle and Ebdon to understand new opportunities for financing public infrastructure projects, including partnering with local developers to tie business development with public transportation needs, as well as opportunities to improve the defense spending budget. One specific project discussed was a new public-private partnership between the U.S. Department of Veterans Affairs and donors from Nebraska and Iowa to fund a new $86 million ambulatory care center at Omaha's VA Medical Center campus.
Overall, both Reps. Bacon and Carbajal stated the important need for cooperation across the aisle on important initiatives that benefit all Americans.
"Good legislation shouldn't be stopped because of a party label," Bacon said. "Congressman Carbajal and I are a little bit different [than House colleagues] because if we see a good idea we want to move it forward."
"I think we need to get to beyond this gridlock and partisanship and you do that through civility," Carbajal said. "To be able to see, first hand, [Congressman Bacon's] district and to see other parts of the country, I get to experience such diversity of issues and perspectives."
In addition to UNO, Reps. Bacon and Carbajal visited Saturday's Cinco de Mayo parade; Whispering Roots, a nonprofit dedicated to bringing healthy food and innovative agriculture techniques to urban areas; and Offutt Air Force Base's 55th Wing.
About the University of Nebraska at Omaha
Located in one of America's best cities to live, work and learn, the University of Nebraska at Omaha (UNO) is Nebraska's premier metropolitan university. With more than 15,000 students enrolled in 200-plus programs of study, UNO is recognized nationally for its online education, graduate education, military friendliness and community engagement efforts. Founded in 1908, UNO has served learners of all backgrounds for more than 100 years and is dedicated to another century of excellence both in the classroom and in the community.
Follow UNO on Facebook, Twitter, Instagram, TikTok, LinkedIn, and YouTube.