UNO Named Top Public University for Military, Veteran Students Studying Cybersecurity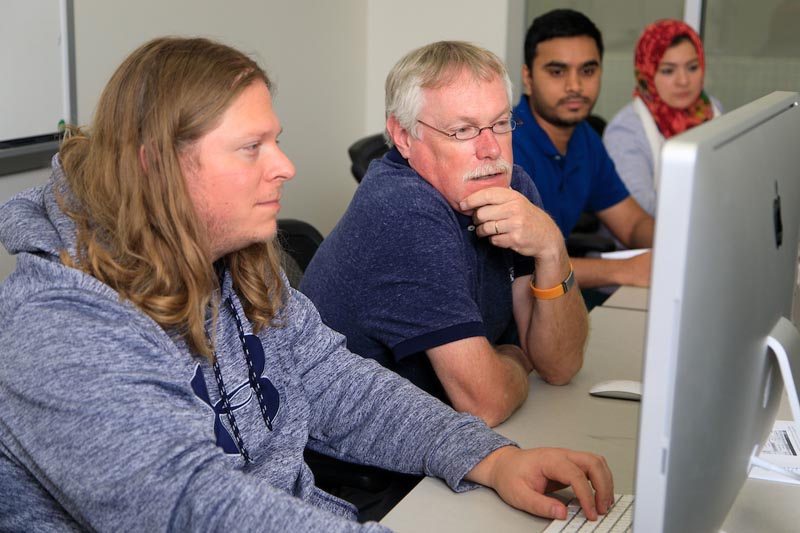 OMAHA – A new ranking has identified the University of Nebraska at Omaha (UNO) as the top public university for military and veteran students hoping to pursue a degree in cybersecurity.
The rankings were released Monday, Feb. 5, by Military Times, the nation's leading publication of military-related news for service members and their families. UNO's placement puts them at No. 2 overall, ahead of eight other public and private institutions on the list, including the University of South Florida, University of Southern California and Texas A&M University.
This is just the second year that Military Times has compiled a list of the nation's top cybersecurity programs specifically for service members and their families. This year's ranking mirror's the inaugural rankings in 2017, where UNO was identified as the top public university and No. 2 university overall.
The Military Times rankings were determined by evaluating programs on categories such as overall enrollment, military enrollment, recognition from the National Security Administration (NSA), accreditation and number of degrees conferred.
"Our military and veteran-affiliated students are irreplaceable members of our college, and we could not be prouder to support them on their career paths." said Hesham Ali, dean of the College of Information Science and Technology. "We recognize it as our responsibility to provide them with innovative education, help them advance their careers and admire their sacrifices and commitment to our country."
The new rankings come on the heels of a sixth consecutive year of being selected by Military Times as one of the nation's top 10 higher education institutions from a list of more than 600 colleges and universities. Military Times' Military Friendliness rankings were released last November.
"UNO is the perfect place for veterans pursuing a career in any STEM field," explained Leah Meyer, interim director for UNO's Office of Military and Veteran Services. "Our office has created a career-based learning community that partners with area employers leading the industry to provide students the opportunity to network within the field before they graduate for an easy transition to full-time employment at the end of their degree."
Additionally, UNO's cybersecurity program was recently designated by the NSA as a National Center of Academic Excellence in Cyber Operations, one of just 17 institutions in the nation with such a distinction. The recognition also makes UNO's program one of a handful that have NSA recognition for both Cyber Operations as well as Cyber Defense.
UNO's cybersecurity program was founded just 10 years ago, but today features faculty research and partnerships including the NSA, Department of Defense, Department of Homeland Security, United States Strategic Command, NATO and others. The program also includes faculty that work closely with the USSTRATCOM Strategic Leadership Fellows Program, providing professional development to civilian employees within the United States Strategic Command.
"Any IT field, and especially cybersecurity – it's just booming right now because there's always demand for it," Ian Larkin, a UNO cybersecurity major, told MilitaryTimes.
The UNO College of Information Science and Technology is also providing support to the families fallen veterans through a partnership with the Defense POW/MIA Accounting Agency (DPAA) to launch a new process of identifying comingled remains of unidentified soldiers.
More information about UNO's cybersecurity program can be found on the College of Information Science and Technology's website.
The complete list of ranked programs can be found at the Military Times website.
Academic resources for service members and their dependents, including learning communities, can be found at UNO's Office of Military and Veteran Services.
About the University of Nebraska at Omaha
Located in one of America's best cities to live, work and learn, the University of Nebraska at Omaha (UNO) is Nebraska's premier metropolitan university. With more than 15,000 students enrolled in 200-plus programs of study, UNO is recognized nationally for its online education, graduate education, military friendliness and community engagement efforts. Founded in 1908, UNO has served learners of all backgrounds for more than 100 years and is dedicated to another century of excellence both in the classroom and in the community.
Follow UNO on Facebook, Twitter, Instagram, TikTok, LinkedIn, and YouTube. 
Contact Us
If you have a story idea, news tip, or other question, please email the UNO News team at unonews@unomaha.edu.