NU, USSTRATCOM Program Celebrates Fifth Year, Welcomes New Participants
published: 2018/01/10
contact: Charley Reed - University Communications
email: unonews@unomaha.edu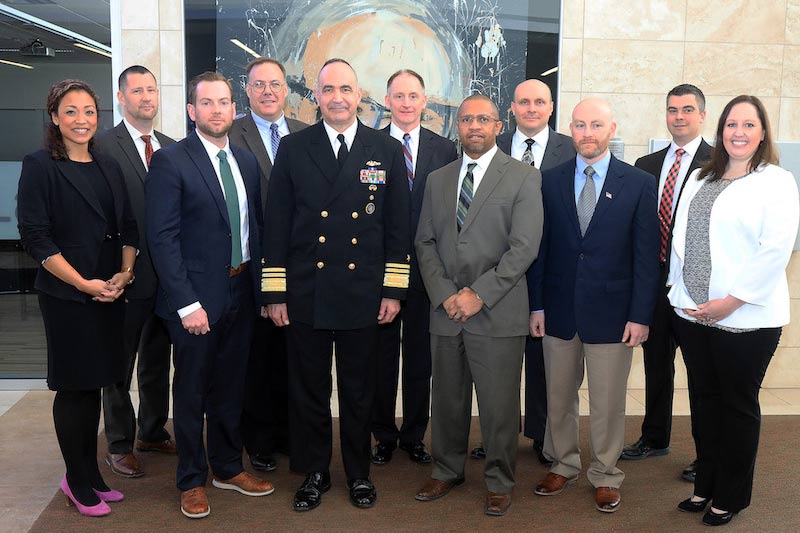 OMAHA - On Thursday, Jan. 18, a select group of 10 civilian employees from the United States Strategic Command (USSTRATCOM) started a program where they will work with faculty from across the University of Nebraska system to enhance their skills to help keep the country safe.
The USSTRATCOM Strategic Leadership Fellows Program is a 13-week, graduate-level course designed and organized by representatives from the University of Nebraska at Omaha (UNO) and the Nebraska's National Strategic Research Institute (NSRI), a University of Nebraska-wide institute that provides national security solutions to USSTRATCOM and other Department of Defense (DoD) agencies.
Jan. 18 marked the beginning of the program's fifth year with a special welcoming ceremony hosted at Mammel Hall, home to UNO's College of Business Administration.
In attendance at the event were USSTRATCOM Deputy Commander Vice Admiral Charles Richard; University of Nebraska President Hank Bounds; UNO and UNMC Chancellor Jeffrey Gold; UNO College of Business Dean Louis Pol; UNO College of Arts and Sciences Dean David Boocker; UNO College of Information Science and Technology Dean Hesham Ali; as well as more than a dozen alumni of the USSTRATCOM Strategic Leadership Fellows Program and about 10 of the faculty members who will be providing the lessons for this year's cohort.
Chancellor Gold welcomed the new cohort and praised the program's focus on leadership, which he described as one of humanity's greatest, understated values.
"The Department of Defense, the US military, has recognized this for a very long time," he said. "The ability to lead, to change people's motivations is not a simple thing. Now I get to see it up front and personal and see how you garner experiences from UNO and elsewhere."
Addressing the program's newest members, Vice Admiral Richard stressed the importantance of this program to national security.
"You are all at the very tip of the spear, along with the [Fellows Program] alumni, who are going to put in the hard intellectual work to rethink how we do deterrence and defend this nation."
Launched in 2014 as a first-of-its-kind partnership between UNO, NSRI and USSTRATCOM, the USSTRATCOM Strategic Leadership Fellows Program teaches participants skills in areas such as team building, collaboration management, data-driven decision making and project management, combined with mission-core competency development. For the first time, all members of this year's program have previous military experience.
Overseeing this year's USSTRATCOM Fellows Program is Jim Taylor, senior research engineer at NSRI.
"Each year, the USSTRATCOM Leadership Fellows Program continues to grow and help build the professional expertise of those who do so much to keep our nation safe," Taylor said. "It is truly a testament to the strong commitment to collaboration between NU faculty, the staff at USSTRATCOM and our community partners."
Throughout the 13 weeks, a group of 22 faculty will oversee coursework and research projects at Mammel Hall's Executive Decision Labratory, as well as on-site visits to the University of Nebraska-Lincoln and UNMC campuses.
Participants will also have the opportunity to learn from the leadership of various Nebraska business and organizations, such as Baxter Arena and the Henry Doorly Zoo; as well as tour Nebraska's Capitol Building and meet with some Nebraska State Senators.
"It is vital that we expose our program participants to organizational structures and management skills that are different than those they see in their day-to-day roles in USSTRATCOM," Taylor said. "Each Fellows graduate leaves with a diversified skill set that they can bring back to their units and respective staff to spur positive organizational change that enhances the USSTRATCOM mission."
Following completion of the program, marked by a graduation ceremony in April, participants will return to their positions at USSTRATCOM with certificates of completion. Participants are also provided credit towards a UNO graduate degree by completing the Strategic Leadership Fellows Program coursework.
About the University of Nebraska at Omaha
Located in one of America's best cities to live, work and learn, the University of Nebraska at Omaha (UNO) is Nebraska's premier metropolitan university. With more than 15,000 students enrolled in 200-plus programs of study, UNO is recognized nationally for its online education, graduate education, military friendliness and community engagement efforts. Founded in 1908, UNO has served learners of all backgrounds for more than 100 years and is dedicated to another century of excellence both in the classroom and in the community.
Follow UNO on Facebook, Twitter, Instagram, TikTok, LinkedIn, and YouTube. 
Contact Us
If you have a story idea, news tip, or other question, please email the UNO News team at unonews@unomaha.edu.