New Homepage Focuses on Prospective Students and What They Have in Mind About UNO
Five years of user behavior, click tracking, and pathway analysis continues to help UNO's evolution on digital channels.
contact: University Communications - Digital Communications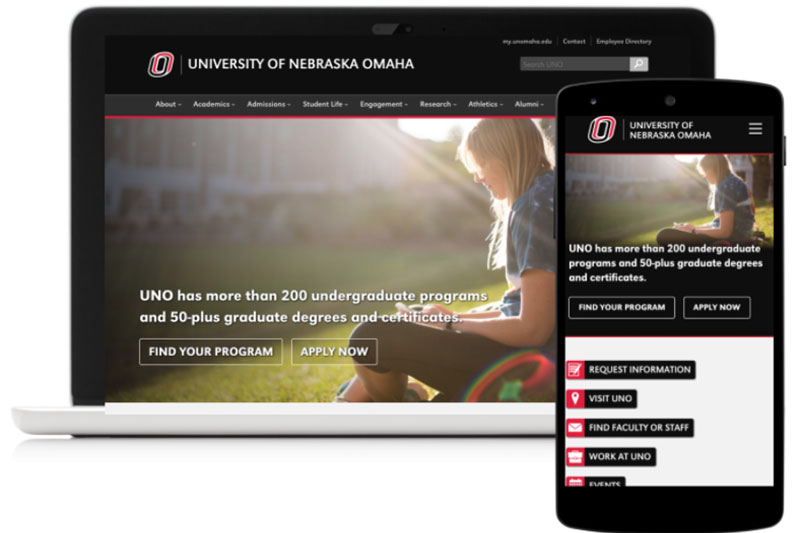 It's been exactly five years since UNO updated its homepage and subsequent website through a successful eight-phase conversion project, sponsored by the Digital Communications Executive Committee.
Later today, the UNO homepage will undergo a refresh to help with student recruitment and more immediate accessibility of the information our students, faculty, and staff continually seek, as shown through analytics.
Below is a breakdown of the upcoming changes and why we made them.
What Won't Change
Before breaking down the new homepage, it's important to note nothing will change for the navigation or service links and search box at the top of the page.
My.UNOmaha.edu, Search, and Majors and Programs under the Academics menu account for more than half of the clicks on the homepage. The heat map below shows top clicked areas of the header, as well as a list of top-clicked items.

| Link | Percentage of Clicks |
| --- | --- |
| my.unomaha.edu | 36.5% |
| Search | 12.7% |
| Majors and Programs | 2.4% |
| Admissions | 1.1% |
| Work at UNO | 1.0% |
Standard Hero with Calls to Action for Prospective Students
The "hero image" as we call it, has become an industry standard in Higher Education. For the last five years, we've used it for news and events—rotating three items throughout the week and updating the first slide almost every day. Today's usability and click research defies such a strategy.
Less than 2 percent of users click the first hero image for news and events and almost no one ever sees or clicks the second and third slide. If you do, you're in a very select company! Almost every user to our website does only two things: use the search bar or log-in, and most of those are faculty and staff who come back every day to our website and know where to find things.
We want to make it clear to that next biggest group of visitors (prospective students) who don't know where things are, where our programs are and how to find them, how much they cost, and how to apply. That will be a main focus and call to action for the NEW HERO.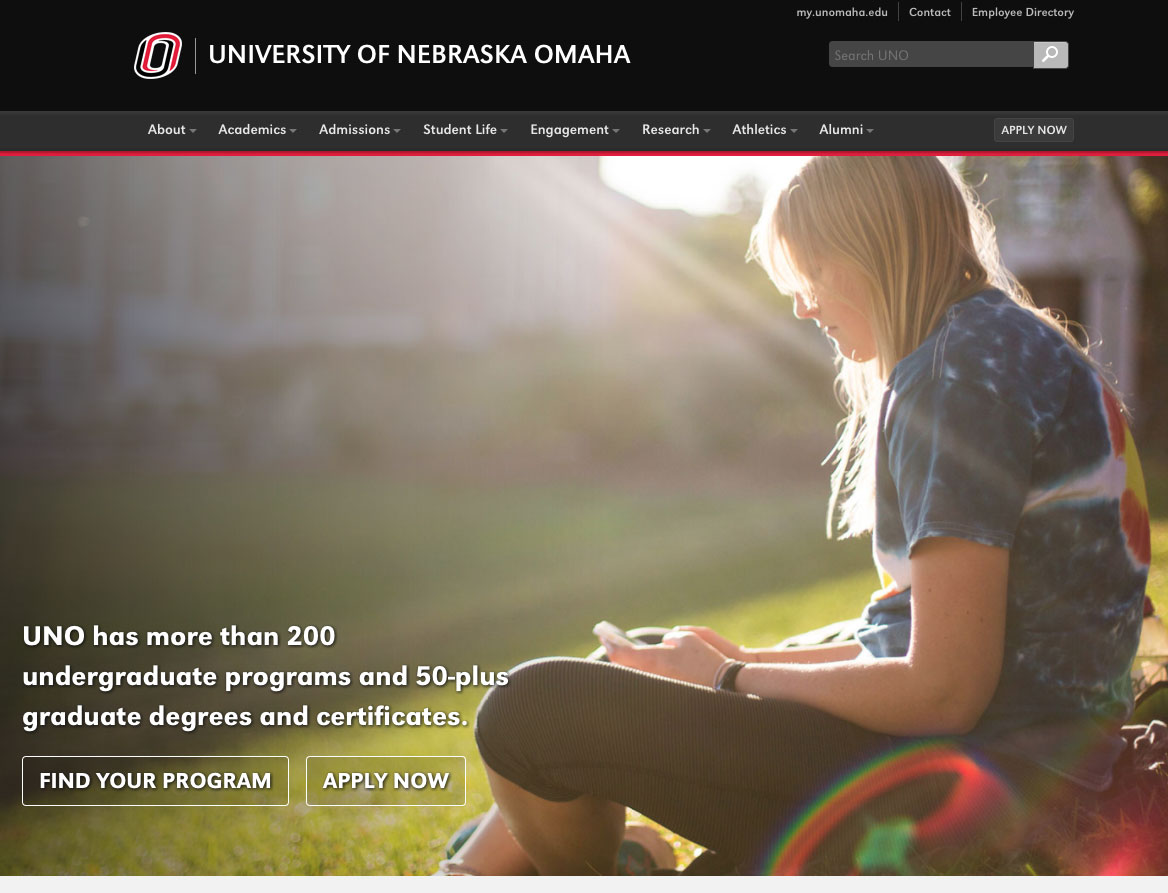 Occasionally, if the President of the United States pays a visit for example, or when our sports teams go to the national championship, the photo and secondary call to action (Apply Now) may touch on that.
Now, our main goal is to showcase to prospective students our amazing photos of campus, and where to find a program at UNO.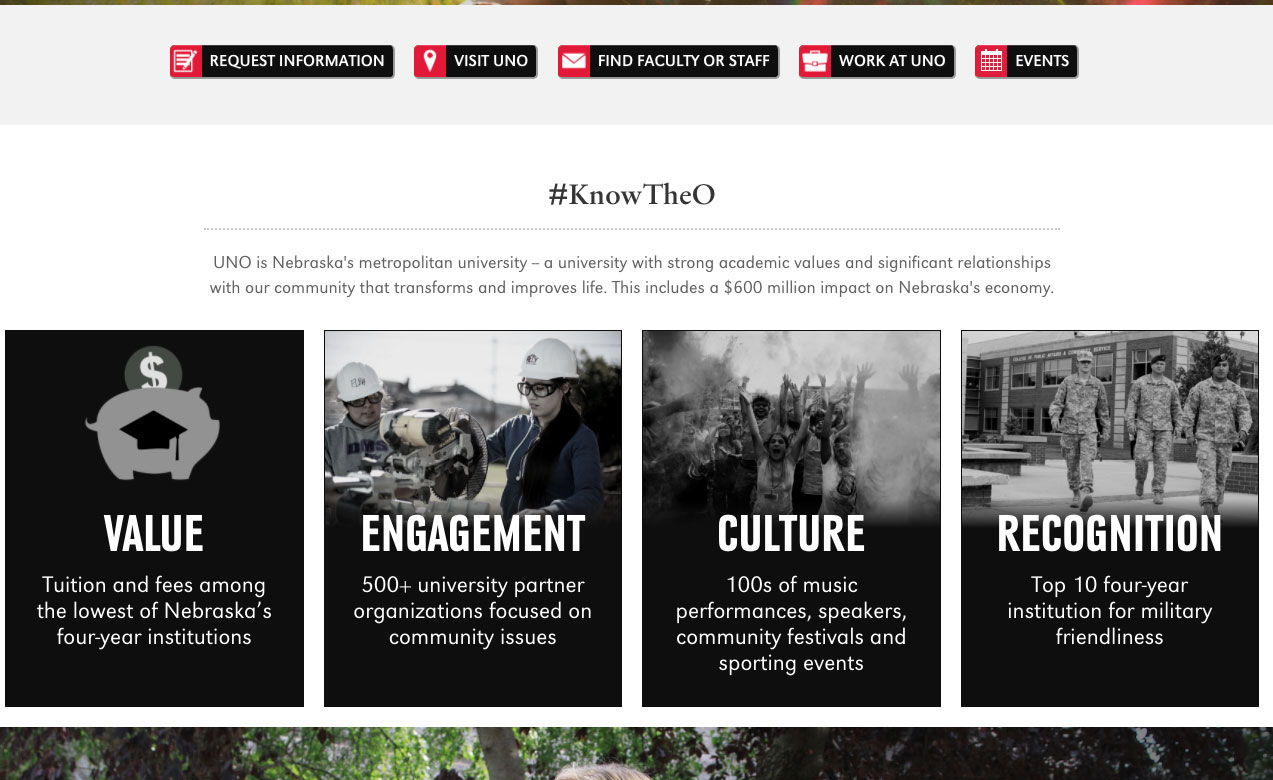 Five Call to Action Buttons for Top Tasks and Goals
We live in a mobile world. Almost everyone has a phone or tablet. People want to find programs, people, jobs, and how to get to campus while on the go.
Two main tasks the prospective student wants to accomplish when visiting our site are requesting more information and visiting campus. Many people who don't know our university also use the directory and contact us pages, as well as search for open job positions. Our big three website goals remain:
Study and do research here
Work here
Visit or contact us to engage here
That's what this section is all about.
Facts, Figures, and #KnowTheO Information
Not everyone, even our faculty, staff, students, and alumni, #KnowTheO to the fullest. And this is most important to prospective students who start to scroll. By the way, people do scroll. This is documented by our research both at UNO and within other industries, especially new visitors or people who are engaged by the content.
This section will have four key facts or figures that build off our Advantage and Fact Books just like our other eight top level pages on the website. These will be updated annually to reflect the work of the Advantage and the Fact Book, and aligned to strategic priorities focusing on:
Value

Engagement

Culture or Events

Recognition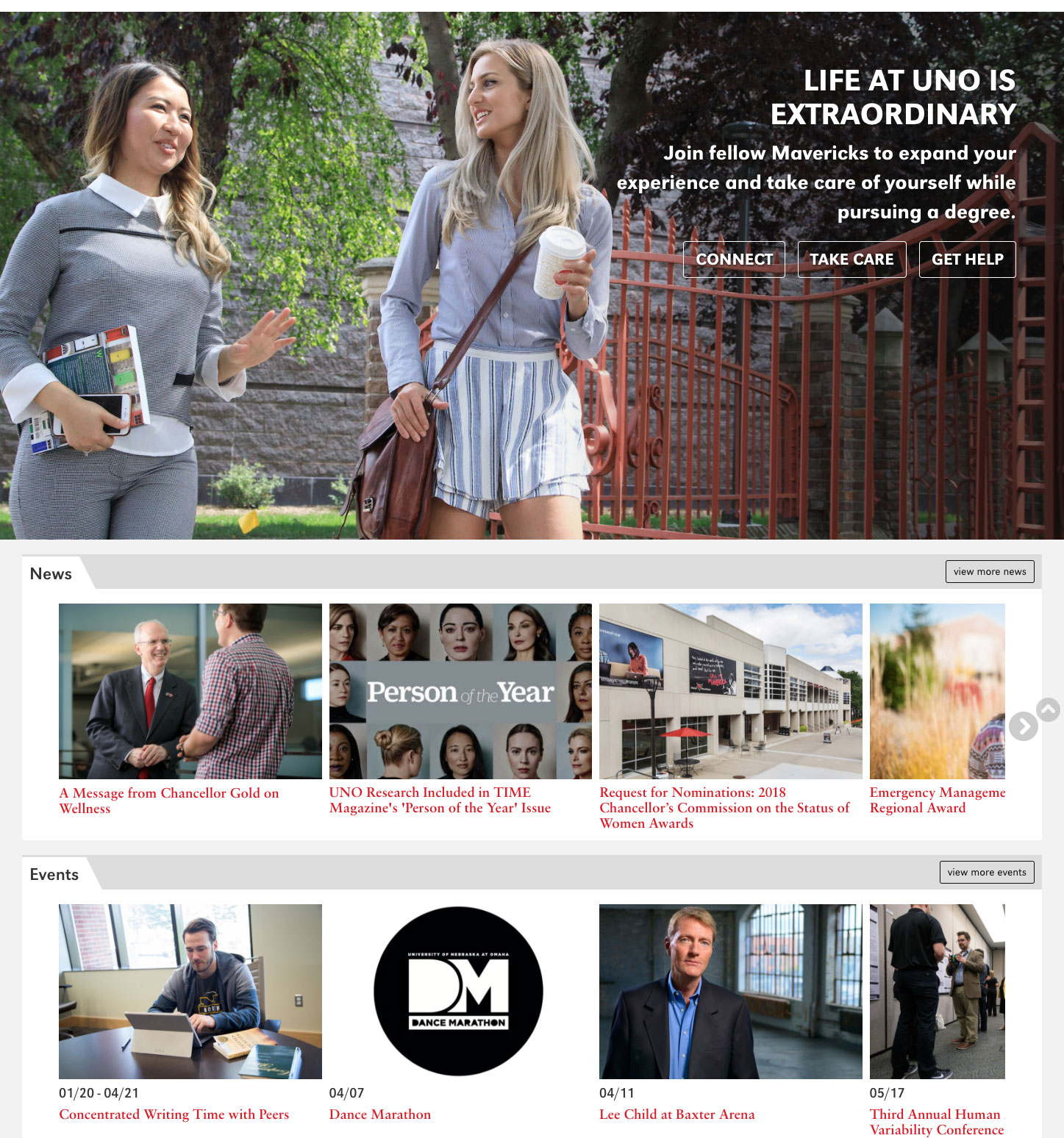 Life at UNO
A second hero section will focus on campus life and things students could get involved in or get help with. Multiple calls to action will overlay a vibrant, engaging image to ensure a prospective student who may be interested gets more information on a potential program, service, or opportunity they may not have known about otherwise.
Seasonally and during the semester, this image may change, but the calls to action will likely remain somewhat consistent.
News and Events
As you read, you may have thought, "Where'd my news and events go?" Again, you'd be in select company, because most people read our news through the MavDaily and Bullseye newsletters, as well as social media, and some via the UNO News Center and Events Calendar.
The days of going to a homepage to find news or events are over. Most people are using social media or search, or have signed up to receive notifications or emails for things they are interested in.
We want to focus on the prospective student so we've moved this down the page. The design is changed to include up to four teasers for desktop users, so for those who still like to get their news via the homepage, one short scroll will take you there. We also encourage you to bookmark our UNO News Center and Events Calendar pages and, last but not least, follow UNO on social media and other digital channels: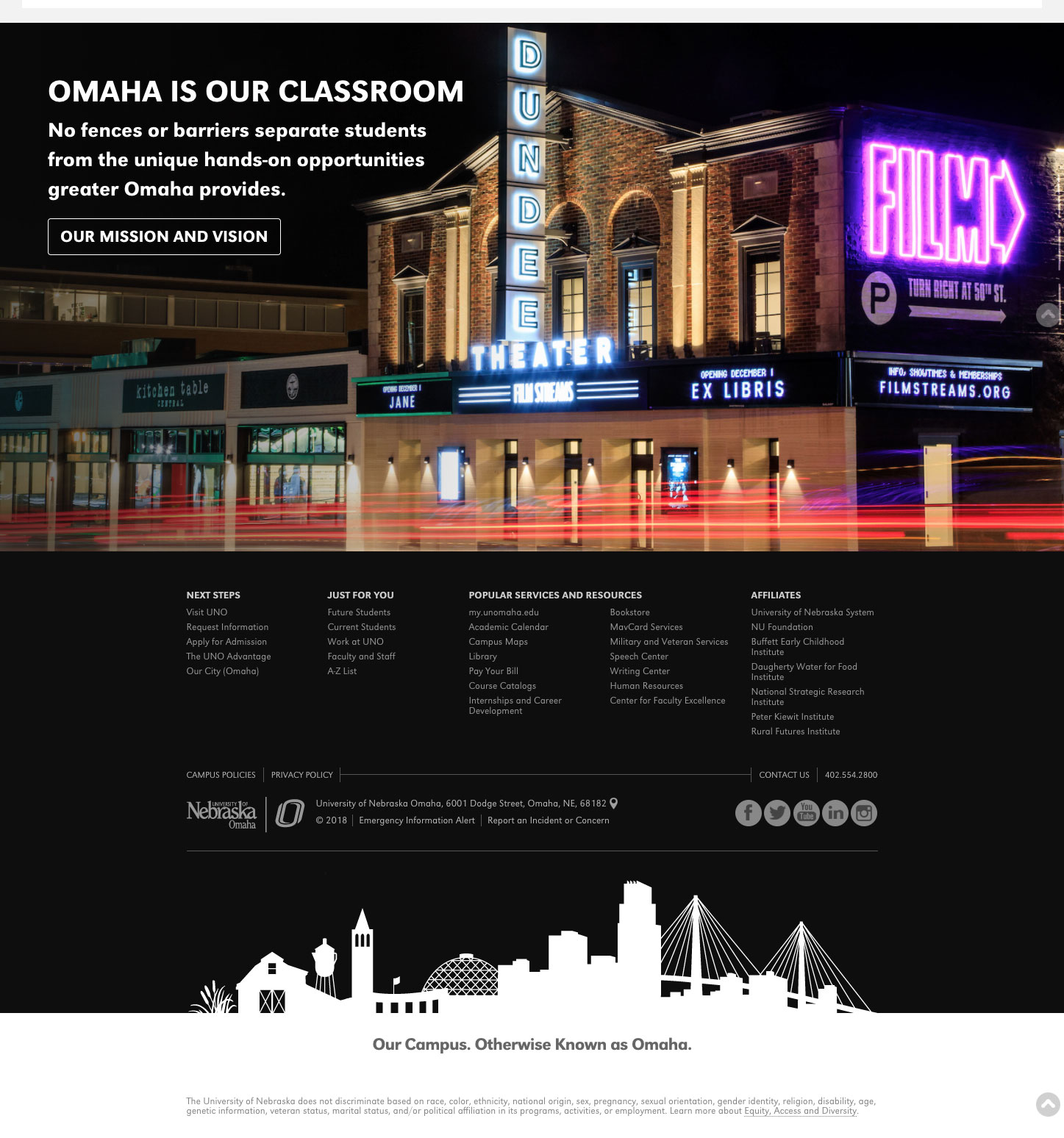 Our Metropolitan University Mission
As an anchor to our homepage, we want to make it clear we are THE premier metropolitan university in the country, dedicated to Omaha and Nebraska. For those who don't know what we are about, there is a clear call to action to our updated Mission and Vision page, as well as our Strategic Plan.
This hero will remain static with occasional seasonal changes showing the great metropolitan cityscapes and our campuses embedded within it. Prospective students who reach this point should get the feeling of how many opportunities are at UNO, and why location matters.
Our Global Footer
As a reminder, we updated the footers in early 2016 to expand the services and links, as well as add design re-enforcing the metropolitan university focus of Omaha and our region with the cityscape.
Although some people often don't think the footer gets used, our research proves otherwise. We also expanded opportunities for colleges and their departments to customize local footers. You can see through several examples how many visitors use the footer to find contact information and/or links for services on campus.
Next Steps
Most areas have web leads to assist you if you have questions about your college or department web pages. The Digital Communications teams (ITS, UComm, and the web leads) led by the Digital Communications Executive Committee, have spring and summer projects laid out on the roadmap.
The roadmap for 2018 includes:
College, Department, and Centers Homepage template refresh
Creation of building templates and maps update
Profile template updates to assist faculty and staff
If you have additional questions or project ideas, please contact your lead, or University Communications through Start Your Project.
Contact Us
If you have a story idea, news tip, or other question, please email the UNO News team at unonews@unomaha.edu.