U.S. News & World Report Ranks UNO Degrees Among Nation's Top Online Offerings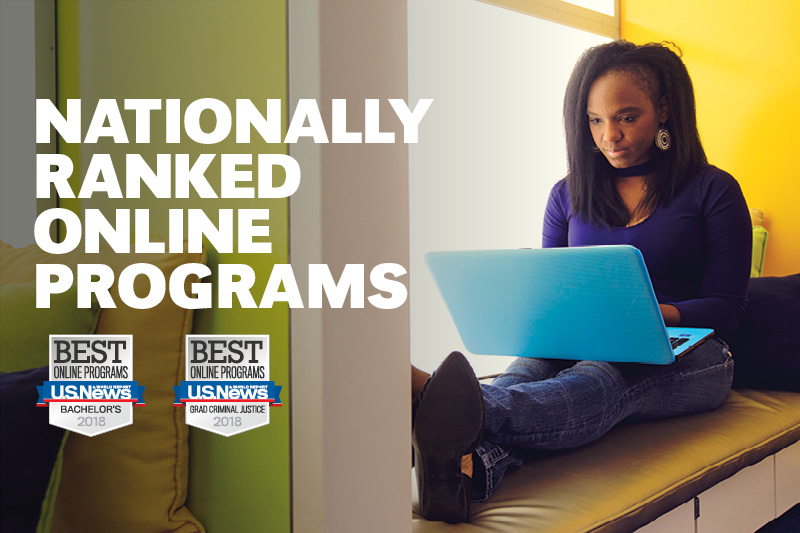 Rachel Fox, a business owner and mother of 10, is one of the thousands of students making use of UNO's nationally-ranked online Bachelor of Multidisciplinary Studies program
Two online programs from the University of Nebraska at Omaha (UNO) have been selected as among the best in the nation in an announcement made today by U.S. News & World Report.
According to the 2018 U.S. News & World Report Best Online Programs rankings, UNO's online Bachelor of Multidisciplinary Studies (BMS) degree ranks No. 16 in the nation of online undergraduate degree programs with the online Master of Science in Criminology and Criminal Justice degree ranking third in its field among comparable programs nationwide.
The selections put UNO's programs as the top public degree offerings in Nebraska at the undergraduate and graduate levels. Currently, UNO online learning serves more than 9,000 students who come from 78 Nebraska counties, 44 states and 47 countries.
Both of UNO's ranked degree programs are housed in the College of Public Affairs and Community Service (CPACS), which also includes online degree programs for a Bachelor of Science in Criminology and Criminal Justice; a Bachelor of Science in Emergency Management; a Masters of Public Administration; a Master of Arts in Social Gerontology; undergraduate certificates in Gerontology and Tribal Management and Emergency Services; and graduate certificates in Gerontology and Public Management.
"Access to quality higher education is critically important to developing the workforce of tomorrow," CPACS Dean John Bartle said. "These two programs provide the opportunity for a top-notch education without the barriers of distance, at a relatively low price. Those looking to move forward in their careers can do so today at UNO."
UNO's BMS degree (formerly known as General Studies) was formed in 1951 and stands as one of the nation's oldest bachelor's degrees for adult learners, transfer students and military-affiliated students. The program began offering distance learning courses in 1997 and launched its fully-online degree program in 2007.
The program offers 50 different areas of study and provides flexibility for student course selection and degree design, which can help align the student's degree to match their individual career goals, personal aspirations or help them prepare for further studies in graduate school.
The BMS degree is part of UNO's Division of Continuing Studies, whose staff provide a wide range of services to those seeking degree completion, including transcript reviews for any student prior to enrollment.
"We want to make sure students are able to earn the degree they want in a time and manner that works for them," said Katie Sup Rezac, interim director of the Division of Continuing Studies. "I think this recognition by U.S. News & World Report is a testament to our hardworking staff and the support we receive across the entire UNO campus in helping students achieve their goals."
---
---
UNO's Master of Science in Criminology & Criminal Justice is a degree program designed to meet the needs of criminal justice professionals as well as traditional students who want online education options as they pursue a career in criminal justice.
The 36-hour program can be taken entirely online, entirely in the classroom or a combination of both. Courses focus on discussing the current state of scientific knowledge on topics that range from terrorism to victimology, corrections and juvenile justice.
"We are pleased to once again be recognized as a top graduate program in the U.S." noted Gaylene Armstrong, Ph.D., director of the School of Criminology and Criminal Justice. "As an educator, it is equally exciting to know that our criminal justice agency and community partners in Nebraska and throughout the country recognize and value the importance of a graduate education as an important stepping stone among their future leaders. We continue to expand our role as a leader in criminal justice education and enhance our role as a critical resource to our community partners."
All told, UNO offers seven fully-online undergraduate degree programs and seven fully-online graduate programs, with 100 percent of UNO's general education requirements able to be completed online.
Over the past two years, UNO has increased the number of online course selections by nearly 50 percent, leading to nearly 90 percent of all undergraduate students having participated in at least one online course.
About the University of Nebraska at Omaha
Located in one of America's best cities to live, work and learn, the University of Nebraska at Omaha (UNO) is Nebraska's premier metropolitan university. With more than 15,000 students enrolled in 200-plus programs of study, UNO is recognized nationally for its online education, graduate education, military friendliness and community engagement efforts. Founded in 1908, UNO has served learners of all backgrounds for more than 100 years and is dedicated to another century of excellence both in the classroom and in the community.
Follow UNO on Facebook, Twitter, Instagram, TikTok, LinkedIn, and YouTube.