Nationally-Ranked BMS Degree Helps Students Achieve Their Dreams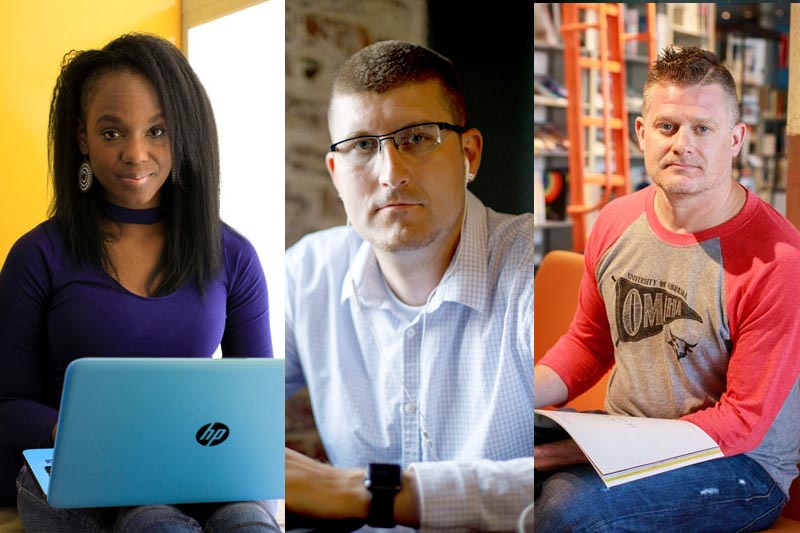 Since 1951, UNO's Division of Continuing Studies has changing the lives of students by providing flexible degree options and, since 2007, thousands of students have made use of the nationally-ranked Bachelor of Multidisciplinary Studies online degree program.
Ranked by U.S. News and World Report as the No. 16 undergraduate online degree program in the nation, and the No. 1 undergraduate online degree program in Nebraska, the Bachelor of Multidisciplinary Studies degree has made a significant impact on the lives of thousands of UNO students.

Just three of those students, Rachel Fox, Josh Cavin and John F., each have different stories with the same important message: Don't wait to achieve your goals of earning a college degree.
---
Rachel Fox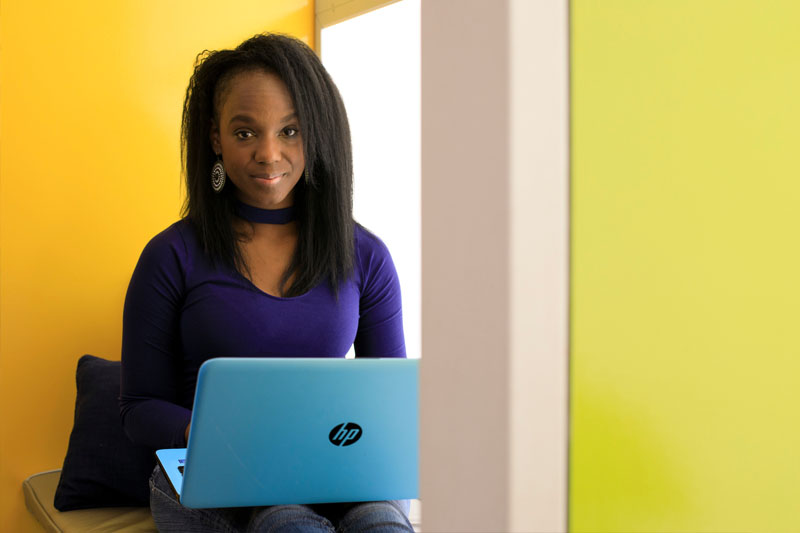 Rachel Fox has a lot of titles. She's a wife, a mom, a business owner, a community volunteer and, by this time next year, she hopes to add "college graduate" to that list.
In 2001, Fox enrolled at UNO after graduating from high school but soon found that a full-time, on-campus course load wasn't something that would work for her.
"I began working full time right after I graduated from high school," she says. "And, as a mom of 10 children, four gifted to me by marriage and six by birth the traditional route was never going to work for me."
However, Fox's desire to earn a college degree was something she always wanted to achieve. One day, in 2015, she discovered UNO's Bachelor of General Studies degree program and made the call to an academic advisor.
"I just knew I had to do something, but it needed to online," she says. "It was truly as easy as making that phone call; within a day I was enrolled and never looked back."
Though, Fox's path to obtaining her degree hasn't been without struggles. In 2016, she was forced to once again leave school after her daughter was diagnosed with a life-threatening disease.
"I made the decision that I needed to care for my child and needed to withdraw, but that decision came with a lot of anxiety; thankfully, my professors and the Division of Continuing Studies staff were so understanding and flexible."
Following her daughter's recovery, Fox was not only able to return to UNO to continue her coursework, but she also was able to make another life-changing move, starting her own consulting firm, Catapult Consulting Solutions, in 2017.
Today, Fox has nearly completed her Bachelor of Multidisciplinary Studies degree in nonprofit management by taking up to three courses at a time, utilizing the program's online options to allow her to run her own business, take care of her family and volunteer in the community. Most recently, she was named a new instructor at the AIM Institute's Interface Web School.
"I am still challenged, I still have to do my homework like everybody else, but it allows me to do all the other things that I do too," she says. "If someone is thinking about going back to earn their degree, they should reach out to an advisor and make it happen. Trust me; if I can do it, anyone can do it."
---
Josh Cavin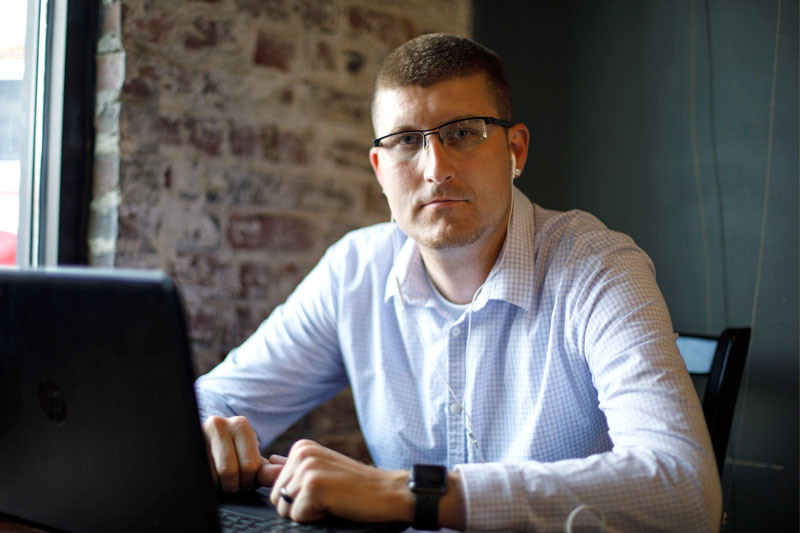 When Josh Cavin earned his Bachelor of Multidisciplinary Studies degree in December 2017, it was the culmination of a seven-year journey with plenty of bumps along the way.
Securing a job straight out of high school as a contractor for Union Pacific, Cavin didn't take the traditional route to earning his collegiate degree, but was determined to provide himself with the skills and qualifications he needed to advance his career.
"Every time there was an opportunity for me to get a promotion the one question that continually came up was 'Do you have a bachelor's degree'?" Cavin says. "That really motivated me to pursue a college degree."
Cavin's first attempt in 2010 – to earn an engineering degree while working full time – led to an impossible schedule, forcing him to stop attending classes and re-evaluate. After moving to the Lindsay Corporation for a job as an electrical controls designer, his boss encouraged him to go back and finish his degree.

Initially attending Metropolitan Community College, Josh eventually transferred to UNO and the Bachelor of Multidisciplinary Studies in 2015.
"Every day after work and on weekends I would work on school work," Cavin says. "All of the instructors were so understanding and flexible knowing that I may not be able to respond to an email or turn in an assignment until I got home from work. It really helped make things go smoothly."
Despite his passion for engineering, Cavin designed his degree program with the goal of being a manager, focusing his coursework on administration, leadership and coaching.
"We all start in our jobs with maybe one area of focus, but many companies want employees that have multiple skill sets," he says. "Now, because of the BMS program, I have the skills and degree to help me advance in my career."
---
John F.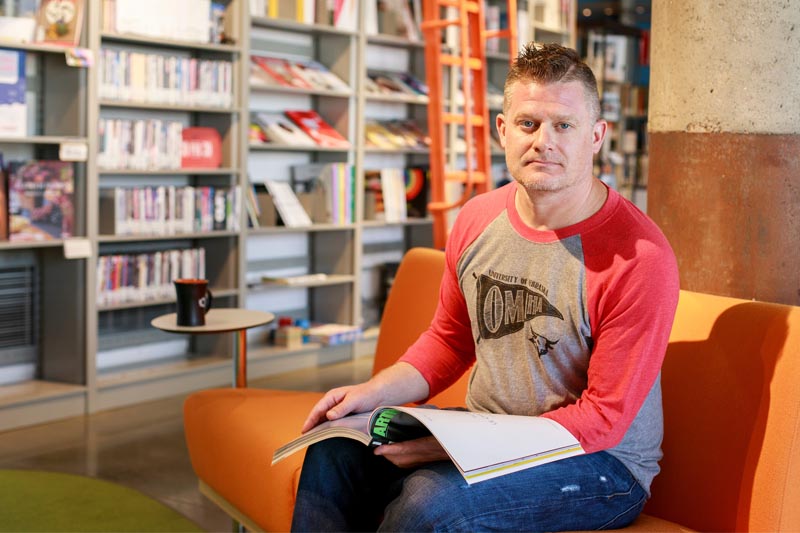 Five years ago, John F., an officer with the Council Bluffs Police Department, made the decision to go back to school and finish his degree. Today, he is just two semesters away from earning his Bachelor of Multidisciplinary Studies degree – nearly 25 years after dropping out of Wayne State.
For John, not having a college degree has always felt like something was missing.
"Both of my parents were OPS educators and a lot of my family are teachers, and I am the only one who doesn't have a college degree," he says. "I tried to make it happen right out of high school, going to Wayne State, but I just wasn't ready."
After spending a year at Metropolitan Community College, John transferred to UNO's Bachelor of Multidisciplinary Studies program, looking to build a degree that combines his work with his passion, focusing on criminal justice, criminal law and international studies.
"International studies really appealed to me and through my courses a tUNO my eyes have been opened to so many cultures and current events that go beyond what is happening here at home."
Beyond pursuing his passion, John has also gained important skills.
"I don't have any problem serving an arrest warrant, but the prospect of writing a college paper terrified me," he says. "I didn't need a college degree to help me get the job I have, but the program has made me better at my job. I'm a much better writer than I used to be."
John, whose son just started his own college career, says that while he is not a traditional college student, he has found enjoyment in his own college experience, becoming a student ambassador for UNO's Division of Continuing Studies.
He adds that that while the prospect of going back to school after being away for so long can be scary, finding the right program and right support system makes all the difference.
"I was pretty intimidated when I came back, but the whole staff here made me feel like I was right where I need to be. There is going to be uncertainty there, yes, but if you put forth the effort, the staff will help you and support you so you can achieve your goals."
Contact Us
If you have a story idea, news tip, or other question, please email the UNO News team at unonews@unomaha.edu.