Hailey Tierra Closes the Deal in Gallup's Consultative Sales Case Competition
Tierra took second place in the competition, which challenged competitors with pitching and role-playing scenarios for a panel of judges.
contact: Rachael Smith - CBA Marketing Department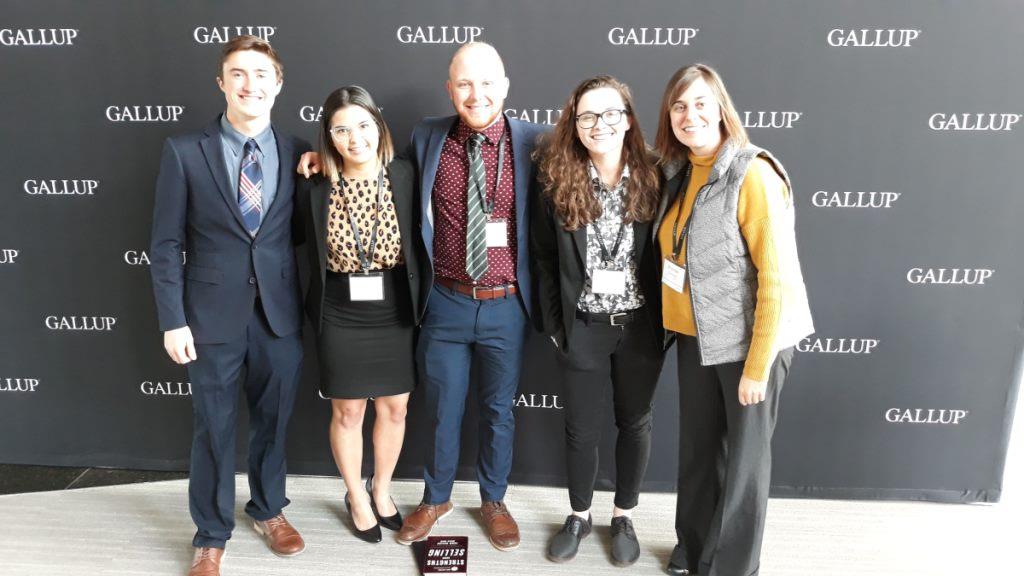 Hailey Tierra, a UNO CBA sophomore earning her BSBA in economics, international business, and sales, clenched the runner-up spot in the highly competitive Gallup Consultative Sales Case Competition in November 2019.
The event challenged competitors to pitch an employee engagement product based on a case study, followed by open-ended questions, overcoming objections by the judging panel, and working to successfully "close the deal." The competitors were then ranked, with the top three moving on to a second pitching session broadcast to all competitors and judges.
Between pitches, competitors were encouraged to network, learn about internship programs, and listen to a keynote speech on how to be successful in sales roles.
Ultimately, Tierra leveraged the skills learned from her CBA Professional Selling class to earn second place. She credits the course and her professors for much of her ability to excel as she faced off against students from Creighton, UNL, and UNO during a jam-packed day of pitching and networking.
"I cannot stress enough how helpful my Professional Selling class and the professors were in preparing me for this competition," said Tierra. "I can attribute most of my success to their knowledge and the skills they helped me develop."
It seems Tierra was meant to be a contender. After networking with Gallup employees during the previous Pitch Yourself competition at CBA, a Gallup recruiter contacted Tierra to encourage her to compete in the Consultative Sales Case Competition. Initially, Tierra agreed to participate because she would receive extra credit and had the day free from work.
Motivated further to compete by the Professional Selling class, Tierra began preparations with the help of classmates. The group reviewed case studies, watched sample role plays, and Tierra brought her ideas to Dr. Shannon Cummins, assistant professor of marketing and entrepreneurship, who helped her refine her pitch.
What started as an interesting invitation developed into a second-place win and an eye-opening experience. Most surprising for Tierra was her realization coming out of the competition of how closely the challenges of the day actually related to her future.
"The more seriously I consider it, I will most likely have a full-time career in sales," said Tierra.
She's already preparing for that career by pursuing the 4+1 program in economics at UNO, planning to graduate with her master's degree in 2023. She also serves as vice president of Chi Omega, studies as part of the Thompson Learning Community, participates in the UNO Dance Marathon, and holds two jobs and an internship.
Her willingness to take on diverse challenges both on and off campus is another boost that Tierra claims helped propel her to second place in the competition.
"Interacting with different types of people on campus and in the business college helped me refine my communication and general people skills," she said.
Ultimately, the experience of the competition was tough, but Tierra isn't one to shy away from a challenge. She'll do what it takes to build the sales career she envisions.
"I haven't worked out all the details of my future quite yet. I do know that three of my life goals are to sincerely love what I do, to make an impact, and to travel," said Tierra. "A career that supports me and allows me to accomplish those is essential."