Erin Bunker, CBA Student and Athlete, Earns International Job Opportunity with Berkshire Hathaway
With grit, determination, time, and a long-running interest in international business, Bunker has earned a unique work opportunity abroad in her ideal career field.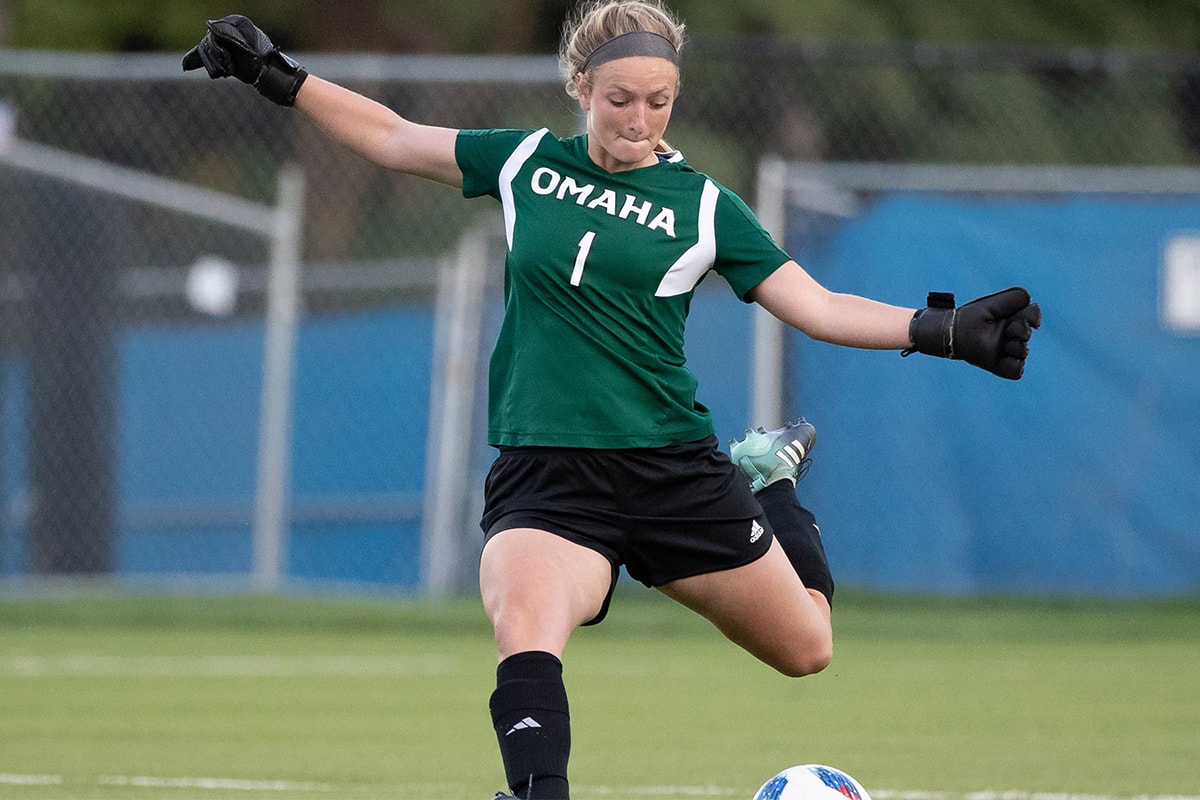 Erin Bunker, a BSBA graduate with a concentration in accounting and a minor in Spanish, is preparing for a big career move come January 2020. Next year, she'll jet to London to work for National Indemnity Company (NICO) at Berkshire Hathaway International Insurance Limited (BHIIL), assisting with quarter-end UK GAAP reporting and internal audit support.
BHIIL is a subsidiary of NICO, where Bunker currently works. She originally found this career opportunity through Handshake, and once she started interning at NICO in their finance department (a week after she ran into Warren Buffett – who she calls her "good luck charm" – at a local breakfast chain), she became gradually more interested in the ideas of float and reinsurance. Ultimately, she knew her goal was to earn a full-time position with NICO in the private field after graduation.
Bunker is no stranger to keeping goals in mind. She played on the UNO women's soccer team as goalkeeper, earning her place on the Summit League Academic Honor Roll (2016, 2017, 2018) and Summit League Commissioner's List of Academic Excellence (2017-18, 2018-19). In 2018, she was starting goalkeeper during the Summit League Championship, the first time ever for UNO women's soccer.
The challenge of balancing academics, her NICO internship, and soccer schedule was one of the most difficult parts of her college experience. Her schedule demanded she begin work by 7:30 AM most days so she had time for daily soccer practice and night classes. Much of her studying took place on weekends or on charter buses to and from soccer matches. According to Bunker, it was the professors, colleagues, teammates, and coaches supporting her success that made it worth it.
"UNO CBA truly has professors and advisors who care about the success of their students," says Bunker. "CBA isn't a typical business college, but rather a community of old and new business professionals, with various experiences, seeking to enhance their academic, career, and personal goals with the help of one another."
UNO first gained Bunker's attention when she was searching for a Midwest university that offered both a Division I soccer program and challenging academic environment. Once here, she used her time and the abundant resources at CBA to prepare for her dream career in international business.
"CBA's power lunches, career fairs, and accounting speaker series provided superior insight into opportunities for during and after graduation," says Bunker. "Every event that CBA hosted was tailored to provide exposure to prospective employers, embody a professional environment, and above all, provide the chance to grow."
Those growth opportunities and her determination allowed Bunker to earn her upcoming position at BHIIL, where she's excited to learn about international reporting standards, think critically, and provide better insight into company processes. All of these professional skills are resources she promises to bring back to the Omaha community, and she wants CBA students to know that with grit, determination, and time, they can make their goals a reality, too.
"If I could give a message to anyone reading this, I would say that you don't always have to know what you want to do – but you should always talk to your professors, try your hardest, and make your dreams bigger than you believe you can achieve," says Bunker. "The UNO CBA community provides limitless opportunities if you are bold enough to seek them."