New Center for Professional Sales Fuels Students, Businesses, and Local Economy
UNO CBA's new Center for Professional Sales is the only center of its kind in the state and marks a new era in the college's mission of providing unparalleled career preparation for students.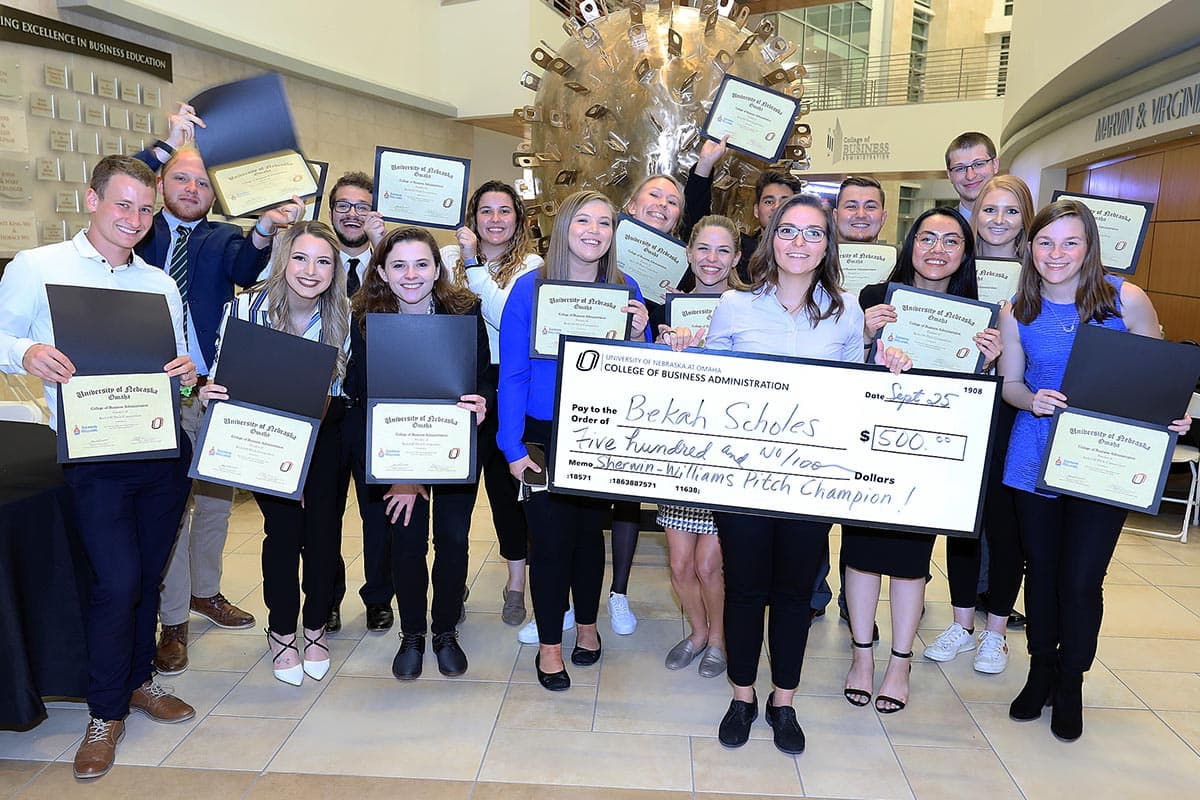 Students at the Center for Professional Sales kick-off event last month competed in a pitch competition and won prizes while improving their sales abilities.
Mammel Hall – This fall saw the launch of the UNO College of Business Administration's (CBA) new Center for Professional Sales. With two full-time faculty members, 150 students enrolled in sales courses, and 16 partner firms, the center has made a fantastic start on its mission of nurturing students, businesses, and the Omaha community.
Dr. Shannon Cummins, assistant professor of marketing and entrepreneurship, saw the need for a professional sales center early on. After teaching for six years at the University of Wisconsin-Whitewater, Cummins noticed that many students accepted selling positions after college. Most of them had no formal training in sales, adding an unnecessary learning curve to their professional transition.
Cummins helped found a sales institute there that ultimately resulted in more than 1,000 student and sales professional interactions annually. When she came to UNO, she saw a similar need, but faced challenges in finding enough faculty to teach courses and developing community partnerships. Still, she started the year-long process of applying for center status through the Board of Regents and Coordinating Commission for Postsecondary Education.
A year later, and UNO CBA is now home to the only official Center for Professional Sales in the state. The center maintains a dual focus on students and its vision of aiding local businesses with sales research and training.
"For me, the center needed to be focused on developing student skills, encouraging exploration of different sales careers by students across college or concentration, responsiveness to business priorities, and able to act as a resource to the university," says Cummins.
And CBA is the perfect location for such a center. UNO offers a sales minor to all students and a concentration in sales for business students as part of the only accredited program in Omaha committed to professional selling. The Center for Professional Sales provides UNO's 15,000+ students with the unique option to gain real-world experience in customer engagement, identifying needs, and providing solutions.
In each course offered through the center, students network with sales professionals, explore sales career paths, and engage in sales role plays judged by industry experts. These opportunities provide vital preparation for students' future careers.
"Studies show this type of center-based sales education improves job performance and satisfaction after graduation," says Cummins. "This is a win-win for a student. Learn it and do it in the classroom, choose it and succeed at it in life."
According to Cummins, Omaha is also the perfect location for the hands-on sales education that the center provides.
"Omaha is an engine of economic growth for both the state and the region. An impressive number of businesses are headquartered here," she says. "All these firms need qualified salespeople to grow. In fact, sales is consistently one of the highest-demand areas for firms and college graduates."
Because of this demand and Omaha's booming business community, Cummins and the university identified in-demand sales training and realistic selling experiences as mission imperatives. As a result, graduates can support the continued growth of their local economy through their sales skill set.
The Center for Professional Sales now looks to long-term plans for growth based on alumni backing and will seek the ability to support far-reaching, semi-annual events for students and community members interested in developing their business communication skills. All center programming is made possible by the University of Nebraska Foundation Fund.