Mammel Hall Addition Brings Excitement, Purpose, and Possibilities
A nearly 45,000 square foot addition to Mammel Hall is coming late 2020 – and with it, a message of possibilities and purpose.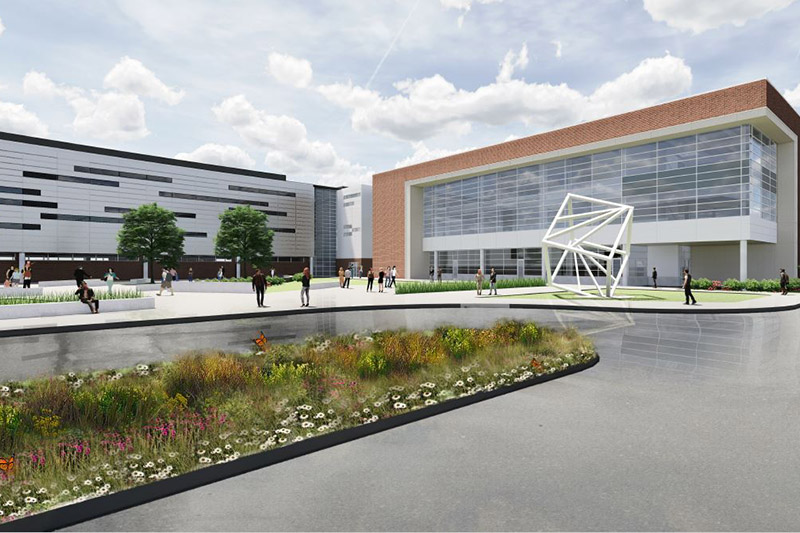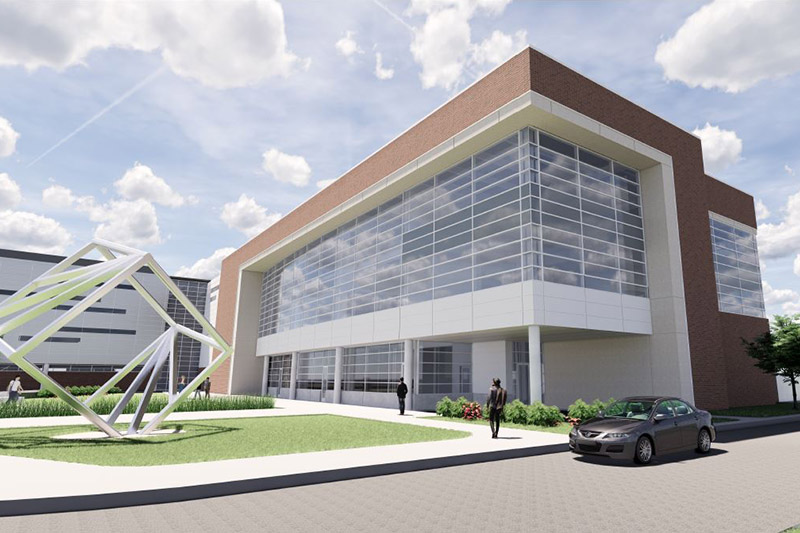 Mammel Hall – The corridors of Mammel Hall have inspired innovation since the building first opened. Students, faculty, staff, and community members alike rely on the building as a technologically advanced, sustainable facility, built to enable their success.
And now the UNO College of Business Administration (CBA) is making more room for its momentum. Mammel Hall is expanding to accommodate additional student and community projects and open up possibilities yet unconsidered.
In late 2020, a 44,000 square foot addition will be complete. The new wing adds six new classrooms, four seminar rooms, a newly designed and expanded Koraleski Commerce and Applied Behavioral Lab, and a 180-person general purpose room. It will also house the new School of Accounting. The addition utilizes geothermal heating and cooling as part of the college's LEED-certified commitment to sustainability.
The extension not only speaks to the impressive and growing programs in the college, but it opens up new opportunities for students. For Dean Louis Pol, this is the most important part.
"The addition allows our partnerships to change and mature," says Pol. "As business owners and organization members are in our building more often as mentors, guest speakers, and potentially part-time instructors, our students gain great benefit."
The new wing will play a pivotal role in fostering deeper relationships with local organizations and opening up internship and job opportunities for students. A large general purpose room provides space for "different kinds of interactions," says Pol, welcoming discussions, conferences, speakers, and the forging of long-term business relationships. The same businesses utilizing Mammel Hall may return for career fairs and mentoring, bringing further benefit back to the students.
Providing opportunities to students and the Omaha community has been a central focus since the initial opening of Mammel Hall nine years ago. The Koraleski Lab emerged from the spirit of innovation in the college, and community events such as the Girl Scouts artVenture, the Value Investor conference, the Genius of Warren Buffett course, and NP Dodge MARTECH conference have since found their home at Mammel Hall.
The addition will welcome more events like these through additional meeting spaces and reception areas. Post-doctoral residencies focused on research and grant writing will bring expanded resources to the college, and students will learn in contemporary new labs and collaboration rooms dedicated to entrepreneurship, accounting and finance, and Scholars Academy students.
Cutting-edge technology, a cloud-reliant building, and expansive teaching spaces are a response to the needs of a "changing learning environment," says Pol. CBA aims to be at the forefront of innovation well into the future.
"So much learning takes place through application and experiences well beyond the formal classroom," says Pol. "The old lecture format – read a textbook, hear a lecture, take notes, have an exam, repeat – doesn't work for students anymore. These days, learning takes place in practice presentations, mock interviews, networking meetings with professionals, conferences, and consultancy."
And for Pol, these learning methods are exactly what the new addition will foster. The building will be impressive, but it's the programs housed and pedagogy supported that mean the most.
"Buildings are never enough," says Pol. "If you don't have the right technology and programs working along with a combination of business community, student, and faculty partnerships, then none of it works."
Lucky for CBA, it brings together the best of all these things – and it helps that the building is optimized for collaboration, enabling UNO's business programs to reach anywhere in the world. CBA faculty teach distance courses in Afghanistan and to adult learners traveling abroad during their EMBA program. There are no limits to a CBA education, and what this means in relation to the new addition brings a smile to Pol's face.
"We have many ideas on how our new space will be used," says Pol. "But then the surprises begin, the unplanned uses, and those bring energy and excitement, and an even better sense of accomplishment."
---
About the University of Nebraska at Omaha
Located in one of America's best cities to live, work and learn, the University of Nebraska at Omaha (UNO) is Nebraska's premier metropolitan university. With more than 15,000 students enrolled in 200-plus programs of study, UNO is recognized nationally for its online education, graduate education, military friendliness and community engagement efforts. Founded in 1908, UNO has served learners of all backgrounds for more than 100 years and is dedicated to another century of excellence both in the classroom and in the community.
Become a fan of UNO on Facebook and follow UNO's Twitter updates.