Advance Your Career With New Program Offerings at the UNO College of Business Administration
Students now have additional opportunities to advance their careers and expand their skill sets through new program offerings at the UNO College of Business Administration.
published: 2019/07/25
contact: Rachael Smith - CBA Marketing Department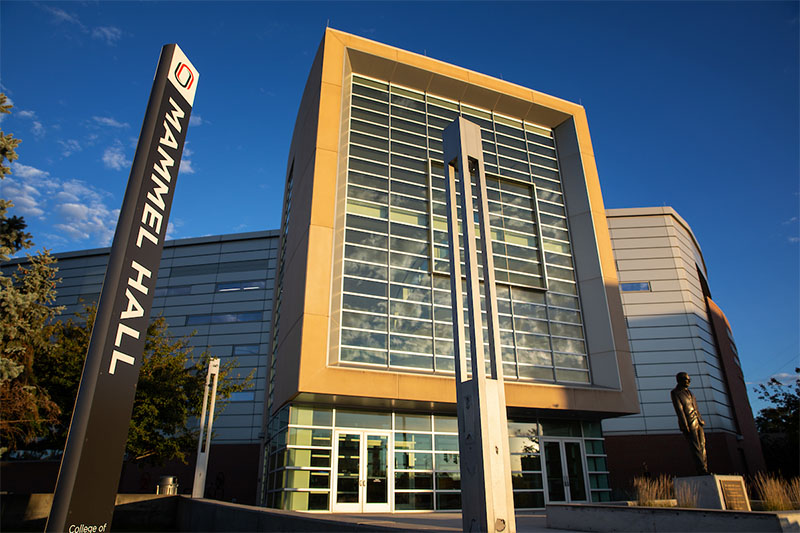 The UNO College of Business Administration is located in the LEED-certified Mammel Hall building.
New Graduate Certificate in Supply Chain Management
Graduate students now have an additional opportunity to advance their career with a new Graduate Certificate option in a fast-growing field.
WHAT STUDENTS GAIN
Professionals educated in supply chain management are prepared to step into a wide variety of supply chain functions within an organization. With the Graduate Certificate in Supply Chain Management, graduate students develop skills in:
Logistics, including transportation management and scheduling
Procurement, including purchasing and materials management
Lean manufacturing, lean supply chain management, and effective resource management
Understanding the three pillars of sustainable supply chains – people, profit, and planet
Students expand their knowledge of both theory and practice through 12 credit hours of classes including supply chain analytics, project management, and managerial economics.
THE LOGISTICS
Students enrolled in the Graduate Certificate for Supply Chain Management earn 12 credit hours, and up to nine of those credits can be applied to the full MBA program at UNO for an additional boost to the student's education and career.
No entrance exam is required for the Graduate Certificate, and classes are offered in flexible online formats.
Supply chain management is a field booming with opportunities – now students can make the most of it with UNO CBA's newest Graduate Certificate.
Learn more about the Graduate Certificate or investigate the undergraduate concentration in Supply Chain Management.
---
CBA Welcomes Center for Professional Sales
UNO students now benefit from expanded opportunities to develop sales skills, network with field experts, and collaborate with faculty, professionals, students, and organizations through a sales center in Mammel Hall.
LIFETIME OPPORTUNITIES
The Center for Professional Sales was founded in May 2019 with a mission of serving four core functions for UNO, sales students, and the Omaha community:
Develop students' sales skills in preparation for related and tangential careers,
Encourage networking between students and businesses,
Serve as a staffing resource for local, regional, and national firms, and
Provide learning resources for local and state businesses.
The center supports newly created curriculum, including the professional selling concentration and minor, through extracurricular activities and collaboration among faculty, professionals, students, and both for-profit and non-profit organizations. Programming is available to students from any college or field of study.
THE VALUE PROPOSITION
"The center will train students to be able to succeed when sales skills are required for their professional lives," says Assistant Professor Shannon Cummins, Ph.D. "It will also prepare them for one of the most common career entry points – sales."
A 2011 seminal study by Georgetown University found that 32% of all marketing majors pursue a sales career, and a career in sales ranks in the top four chosen career paths for business graduates regardless of major or concentration.
The obvious value of sales skills inspired Cummins to prioritize the creation of a nationally-recognized sales institute at UNO. Student curricular programming was piloted during the 2018-2019 school year, and more will be introduced in the fall semester as the center aims to reach 250+ students and broaden community partnerships in its first year.
Sales organizations interested in partnering with the center for recruitment or training purposes contact Dr. Shannon Cummins, assistant professor of marketing and entrepreneurship:
scummins@unomaha.edu | 402.554.3156