Tech, Venture Capital, Startups, and Billionaires
Six of UNO's Entrepreneurial Living and Learning Community (ELLC) students visited Silicon Valley this May, known as the land of tech, venture capital, startups, and billionaires.
published: 2019/05/29
contact: Levi Cermak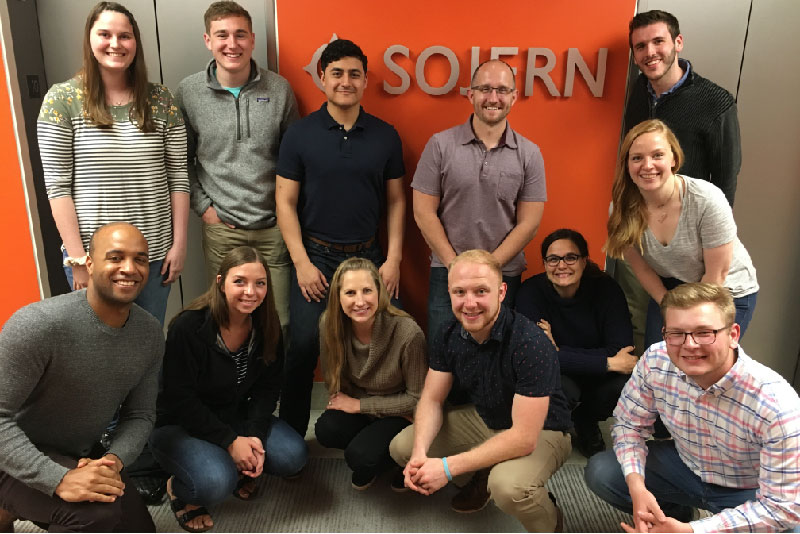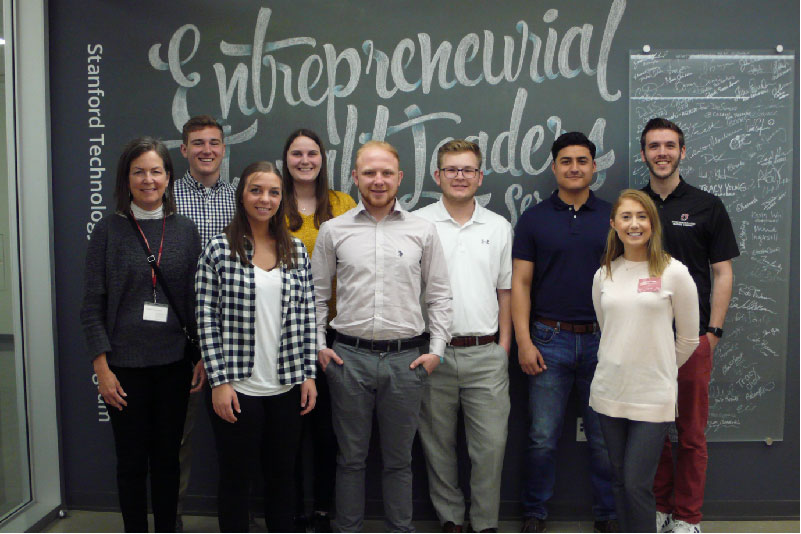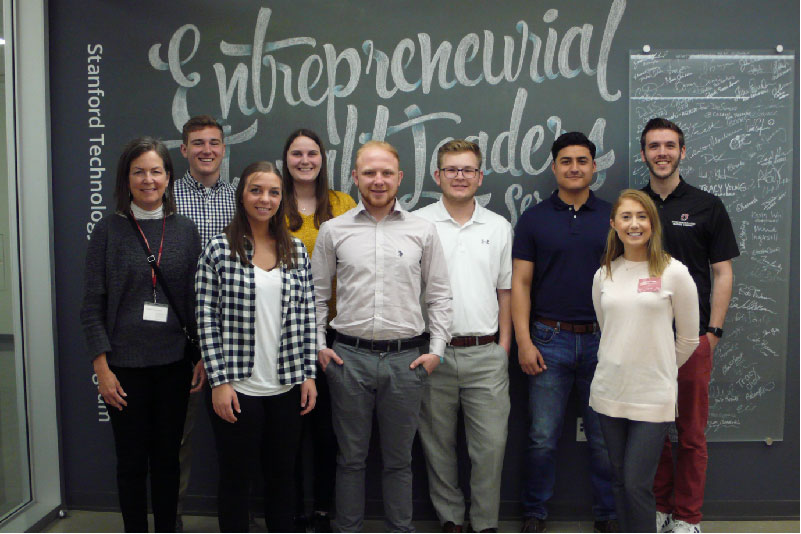 Tech. Venture Capital. Startups. Billionaires. These words often come to mind when thinking about Silicon Valley, which is where six of UNO's Entrepreneurial Living and Learning Community (ELLC) students went the week of May 13, 2019. The ELLC is a group of students interested in entrepreneurship that lives, learns, and travels together in cohorts. These students apply, interview, and are selected for a scholarship to be in the ELLC. At the end of each school year, the group travels to a domestic entrepreneurial hub. This year, students visited the San Francisco area.
Led by Levi Cermak, Director of the ELLC, the group networked with UNO alumni, toured company headquarters, explored the coastline, and did many of the touristy things one does when visiting San Francisco. There was no shortage of good food to try, either! To start the trip, recent UNO alumna Elizabeth McGill greeted the ELLC's arrival by meeting at a delicious local Mexican and Thai fusion restaurant. Here, McGill talked about what it is like moving to California from Omaha and the different pace of life. McGill feels that "there is always something exciting happening in San Francisco and you can't eat at the same restaurant twice!"
The first headquarters the group toured was Culture Amp, a company that makes it easy to collect, understand, and act on employee feedback. There, students and Culture Amp employees sat on a sunny rooftop terrace to talk about the company's entrepreneurial journey and the fast-paced changes of the landscape. These five employees represented different areas of the company from product engineering to account management, including current UNO Ph.D. student Sahra Kaboli-Nejad and the CEO, Didier Elzinga, who happened to be visiting from Australia.
Sojern, a digital marketing company for firms in the travel agency, welcomed UNO students with open arms and a catered lunch! CEO Mark Rabe and VP of Commercial Operations Brad King spent an hour engaging students with questions about potential solutions for challenges that Sojern and the industry are facing. Cermak thought this was a special experience, saying "it was incredible that Mark and Brad took so much time to talk with students. Not only was their industry insight deep and intriguing, but they were humble and engaging, asking students what they thought about a current problem. The whole team was so great to hang with!" During lunch, another five employees joined the conversation and spoke to their experience in San Francisco and the travel industry.
Mixed in with all the learning and networking that occurred on this trip was plenty of fun time to explore the city! One of the students' favorite activities was riding Scoot Mopeds. In San Francisco, you can download an app and easily rent mopeds that are scattered all throughout the city. Sophomore Erik Tena said "riding the mopeds was an absolute blast. We explored the whole city together, saw some unique things, and they were really fun to ride." Nathan Hohensee, a freshman on the trip, also enjoyed exploring the coast. "We went for a morning run by the beach and found caves, cliffs and amazing views to explore," says Hohensee.
Thursday morning, the ELLC went to visit Stanford Technology Venture Partners, which is an entrepreneurial group within the college of engineering at Stanford. Students participated in a brainstorming activity and heard about entrepreneurship in the Valley and at Stanford. Sophomore Erica Pokorney said "speaking with the entrepreneurship program at Stanford was really great. They had insights on ideas we developed that helped us to learn how to better our community as a whole."
Afterwards, they headed to Mountain View, where Googleplex resides. "The Google tour gave me true perspective on what the result of investing in your greatest asset; the employees," said Tom Kienow, a sophomore. He went on to add, "it was by far the best example of exceptional company culture while cultivating entrepreneurship within a company." Google HQ is kind of like the Disneyland for the technology industry. In a short walk you might come across conference bikes for a workout/meeting, an AI Garden that responded to facial expressions, restaurants, infinity pools, sand volleyball courts, or a large skeletal dinosaur. UNO alumna Zarmina Niazie and her colleague Haley Schulz gave students a knowledgeable tour of Googleplex.
"Visiting places like Google and San Francisco serves to excite and inspire students," said Director of CIEF, Dr. Dale Eesley. "The exposure they get to the technology and entrepreneurship industry during this trip will likely have an effect on the way they view their career trajectory and possibilities in life. There is so much out there and the only way to take it in is to experience it first-hand." In addition to the things student saw and learned, there is real value in the bonding that happens on these trips. Students come back with a deeper appreciation for one another and it ends the year on a great note, which sets up the next cohort for a successful group of returning ELLC members. Rachelle Rice, a freshman, said, "it was really fun to travel with other entrepreneurially-minded students. We were able to bond with one another and create unique, lasting memories together."