Accounting Professor Acclaimed for Excellence in Teaching, Leadership
Roopa Venkatesh, associate professor of accounting, received two awards this spring for excellence in teaching and leadership.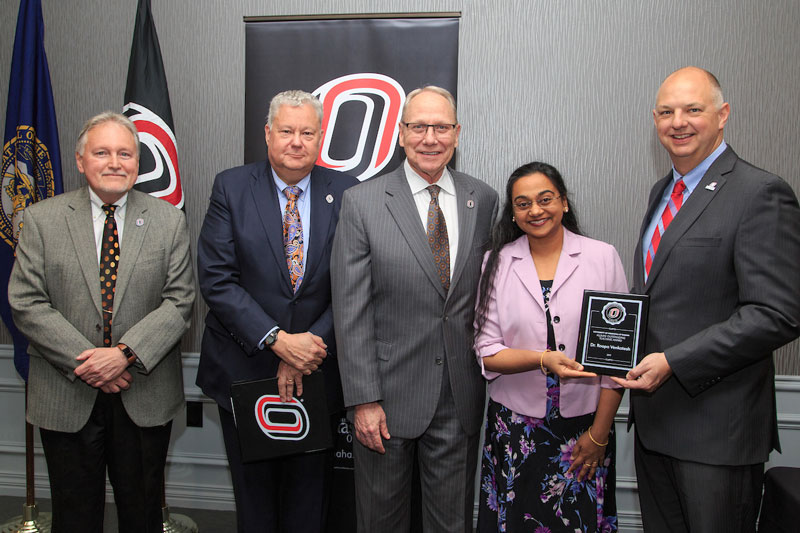 Roopa Venkatesh with UNO College of Business Administration Dean Louis Pol, Sr. Vice Chancellor BJ Reed, Chancellor John Christensen and Alumni Association President Lee Denker
Associate Professor of Accounting Roopa Venkatesh — or Dr. V, as her students know her — received two awards this spring for her excellence in teaching and leadership.
The Institute of Management Accountants (IMA) selected Venkatesh as a 2017 Faculty Leadership Award recipient. This prestigious global award recognizes distinguished leadership, service and contributions to IMA.
Venkatesh is a founding board member of the IMA Platte Valley Chapter and currently serves as chapter president. She will formally accept the award June 18 at the IMA Annual Conference and Expo in Denver, Colorado.
A professor at UNO since 2009, Venkatesh also received the Alumni Association's Outstanding Alumni Teaching Award, established in 1997 to honor distinguished teaching in the classroom. Peer committees in UNO colleges chose the recipients, each of whom received a $1,000 award.
With expertise in managerial accounting, Venkatesh teaches the intermediate managerial accounting and advanced managerial accounting courses and has created and teaches a new course, managerial accounting for supply chain management. Her research interests include managerial accounting and auditing as well as examining the effect of eXtensible Business Reporting Language (XBRL) on the audit process and auditors' judgments.