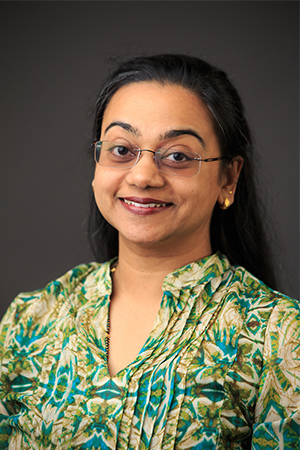 Dr. Roopa Venkatesh
Director, School of Accounting
School of Accounting, Professor
---
email:
office:
MH  370M
office phone:
fax:
402.554.3747
note:
This profile is pulling in data from Digital Measures. Postings on personal websites or social media do not indicate that the individual is speaking on behalf of UNO.
General Information
Biography
Dr. Venkatesh is the Director of the School of Accounting. She is a Certified Management Accountant (CMA) and a member of the IMA (Institute of Management Accountants), the American Accounting Association, XBRL Consortium, Beta Alpha Psi, and Beta Gamma Sigma Business Honorary.
Teaching Interests
Professor Venkatesh teaches, intermediate managerial accounting, advanced managerial accounting and managerial accounting for supply chain management. Her teaching interests include all levels of managerial and financial accounting.
Research Interests
Professor Venkatesh's research interests lie in the areas of managerial accounting and auditing. Her research interests also include examining the effect of eXtensible Business Reporting Language (XBRL) on the audit process and auditors' judgments. Her research draws from theories in Psychology and Organizational Behavior in order to understand the judgment and decision-making behavior of accountants and auditors. Her research has been published in The Journal of Management Accounting Research, Issues in Accounting Education, Journal of Emerging Technologies in Accounting, Journal of Theoretical Accounting Research, IMA Educational Case Journal, Strategic Finance, and Ethics & Behavior.
Service Summary
Dr. Venkatesh serves as a member of the IMA (Institute of Management Accountants) Global Board of Directors and is the 2023-2024 Chair of the Volunteer Leadership Committee of the IMA Global Board. In addition, she serves on the IMA Committee on Diversity, Equity, and Inclusion, is Chair Emeritus of the IMA Committee on Academic Relations, and is a founding Board Member of the IMA Platte Valley Chapter in Nebraska.
Awards and Honors
IMA R. Lee Brummet Distinguished Award for Educators in the area of Management Accounting - 2020
IMA Champion Award - 2020
Dean's Citation Award for Excellence in Service, Service, Professional - 2018
IMA Faculty Leaderhip Award, Service, Professional - 2017
UNO Alumni Outstanding Teaching Award, Teaching - 2017
Licensures and Certifications
CMA (Certified Management Accountant), ICMA, 11/01/2019
Service
Administrative Assignments
Director, 08/01/2021