Accounting Student Spotlight: Justin Korth
Justin Korth has business wisdom beyond his years.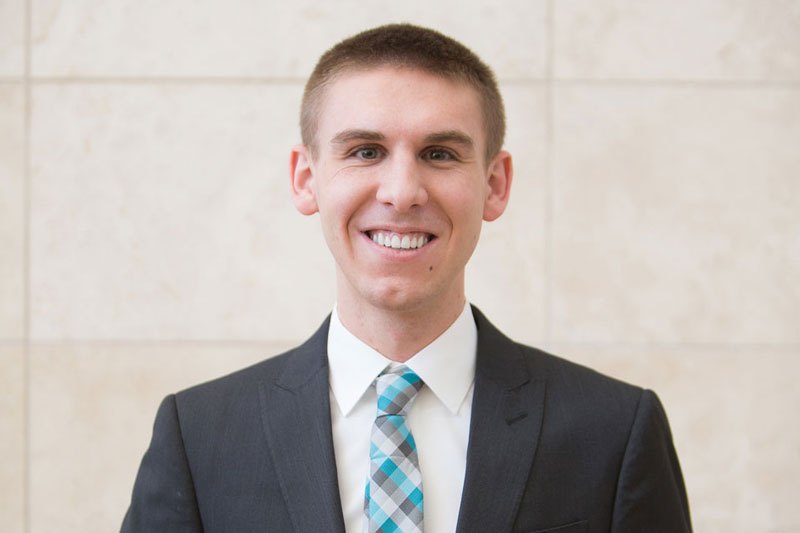 Whether it was working in the fields or in the office, Korth said he grew up quickly. At age 10, he was helping with the books and serving the 200-plus customers his family supplied, instilling important business and life lessons.
"Growing up in a family business taught me more than just business skills," Korth said. "It taught me a strong work ethic and the importance of building and keeping trust."
By his senior year of high school, he wanted to gain a new perspective and attend UNO — a path far from that of his parents and older sisters.
To adapt to this new environment, Korth plugged into the campus community right away and has since held memberships in more than eight student organizations, including several terms as president in five of them.
Korth's main goal in his extraordinary involvement was to build relationships. "Business is fundamentally based on relationships," he said. "I've learned this through my small-town upbringing and the multitude of connections I've made here at CBA."
Of course, Korth has also excelled in the classroom, making the Chancellor's List every semester and winning many awards, including the AICPA/Accountemps Student Scholarship, a national award that only four students receive annually.
Korth also received the Nebraska Business Hall of Fame Scholarship in 2016 and, this April, is receiving the university-wide Senior Vice Chancellor's Outstanding Undergraduate Student Award in addition to the CBA Dean's Award.
Of all Korth's honors, his scholarships are what he holds most dear. Notably, he is the recipient of a scholarship funded by Herbert Sklenar, UNO alumnus and former CEO of Vulcan Materials.
"Scholarships make the world of difference," Korth said, reflecting on his bond with Sklenar. "Not only do they offer financial support but also contact with the donors and opportunities to learn from their accomplishments and their tips for success."
Through it all, Korth credits UNO and the College of Business Administration. He noted the exceptional faculty and staff and the community relationships that CBA has fostered to connect students with internship and career opportunities.
Korth's resume touts a variety of internships over the course of his college years. Firms include Lincoln Financial Group, Seim Johnson, Wells Fargo Investment Institute and more. Currently, Korth works for Lutz & Company as an associate accountant in the tax and consulting department.
In May, Korth will graduate with a BSBA in accounting, business finance, banking and financial markets, and investment science and portfolio management.
Following graduation, Korth plans to stay at Lutz and continue his career in public accounting. Plus, he's already passed the CPA exam. Impressive, indeed!