Use the resources, links, and suggestions below in order to integrate sustainability - concern for people, the environment, and fiscal responsibility - into everything that you do.
Food & Sustainable Eating
Local Farmers & Produce 
From savoring produce at the peak of freshness to meeting the people who grow your food, there are countless reasons to support local farmers.
Food in the U.S. can be shipped from an average of 1,500 miles away in order to get to your plate. Food from local farmers is transported shorter distances and is generally grown using methods that minimize the impact on the earth.
Area Food Pantries 
Food pantries in Omaha offer products and services to those who need them and aim to meet the basic needs of individuals who have difficulty eating or buying necessities to have a good quality of life. 
Omaha has numerous food banks on the map below to provide people in need with essential food and commodities.
Farm to Table 
Knowing what we eat matters— not only for the sake of nourishing our bodies but as conscious consumers caring for animals and the planet.
Farm-to-table dining experiences allow us to learn about the food we eat while engaging with chefs and our community. They also encourage us to slow down and savor every bite.
Community Supported Agriculture (CSA) 
Joining a community-supported agriculture (CSA) program enables you to form a relationship with the farmer who grows your food. It also allows you direct access to fresh, local produce without having to do the planting, watering, weeding, or harvesting.
It's a great way to support our local economy, to try new fruits and vegetables, and to gain an understanding of the seasons and what grows in our area. 
Waste Reduction
Recycling 
Recycling is a daily activity for more than 100 million Americans and a great way to protect our environment and stimulate our economy. Recycling saves resources, prevents pollution, supports public health, and creates jobs. It saves money, avoids landfills, and best of all, it's easy.
Proper recycling means eliminating 'wishcycling' where we place things in recycling that we think can be recycled but actually need to go into the landfill.
What CAN go in a recycling bin in Omaha?
Clean cardboard (not soiled or wet) removed from plastic packaging
Paper including newspapers; cereal and food boxes; envelopes
Metal cans that are rinsed and dried
Cartons including juice boxes, milk cartons, soup boxes, etc.
Plastic bottles and jugs that are rinsed and dried with caps included:

What CAN'T go in a recycling bin in Omaha?
Soft, flexible plastics including plastic bags, plastic wrap, chip bags, and food wrappers (Use

 

Hefty Orange Bag

 

bins)
Hazardous waste (use

 

Under the Sink)
Electronics
Food waste and compostable service ware
Styrofoam (Use

 

Hefty Orange Bag

 

bins)
Toys
Clothing
Wood
Anything smaller than a sticky note
More information and recycling drop off locations can be found at:
Alternative Disposal Programs 
The City of Omaha's recycling program only covers so much. These alternative programs can help you properly dispose of other hard-to-recycle items like food scraps, yard waste, soft plastic packaging, chemicals, electronics, and more.
Reducing Waste to Become Zero-Waste 
Waste is a human concept. In nature, every part of an ecosystem serves a purpose and one organism's "waste" gives back to another part of the natural cycle of that ecosystem.
Humans have innovated synthetic materials that disrupt this natural cycle which results in the accumulation of "waste" through a linear cycle of production→ consumption→ waste. On our journey to zero-waste, we learn how to reduce our own personal accumulation of waste by reducing our consumption and using alternatives that involve more circular lifecycles of production→ consumption→ reuse.
Synthetic materials are an innovation that has many benefits for society including improved sterilization, lightweight construction materials, and improved shipping of goods and services. Zero-waste is not about perfection, but rather being consciously aware of how we consume and making choices that reduce waste where we can. 
Questions to Consider
Am I following the 7 R's with the products and materials I consume?
Rethink: Do I need this item in the first place? What other alternatives may exist? How can I change my lifestyle to no longer need this?
Refuse: Turn down the plastic straw or bag offered to you with your purchase
Reduce: Use and consume less. Determine what your necessities in life are
Repair: Fixing instead or replacing items that are broken. Search for local appliance repair shops or tailors for clothing.
Reuse: Is there another use for the item before you throw it away? Are there items I can find or purchase that are used rather than buying new?
Recycle: Remember what items go into the recycling bin and recycle properly. In Omaha, these items can be placed in the recycling bin: paper, cardboard, clean cartons, clean aluminum, and steel cans, clean plastic bottles and containers. Look for the numbers in the recycling symbol stamped in the plastic and only put 1,2,3, and 5 numbered plastics. Rule of thumb is always, "When in doubt, throw it out!" to avoid contamination
Replace: When you can no longer use an item and it is a necessity, find the most environmentally friendly replacement
Transportation
Sustainable Transportation 
Due to its size, UNO's campus has a significant impact on traffic and parking in midtown Omaha. Adopting active or lower-emission transportation options can reduce road and parking congestion, reduce pollution, promote healthy lifestyles, and preserve infrastructure. 
The Parking and Transit department at UNO provides information about the alternative and sustainable transportation options available to our campus community. This program includes free bus passes for all Omaha Metro buses including ORBT (MavRIDE), discounted passes to Heartland B-Cycle bike share program, and reduced carpool parking pass.
Plan Your Trip 
People driving to, from, and between campuses account for almost 20% of the greenhouse gas emissions of UNO's campus. A common misconception is that driving is the fastest way to get from point A to point B. When navigating campus, consider how much time you may sit in traffic, search for a parking spot, and still have to walk a fair distance to your final destination.
Alternative options like biking or walking lets you skip the stop-and-go traffic and you'll never have to worry about finding a parking spot with bike racks available across campus. You may also save money by not purchasing a parking pass. 
Planning your trip to allow for the right amount of time to get to your destination helps you to incorporate sustainable transportation into your daily life. Google Maps is a good tool to use to estimate travel time and to learn about public transportation options for your trip, including bus arrival times. 
Metropolitan Area Planning Agency (MAPA) also provides a tool for folks in the local area to find carpool buddies based on where you live, your destination, and when you need to travel.
Getting Around Campus 
Getting around campus and to Aksarben Village without a vehicle is fast and simple. Here's how to plan your trip.
Departing Milo Bail Student Center 
| Destination | Walking | Biking |
| --- | --- | --- |
| H&K Rec Center | 6 min | 2 min |
| Library | 7 min | 3 min |
| Aksarben | 35 min | 10 min |
| ORBT Station | < 1 min | < 1 min |
| Transit Station Aksarben | 9 min | 11 min |
| Dodge Residence Halls | 9 min | 3 min |
| Scott Village | 31 min | 10 min |
Departing from Scott Village 
| Destination | Walking | Biking |
| --- | --- | --- |
| H&K Rec Center | 30 min | 10 min |
| Library | 30 min | 10 min |
| Aksarben | 10 min | 2 min |
| ORBT Station | 30 min | 10 min |
| Transit Station Aksarben | 14 min | 4 min |
| Dodge Residence Halls | 31 min | 11 min |
| Milo Bail Student Center | 30 min | 10 min |
Departing Dodge Campus Residence Halls
| Destination | Walking | Biking |
| --- | --- | --- |
| H&K Rec Center | 6 min | 1 min |
| Library | 4 min | 1 min |
| Aksarben | 39 min | 12 min |
| ORBT Station | 9 min | 3 min |
| Transit Station Aksarben | 40 min | 13 min |
| Scott Village | 30 min | 10 min |
| Milo Bail Student Center | 8 min | 3 min |
Using MavRIDE Daily 
MavRIDE offers free rides on the Metro Bus System to current faculty, staff, residents, and students. Your MavCARD is activated with the bus pass. MavRIDE can be used any time on any route.
Multiple bus routes are accessible directly from campus and can be used to get to multiple essential, daily services including grocery stores, medical services, banks, and entertainment. 
Omaha Metro Transit Routes that Stop at UNO
ORBT: Primarily servicing Dodge Street
UNO Stop: ORBT Station, N 62nd and Dodge 

Services Accessible on Route: pharmacy, restaurants, tailor, and hardware store
Route 15: Primarily servicing Center Street
UNO Stop: 

Aksarben Transit Center, 68th and Mercy Rd

Services Accessible on Route: grocery stores, Nebraska Medicine, pharmacy, Oakview Mall, and downtown Omaha
Route 11: Primarily servicing Leavenworth Street
UNO Stop: Aksarben Transit Center, 68th and Mercy Rd

Services Accessible on Route: Nebraska Medicine, grocery stores, and downtown Omaha
Route 18: Primarily servicing 72nd Street/Ames Avenue
UNO Stop: 

Aksarben Transit Center, 68th and Mercy Rd

Services Accessible on Route: grocery stores, pharmacy, midtown Omaha, and downtown Omaha
Wellness
Environmental Wellness 
Wellness means overall well-being. It incorporates the mental, emotional, physical, occupational, intellectual, and spiritual aspects of a person's life. Each aspect of wellness can affect the overall quality of life, so it's important to consider all areas.
Environmental Wellness is recognizing the benefits of interacting with nature and choosing lifestyles that respect the environment.
How do you engage with environmental wellness?
Learning and contributing to the health of the planet and a sustainable lifestyle.
Spending time in nature to improve overall wellbeing.
The ability to make a positive impact on our environment—in our homes, our communities, and our planet.
Mindfully working to ensure fair treatment and meaningful involvement of all people regardless of race, color, national origin, or income in environmental decisions and actions.
Outdoor Recreation in Omaha 
Omaha has many wonderful trails - if you want to get outside and explore, click the map below to find the trail that works for you.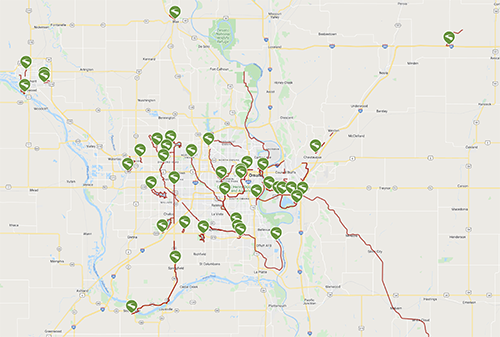 Energy Saving
Energy Efficiency 
People in Nebraska are using more energy than ever before, and most of that energy is still being produced from fossil fuel power plants. In 2020, 51% of the energy consumed in Nebraska was produced from coal.
By examining how we use energy in our own lives, we can start to drive real change to reduce our overall impact on the environment. Sustainable energy also means ensuring access to energy for all.  
Quick Tips for Energy Savings (all for FREE)
Plug all your appliances and electronics into power strips that you unplug overnight
Optimize your thermostat for each season
Winter: 67-72°
Summer: 75-78°
Use curtains or blinds to control for heat radiated from sun rays
Start meal planning or cooking your meals at once to cut down on how many times you heat up your oven or stovetop
Wash laundry in cold water and reduce shower times to save on hot water