Fall 2020 Operational Guidance
A summary from UNO Chancellor Jeffrey P Gold, M.D., and Interim Director of the Office of Health Security Jane Meza, of the important operational changes and policies that will be in place this fall.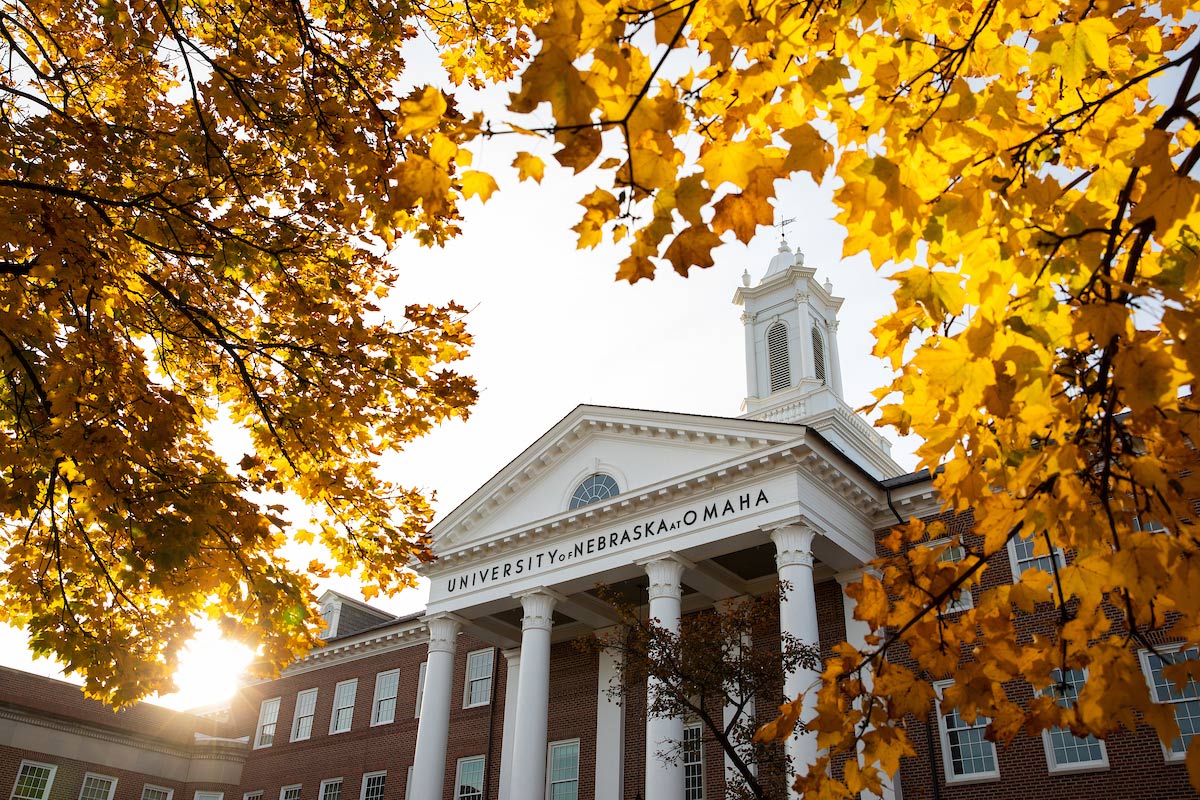 Read below for updates on the Fall 2020 semester.
To the Maverick Community,
After months of intense, careful planning with nearly 100 representatives made up of our University of Nebraska at Omaha students, faculty, and staff, we are excited to share with you today our plans to promote health and safety on our campus as we plan to return in a de-densified setting for the Fall 2020 semester on August 24.
Please read this email and its linked materials carefully, as it provides information and resources that will be crucial to supporting you in your academic and professional journeys. All of this information and more is available on UNO's Fall Forward site, which we encourage you check daily for updates.
Information you will find in this message and on the Fall Forward site include:
Our advice to the entire Maverick community will be to do the basic, but important, things: monitor for symptoms using the 1-Check COVID app before coming to campus, wash your hands, keep physical distance of at least 6 feet, stay at home if you are sick, wear a face covering, clean and disinfect surfaces, be kind, be patient, show grace, and never hesitate to ask questions.
While we do not know what the future holds during this historic time, we are absolutely certain that if we commit to each other's success and wellbeing, we will emerge from this challenge a stronger university and an institution that every current, former, and future Maverick can take pride in. We look forward to your thoughts as we move forward and are very grateful for all of your engagement along this journey.
In the Maverick Spirit,
Jeffrey P. Gold, M.D.
Chancellor
Jane Meza
Interim Executive Director, Office of Health Security
---
Fall 2020 Campus Guidance
The campus guidance, which is available on the Fall Forward website, includes information about compliance, sanitation measures, health screening, managing potential COVID-19 exposures, supply procurement, and work from home guidance, as well as important support resources. This comprehensive set of guidelines was informed by public health expertise; five working groups composed of nearly 100 faculty, staff and students; and the valuable feedback UNO students, faculty, and staff have provided in recent months. It is highly encouraged that you get familiar with this information and use the page's helpful jump-to navigation to get the information you need quickly. We plan to update the guide as the university's response to COVID-19 evolves, so be sure to check it regularly.
Preparedness Checklists
With substantial changes to how the university community will learn, teach, and work this semester, two checklists – one for students and one for faculty and staff – have been created to help set you up for success this semester. Checklists include important details about ordering textbooks, parking, how to get your MavCARD, wellness resources, and much more. Both the student and faculty/staff checklists are available to access interactively or download through the Fall Forward website.
Video Modules
The campus community is highly encouraged to view each of the four training videos that cover important guidance, information, and resources that will help you safely and successfully navigate campus life in a de-densified setting. You can view all four modules on a dedicated page on the Fall Forward website.
The Maverick COVID Commitment
UNO students, faculty, staff, alumni and guests are all invited to participate in the Maverick COVID Commitment to look after each other's health and safety this semester. After committing your support on the Maverick COVID Commitment page, you can download a free poster to show your desire to care for yourself and others.
UNO Interim Face Covering Policy
Beginning Aug. 3, all UNO students, faculty, staff and visitors will be required to wear a face covering when on university property for the fall semester. Read the policy to make sure you are doing your part to prevent the spread of COVID-19 and keep yourself and others safe.
How Students Can Claim Their UNO Face Masks, Durango Days Welcome Bag
How to Obtain Face Coverings and Cleaning Supplies (Faculty/Staff)
Attend the Virtual Faculty/Staff Fall Planning Forum
UNO faculty and staff members will have an opportunity to hear from campus leaders and working group leads about the university's approach to de-densified, in-person teaching, working, and learning this fall during a virtual forum Friday, Aug. 7, from 8 A.M. to 10 A.M. Those interested in attending are encouraged to submit questions in advance to contact@unomaha.edu. An RSVP is required in order to attend.
About the University of Nebraska at Omaha
Located in one of America's best cities to live, work and learn, the University of Nebraska at Omaha (UNO) is Nebraska's premier metropolitan university. With more than 15,000 students enrolled in 200-plus programs of study, UNO is recognized nationally for its online education, graduate education, military friendliness and community engagement efforts. Founded in 1908, UNO has served learners of all backgrounds for more than 100 years and is dedicated to another century of excellence both in the classroom and in the community.
Follow UNO on Facebook, Twitter (X), Instagram, TikTok, LinkedIn, and YouTube.