Mask Up, Mavs!
One of the most effective tools we have in the fight against COVID-19 is also one of the most readily available: face masks. All students, faculty, staff, and visitors are required to wear a face covering when on university property.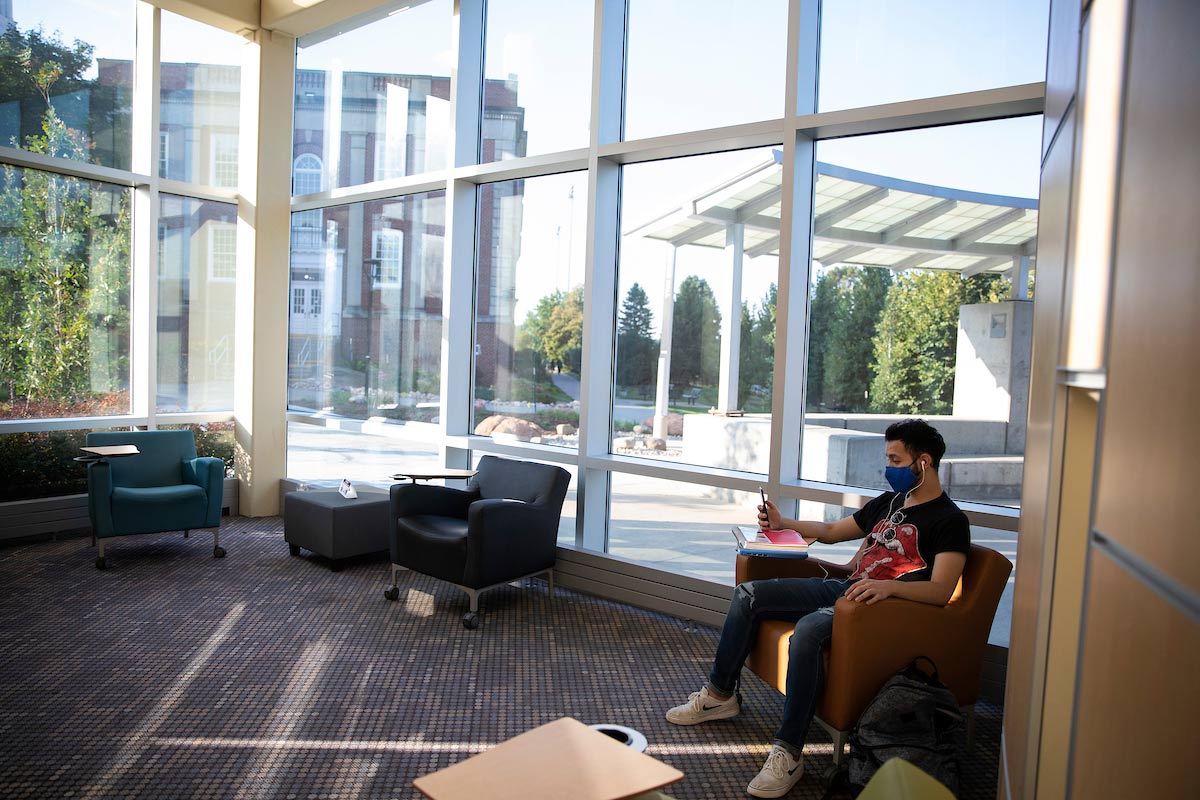 One of the most effective tools we have in the fight against COVID-19 is also one of the most readily available: face masks.

As a reminder, all students, faculty, staff, and visitors are required to wear a face covering when on university property.
---
Read: "How to Obtain Face Coverings, Office Supplies"
---
For the health and safety of the UNO campus community, this policy has very limited exceptions and will remain in effect until further notice. Much like UNO's interim face mask policy, the City of Omaha has implemented a similar mandate requiring the use of face masks in public areas.

We all have a responsibility when it comes to this pandemic and the small steps we take to slow the spread of COVID-19 help ensure that we are able to continue with in-person instruction.

In addition to keeping physical distance; utilizing hand sanitizer and handwashing practices; staying home when you are feeling sick; and refraining from large gatherings, wearing a face mask is a small step that makes a big impact. As recently as this week, the head of the U.S. Centers for Disease Control and Prevention called face coverings "the most powerful public health tool" we have in the fight against COVID-19.

Any time you wear a face mask, you not only protect yourself from the virus, but critically, you are protecting those around you.

Put simply: When you wear a mask, you show that you care about other Mavericks in the UNO and Omaha communities. Seeing Mavericks on-campus and around the Omaha area wearing their Maverick Strong masks demonstrates that we are working together toward a common goal and looking out for those around us. 

Any issues of non-compliance with the university's interim face covering policy can be anonymously reported to UNO's Behavioral Review Team (BRT). All concerns reported are taken seriously and are investigated by members of the BRT. This team works to develop intervention and support strategies; offer case coordination; and will regularly review and recommend actions in accordance with existing university policies.

Effective use of a face mask involves covering your face from the bridge of your nose to below your chin. Reusable masks should be put on, taken off, and cleaned in accordance with CDC guidelines. Face shields are only acceptable if appropriate social distancing can be maintained. Neck gaiters, bandanas, and masks with an exhalation valve are not acceptable facial coverings.

Two reusable Maverick Strong face masks were provided to all students, faculty, and staff at the beginning of the academic year. Additional Maverick Strong masks are available for purchase from the UNO Bookstore. Face masks are also available, free of charge, through the Douglas County Health Department. Alternatively, many retailers also sell reusable masks.

Finally, the 1-Check UNO app is another tool at our disposal in the fight against COVID-19. Whether you are regularly on-campus or primarily learning, teaching, or working remotely, you are strongly encouraged to use this app daily to monitor symptoms for COVID-19 and connect with resources if you are determined to be a medium or high risk. Download the 1-Check UNO app today on your Apple iOS device (Android version coming soon) or use the web-based screener.

Take care, be safe, and wear your mask. 
---
How to Obtain Face Coverings and Cleaning Supplies
For the Fall 2020 semester, the University of Nebraska at Omaha (UNO) has made several personal protective equipment (PPE) and supply options available to slow the spread of COVID-19. 
Face Masks
Two "Maverick Strong" reusable face masks have been provided to all UNO students, faculty, and staff.  Reusable masks should be put on, taken off, and cleaned in accordance with CDC guidelines. 
Students
All new and returning UNO students were able to pick up their Durango Days Welcome Bag and UNO face masks during Durango Days.
Faculty and Staff
Check your mailbox or with your office manager to collect your masks. Most face masks for faculty were delivered to department mailboxes across campus in late June.
New faculty and staff members will receive their masks along with their MavCARD, while supplies last. 
If you are a faculty or staff member who needs a mask and have not received your masks, are missing masks, or have any other questions related to the UNO-branded mask, please email unombscbizoffice@unomaha.edu.
Please be sure to include the following information in your email:
Department
Building
Room Number
Name of Individual(s)
Role of Individual(s) (ex: employee, student worker, adjunct faculty, student, etc.)
Masks Available for Purchase
Members of the general public who would like a Maverick Strong mask can also purchase one from the UNO Bookstore.
Face Shields
UNO has purchased a limited number of face shields available for distribution to faculty and staff. Priority is given to in-person instructors and employees working in an open area. Those interested in obtaining a mask can complete a request form here.
Some departments and units have already placed bulk orders. Please check with your department or unit lead to ensure they did not already submit an order for your face shield.
If face shields are used without a mask, they should wrap around the sides of the wearer's face and extend to below the chin. Some people may choose to use a face shield instead of a mask when sustained close contact with other people is expected for short periods of time.
Hand Sanitizer and Sanitizing Wipes
Hand sanitizer stations are located in strategic locations across campus. These freestanding sanitizer stations are commonly located near building entrances and exits. Disinfecting wipes will be provided for classrooms and labs this fall.
UNO Custodial Services will refill these freestanding sanitizer stations and replace disinfecting wipes in classrooms as needed. Departments and units are responsible for ordering supplies through eSHOP for their areas.
If you purchase your own hand sanitizer, the CDC recommends checking the product label to make sure it contains at least 60% alcohol.
Disinfecting wipes have been provided for all classrooms and labs. Students should be prepared to wipe down their area before and after attending class.

Ordering Additional Supplies
To order now, please use eSHOP by using the form titled "COVID-19 Supplies Order Form." The goal is to fulfill orders as soon as possible. Due to high demand, there may be a delay in order fulfillment. 
To plan for the semester, please use the "COVID-19 Fall Planning Form" in eSHOP to estimate future campus departmental needs. This will help maintain inventory.

How to Order or Print Signage
Print signage materials are available for campus to print and display as needed. These materials include reminders on social distancing best practices; handwashing; cleaning and disinfecting areas such as lab spaces; and more. Signage provided will be updated as public health guidance and campus needs evolve.
Print signage can be printed on standard 8.5x11" paper (preferably in color for legibility).
Additional signage needs that can't be printed in-house, such as floor and window decals, can be ordered through UNMC Printing Services. 
It is recommended that orders be placed at least two weeks in advance, though turnaround times can vary based on materials.
UNO's Response to Coronavirus (COVID-19)
The University of Nebraska at Omaha (UNO) is actively monitoring the rapidly evolving novel coronavirus (COVID-19) situation and providing regular updates to the UNO community as the situation changes.
As UNO safely resumes in-person teaching and learning this fall, campus leaders and five working groups composed of students, faculty, and staff continue to assess and provide guidance in the areas of academics, facilities, student services, communications, and events/athletics. We are committed to your health and success this semester.
About the University of Nebraska at Omaha
Located in one of America's best cities to live, work and learn, the University of Nebraska at Omaha (UNO) is Nebraska's premier metropolitan university. With more than 15,000 students enrolled in 200-plus programs of study, UNO is recognized nationally for its online education, graduate education, military friendliness and community engagement efforts. Founded in 1908, UNO has served learners of all backgrounds for more than 100 years and is dedicated to another century of excellence both in the classroom and in the community.
Become a fan of UNO on Facebook and follow UNO's Twitter updates. 
Contact Us
If you have a story idea, news tip, or other question, please email the UNO News team at unonews@unomaha.edu.