New UNO Campus Mask Guidance
All UNO students, faculty, staff, and guests will be required to wear masks indoors, regardless of vaccination status, effective Aug. 25, 2021.
published: 2021/08/24
contact: Office of Health Security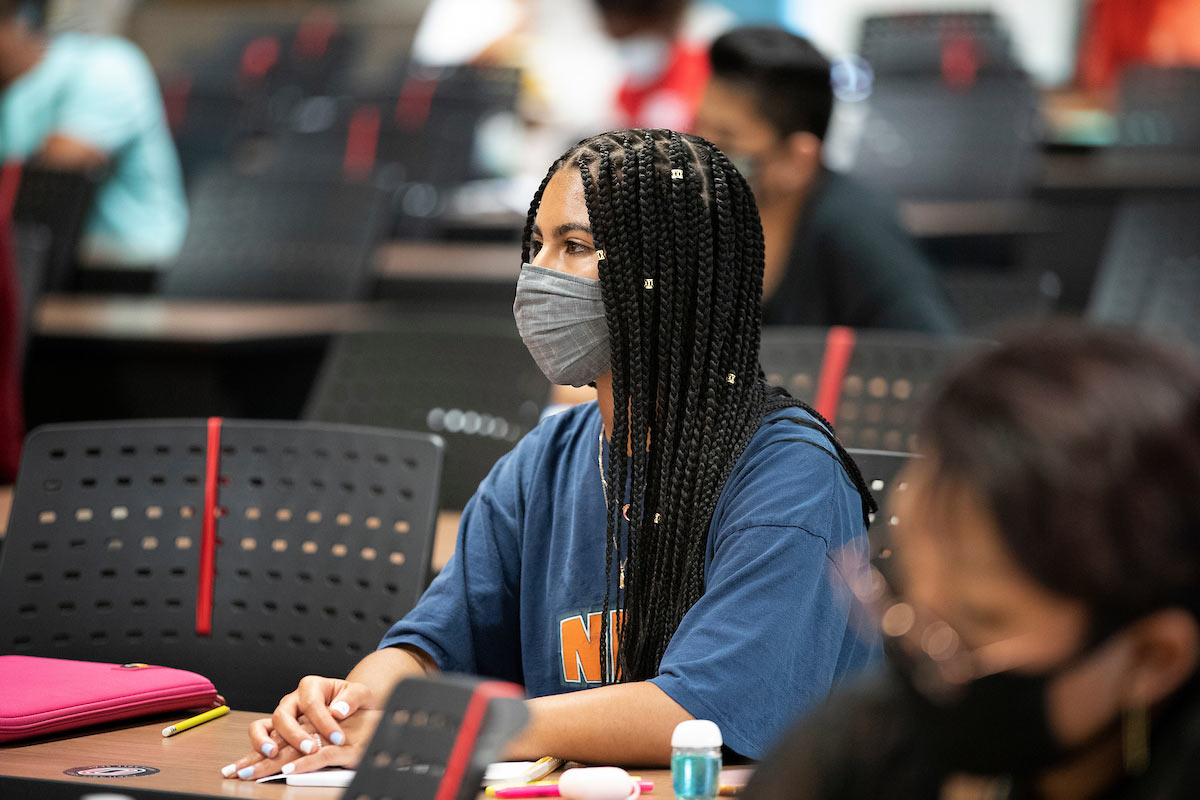 UPDATED AUGUST 24, 2021
---
Keeping our campus safe and healthy requires us all to do our part. It also requires our campus to be nimble, including updating policies as needed to slow the spread of the disease, which is why we are issuing an update to our existing COVID-19 policies.

To preserve our in-person learning opportunities and out of abundance of care for the community, effective Wednesday, Aug. 25, at 6 A.M., all University of Nebraska at Omaha students, faculty, staff, and visitors are required to wear masks indoors due to an increase in the regional transmission of COVID-19 in the Omaha community and recommendations from the UNO Office of Health Security.
Exceptions include:
Mask usage is not required outdoors at this time.
When eating (6 ft social distancing must be observed)
When alone in a room with a closed door
When in a motor vehicle alone or only with members of your household
When in your UNO campus housing unit
When pertaining to children under the age of two years
Individuals can work unmasked in office cubicle space so long as 6 ft distancing can be provided between personnel and/or visitors.
Face masks must be used in all other indoor settings on campus, even in situations where individuals remain more than six feet away.
This preventative measure will allow in-person learning, teaching, and working activities to continue safely and limit the potential for a need to move to remote operations. Mask guidance is subject to change as the UNO Office of Health Security monitors trends and receives guidance from local, state, and federal health officials. All other Fall 2021 Guidance remains in place.
All UNO students, faculty, and staff are strongly encouraged to receive a COVID-19 vaccine in order to help limit the spread of the virus on campus and in the Omaha community.
If you have come into contact with someone who has tested positive for COVID-19 or if you have tested positive for COVID-19, submit a BRT form to help us track the prevalence of COVID-19 among our campus community and to receive consultation and support from the Office of Health Security Team.
Joanne Li, Ph.D., CFA
Chancellor
Jane Meza, Ph.D.
Interim Executive Director, Office of Health Security
---
Additional COVID-19 Guidance
Please make sure to monitor your email inboxes, as well as our campus newsletters, social media accounts, and the Maverick COVID Response Website to ensure you have the most up-to-date information and health and safety guidance.
Maverick COVID Response Website
On the Maverick COVID Response website you'll find the latest information on the following topics and others.
Fall 2021 Campus Guidance
Updated Travel Guidance
Events and Gathering Policy Updates
Maverick Wellness Welcome Station and Testing Center Updates
UNO Wellness Center Updates
Print Your Own COVID-19 Signage
Need help spreading the word about UNO's COVID guidance - or just general best practices for helping stop the spread of the virus? You can print a poster for your building or office with important tips and reminder
About the University of Nebraska at Omaha
Located in one of America's best cities to live, work and learn, the University of Nebraska at Omaha (UNO) is Nebraska's premier metropolitan university. With more than 15,000 students enrolled in 200-plus programs of study, UNO is recognized nationally for its online education, graduate education, military friendliness and community engagement efforts. Founded in 1908, UNO has served learners of all backgrounds for more than 100 years and is dedicated to another century of excellence both in the classroom and in the community.
Follow UNO on Facebook, Twitter, Instagram, TikTok, LinkedIn, and YouTube. 
Contact Us
If you have a story idea, news tip, or other question, please email the UNO News team at unonews@unomaha.edu.