Digital Learning at UNO: A History of Innovation
published: 2020/06/24
contact: Charley Steed - University Communications
email: cdreed@unomaha.edu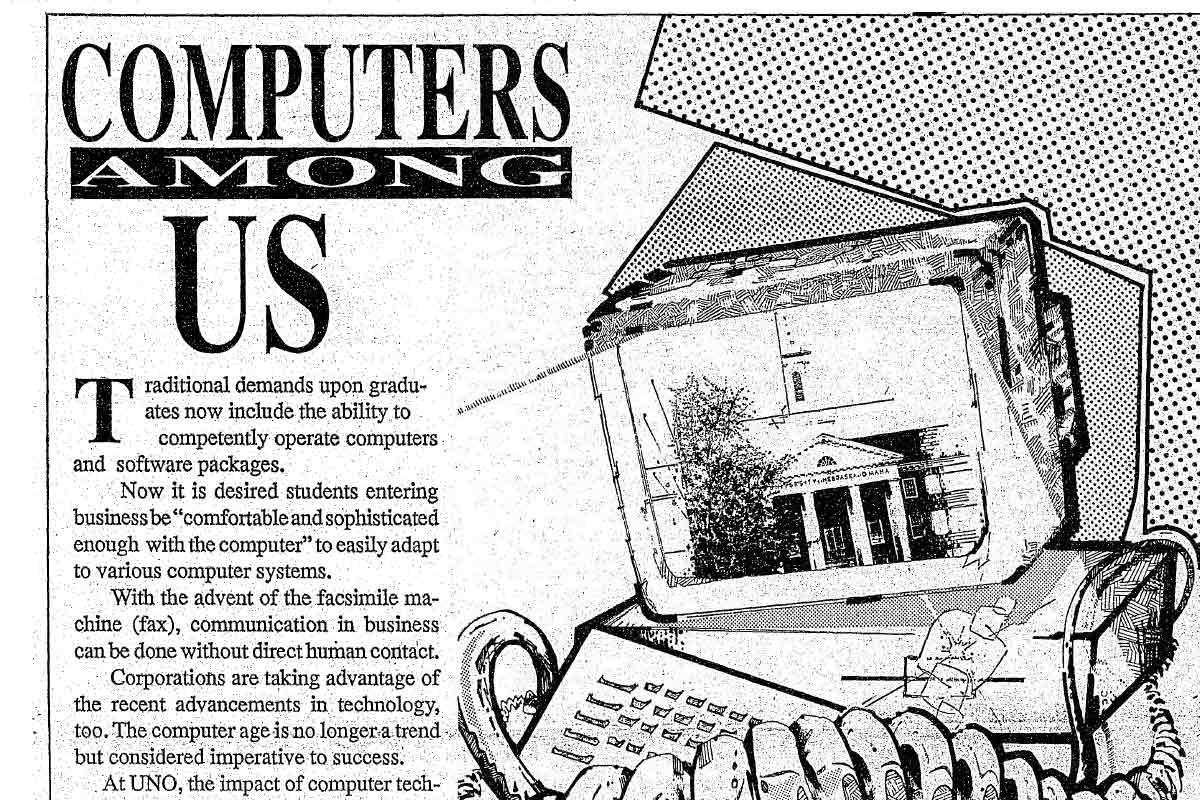 This 1989 article from the UNO Gateway newspaper looked ahead to a future when UNO students and graduates would be expected to be experienced in all forms of computer technologies and software.
"Imagine rolling out of bed, putting on the coffee and as you enjoy your first cup, go to class. No shower, no makeup, no getting dressed."
Students today don't have to imagine this scenario, but neither did students attending UNO more than 20 years ago, when these lines graced the pages of a July 1997 issue of the Gateway student newspaper.
While the realities of COVID-19 have made the words "online delivery," "remote learning," and "hybrid classroom," commonplace, they are not new buzz words; they are rooted in UNO's historic mission of access to exceptional education.
As Alex Zatizabal Boryca, assistant director of digital learning at UNO, explains it: "Online education grew organically at UNO from within the colleges. It was the early adopters, people who were excited about it, and then students who said they needed the flexibility that these courses can offer and kept pushing to expand and grow our offerings."
Early adopters of digital learning included programs like Public Administration, Management Information Systems, Multidisciplinary Studies (formerly General Studies), and the Writer's Workshop.
Becuase of these innovators, more than 90 percent of UNO students were taking at least one online or remote course during their degree program prior to the move to remote learning in Spring 2020. In fact, UNO not only has 27 fully-online degree and certificate programs, but is nationally ranked in many of them at the undergraduate and graduate level.
"When you look back at how quickly and successfully faculty and students were able to adapt to our move to remote learning, being intentional about building out our technologies, processes, and support services was key to that transition," explains Jaci Lindburg, director of digital learning at UNO.
From Canvas to Zoom to VidGrid to online textbooks, the resources that students have been using for years at UNO are the result of a detailed vetting process to maximize ease of use, accessibility, flexibility, and ability to facilitate an engaging educational experience.
Lindburg says that while the goal is to certainly return to on-campus delivery of courses as a primary focus once it is safe to do so, it will be with a new outlook and approach that blends the best outcomes and lessons learned from a remote-only approach in order to move forward toward the future of what higher education can be.
"Change is always difficult," Lindburg says. "But change with intent is where challenges becomes opportunities. Much like the faculty who started us on this path decades ago - what we do today is what will lead us into tomorrow."
May 2020 graduate Cade Wolcott perhaps put it best in his commencement address to the College of Information Science and Technology:
"College students are constantly asked 'What's next?' ... Instead of asking ourselves 'What's next?' we should be asking 'What's now?' What impact can we make today? What impact are we already making today? Instead of ending the chapter, let's simply turn the page."
About the University of Nebraska at Omaha
Located in one of America's best cities to live, work and learn, the University of Nebraska at Omaha (UNO) is Nebraska's premier metropolitan university. With more than 15,000 students enrolled in 200-plus programs of study, UNO is recognized nationally for its online education, graduate education, military friendliness and community engagement efforts. Founded in 1908, UNO has served learners of all backgrounds for more than 100 years and is dedicated to another century of excellence both in the classroom and in the community.
Follow UNO on Facebook, Twitter (X), Instagram, TikTok, LinkedIn, and YouTube.