Student Commencement Stories: May, August 2020
Learn more about some of the newest members of the UNO Alumni network.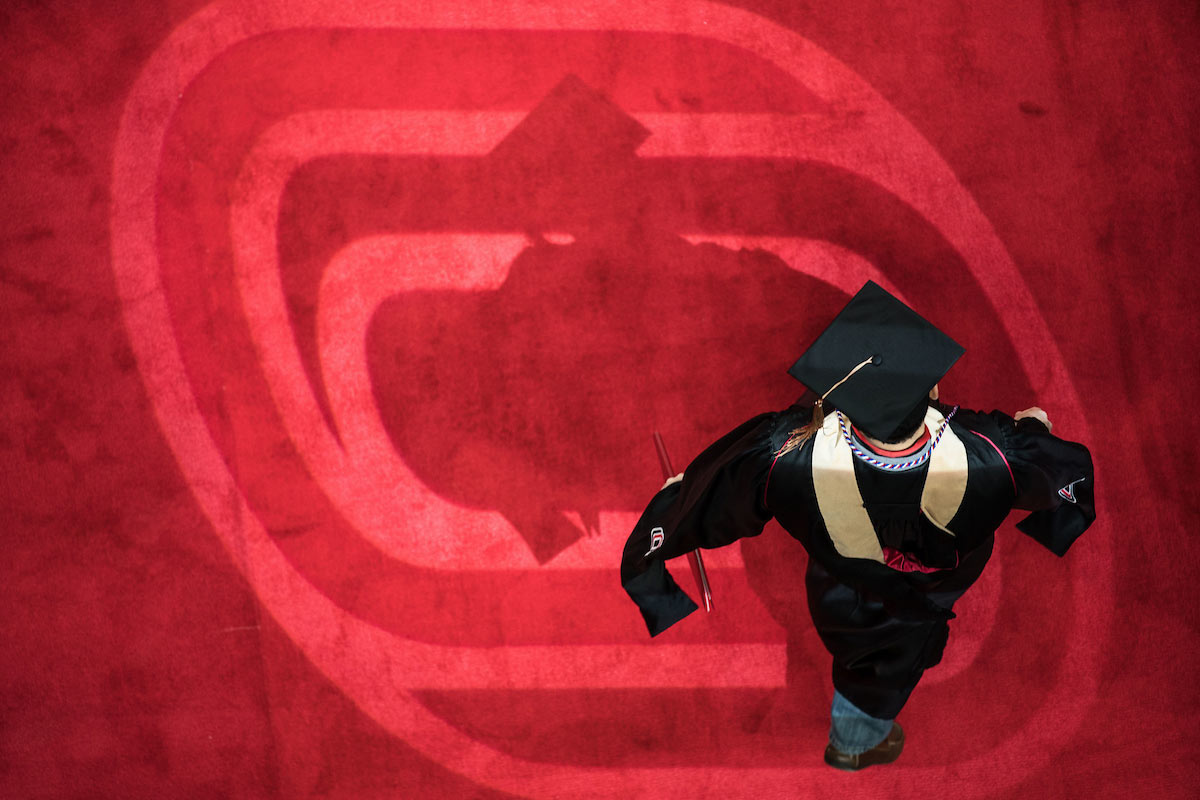 On Friday, May 8, the entire Maverick community came together to celebrate the accomplishments of more than 1,900 UNO students as they are set to achieve their academic goals as the Class of 2020.
No matter if they earned a certificate, bachelor's degree, master's degree, or even a Ph.D.; if they were from the metro area or attended UNO from thousands of miles away; or whether they were first-generation, an honors student, a student-athlete, a member of student government, or maybe all of these things, they all share one thing in common: they are Mavericks.
Interested in learning more about other recent UNO alumni? View our previous Student Commencement Stories and check out our "I Am the R.O.I." series, featuring seven Mavericks whose return on investment from their UNO education has gone far beyond earning their degree.


Browse by graduate:
Abi Javier - College of Arts and Sciences
Kevin Mitchell - College of Arts and Sciences, Graduate College
Alejandra Escobar-Serrano - College of Business Administration
Maria Mickles - College of Communication, Fine Arts and Media
Morgan Miller - College of Education
April Goettle - College of Information Science & Technology
Michael Mazgaj - College of Information Science & Technology, Graduate College
Alyssa Spartz - College of Public Affairs and Community Service
---
Abi Javier
College of Arts and Sciences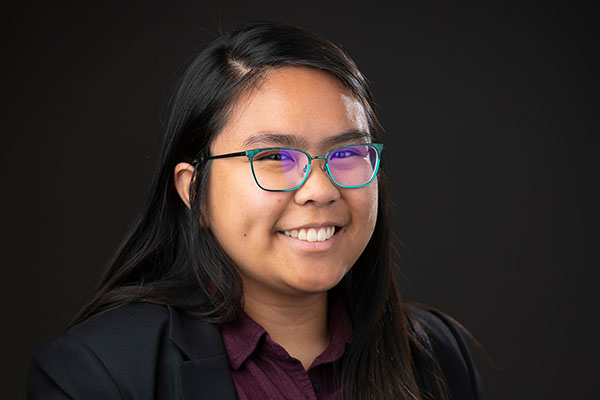 A lot has changed for Abi Javier since she first came to Omaha nearly six years ago from her native Philippines - and all for the better. Her time as a UNO student, in particular, has been a journey of self-discovery she says has opened her eyes to the ways seemingly small opportunities can form ripples that lead to significant, positive changes.
For Javier, it all started with giving herself an extra year of high school to navigate the world of U.S. college scholarships. This, in turn, led her to UNO's Goodrich Scholarship Program, which exposed her to new ideas and concepts.
"As a psychology major I wasn't really sure why I needed to take a bunch of classes I didn't need," she says. " I didn't see humanities and writing as something that I would treasure the most out of my college experience, but Goodrich and the classes and the professors involved opened my mind to a lot of things. I learned about social issues and topics that I realized I was passionate about."
Being able to step out of her comfort zone in the classroom helped the introverted Javier take on positions as a UNO Ambassador and member of UNO Student Government.
"I didn't realize how many opportunities there are at UNO," she says. "That is something I want to highlight for students. There are a lot of exceptional things happening at UNO and I don't think people realize that."
While she initially planned to pursue a medical career with her psychology degree, Javier says she will actually be returning to UNO to begin a graduate program in counseling with a focus on student affairs and secondary education. She wants the next generation of students to have the same support and encouragement to try new things that she experienced during her time at UNO.
"For me, Maverick Spirit describes a person who is moving forward - always. UNO is a place to really explore what you are interested in and they are to support you. They want you to be a forward thinker and they provide you the space to do that."
---
Kevin Mitchell
College of Arts and Sciences, Graduate College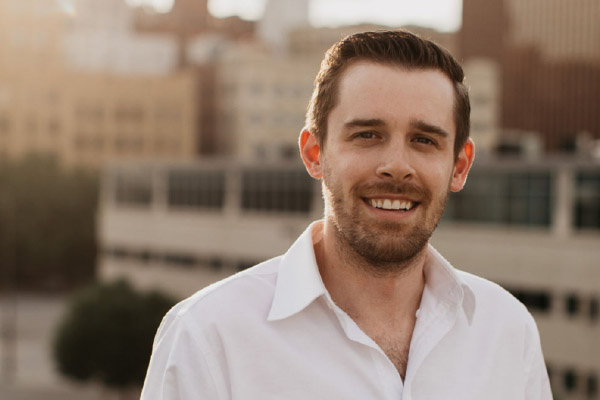 Change, for most of us, is something we either try and avoid or accept.

For Omaha native Kevin Mitchell, who is graduating with his doctorate in industrial and organizational psychology, change is something he has spent the last six years trying to understand.

"As I started to research the field more, I was convinced this facet of psychology would allow me to carry out the type of work I wanted to do for my career," he says. "Luckily, UNO had a program."

In joining UNO, originally as a master's student, Mitchell was able to serve as co-director of the UNO Center for Applied Psychological Services, which tasks students with solving organizational issues faced by businesses and nonprofits in the community. He also spent time as a graduate assistant in the Center for Collaboration Science, learning key aspects of cross-unit collaboration within organizations.

"I think this was valuable in building some conflict resolutions skills and allowed me to return to a consulting space," he says. "These projects were some of the first where I was able to apply the skills learned in the classroom to companies outside of UNO."

Not only did his time at UNO prepare him for his current position as a senior analyst in talent management for Nebraska Medicine where he helps employee and leadership development programming and employee engagement initiatives, but it is also where he met some of his best friends and his future wife, who is also pursuing a Ph.D. in the I/O psychology program.

"I was really lucky with the cohort I was part of; one of them is my best man in my wedding and another is in the wedding party," Mitchell says. "We worked on group projects together, studied together, and they challenged me in a healthy way that made me a better writer and researcher."

When it comes down to it, Mitchell credits UNO for setting him up for success in a career he is truly passionate about.

"Looking back over the six years, the growth, personally and professionally, is really owed to UNO. I loved my experience with the program and I love what I do."
---
Alejandra Escobar-Serrano
College of Business Administration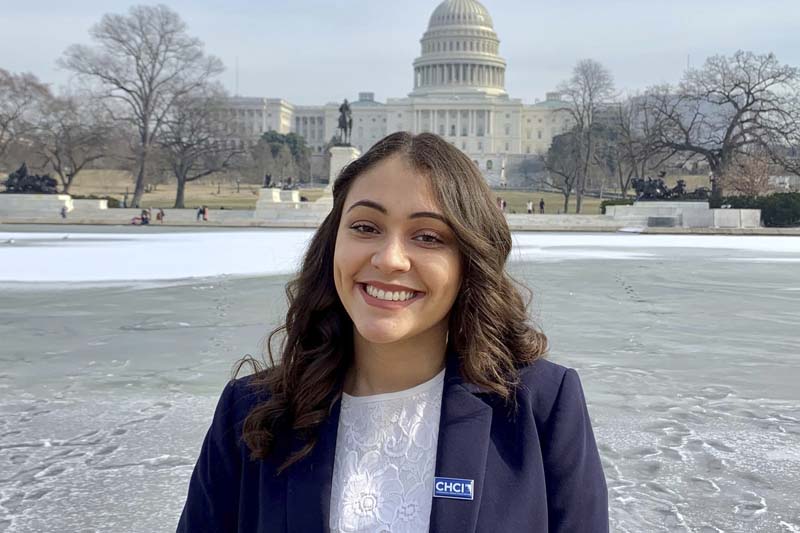 Whether it is in the classroom, or in her community, Alejandra Escobar-Serrano has made an impact during her time as a UNO student.
A first-generation student and Omaha native, Escobar-Serrano was one of the first cohorts for the College of Business Administration's CBA Scholars Academy. The program, which allows students to be mentored by industry professionals and apply their lessons outside of the classroom, was a perfect fit for the Omaha South High School alumna, who also double majored in Political Science.
Escobar-Serrano, who is also a part of the University Honors Program, not only took part in a service learning initiative "I Vote for My Family," to ensure citizens were registered and able to vote in the 2016 and 2018 elections, but also served as an intern in Washington, D.C. as a member of the Congressional Hispanic Caucus Institute.
Escobar-Serrano also became one of a handful of students - out of more than 800 applicants - to be named a finalist for the Harry S. Truman Scholarship in 2019.
"A lot of what I wrote about in my application was about mentoring students, because I volunteer my time and give back to my old high school, South High, and provide my time to help edit their essays and encouraging them to go into higher education," she explains. "That is my focus; getting more people of color into higher education."
Escobar-Serrano says she plans to pursue a graduate degree with the hopes of expanding higher education opportunities for underserved populations.
"I appreciate the support from the UNO community, especially through my first year in college. I want to provide that to other students in the future."


---
Maria Mickles
College of Communication, Fine Arts and Media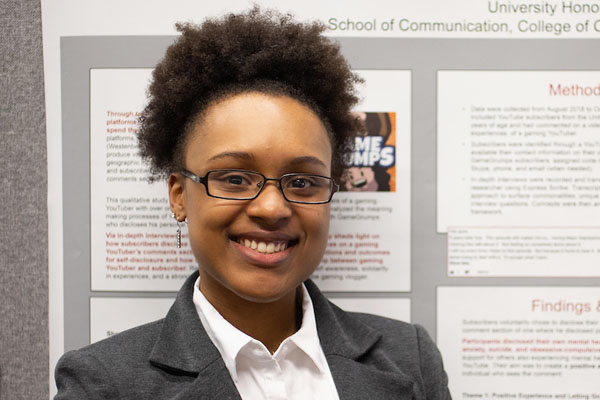 College, in and of itself, is an obvious challenge for anyone determined enough to further their education after high school. For Maria Mickles, who is earning her degree in communication and media studies, the average college experience just wasn't challenging enough.
A first-generation student from Omaha Burke High School, Mickles was familiar with UNO through the Dual Enrollment program. Knowing she didn't want to leave her family, UNO was the comfort she needed to pursue higher education.
While at UNO, Mickles, who was a Thompson Scholar, challenged herself by taking part in the University Honors Program.
"Students are encouraged to go above and beyond regular classwork, whether in a specified honors course or a course contracted to make it feel like an honors class."
As part of her coursework, Mickles became interested in online communication and its impact on mental health. Mickles began her research in 2018 as a senior honors capstone project, eventually submitting it to the UNO Student Research and Creative Activity Fair.
"Both the Honors Program and the research fair challenged me to go above and beyond to truly understand my own abilities in classwork," Mickles explained. "I was even more excited that I was able to represent communication-based research in a sea of amazing science projects."
She also pushed herself physically, starting with a "Boot Camp" course through Campus Recreation, but eventually taking on dozens of extra classes, not only improving her personal wellness but developing friendships as well.
"What helped me come back day after day was ultimately the people and the environment of the class," Mickles says. "It was very friendly, inviting, and supportive of everyone from every fitness level."
Mickles also participated in volunteer opportunities both on campus and off. Recently, she helped with Omaha's annual "Trek Up the Tower" event as an intern with a locally based wellness organization.
Wellness is something Mickles hopes to carry with her as she pursues a master's degree in public health at UNMC, after which she hopes to be a wellness coordinator or work in human resources. It's a future she credits to all the support she's received during her time at UNO.
"I believe attending UNO was one of the best decisions I've ever made."
---

Morgan Miller
College of Education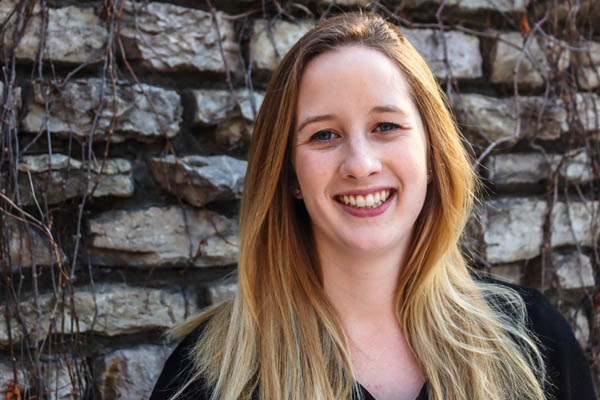 Whether it has been on the putting green, on stage, or in the community, Morgan Miller has been a true Maverick.

Originally from Bemidji, Minnesota, Miller came to UNO to pursue her athletic talents as a member of UNO's women's golf team, which she did for two seasons; however, she ultimately turned her focus to the classroom and to the world of sign language.

"I never had met anyone in the Deaf community and I had never learned about Deaf culture or history," she says. "Once I was exposed to this community, which is rich with culture, history, and American Sign Language, I wanted to become even more involved."

That passion led this UNO honors student to become involved in efforts like serving as vice president for the Allies for Sign Language student organization, being a student representative for the Nebraska Registry of Interpreters for the Deaf, and even collaborating with UNO Theatre as a sign language interpreter for performances.

"I've loved all these experiences," she says. "I was able to collaborate with other interpreting and theater students while growing as a professional and developing interpreting skills."

Miller also credits her faith and involvement in Campus Fellowship, where she not only met lifelong friends but had opportunities to use her interpreting skills in the community.

Her ultimate goal? To work in classrooms as an educational sign language interpreter on her way to earning national certification and then applying her skills in mental health settings.

No matter what, she knows the Maverick Spirit instilled in her will help provide a pathway forward.

"'Maverick Spirit,' is a term that has defined my UNO experience. It embodies a spirit where everyone - faculty, friends, mentors, and coaches - work together to achieve success. These people challenged me to pursue excellence, helped me achieve my goals, and have celebrated with me each step along the way. I love UNO because of all the opportunities I was able to have."


---

April Goettle
College of Information Science and Technology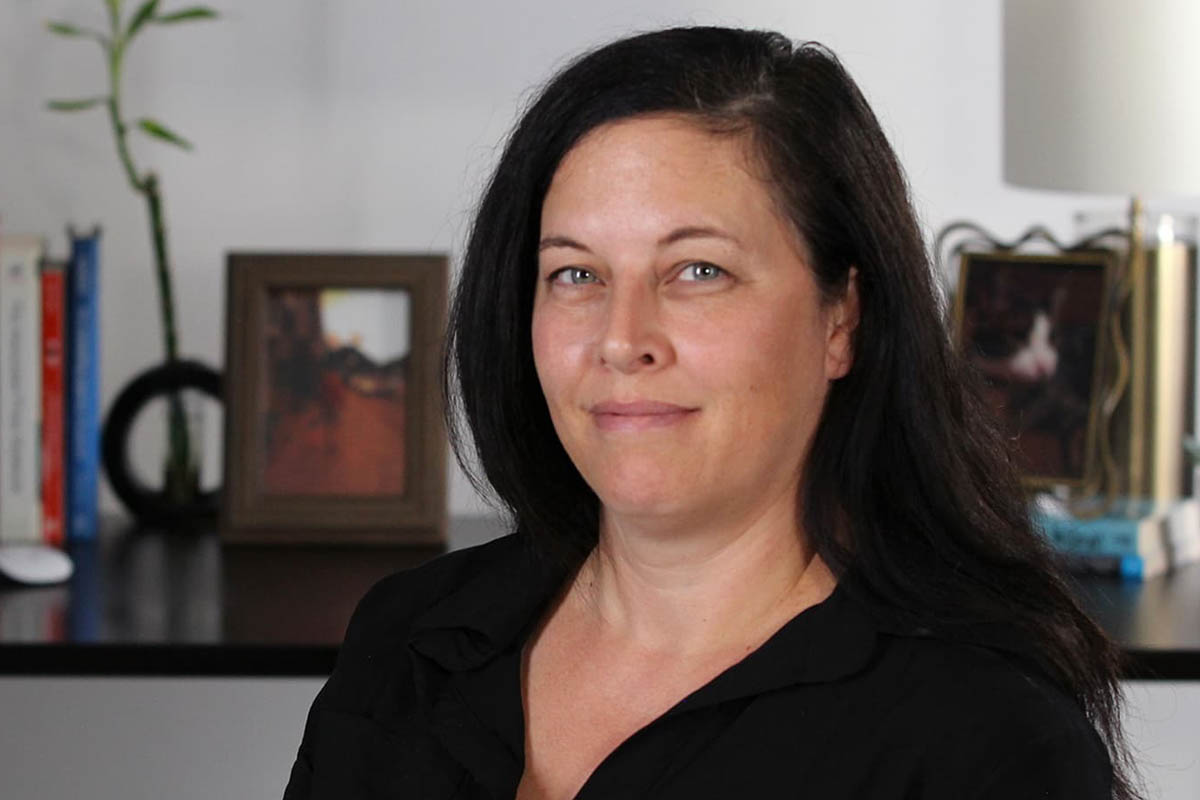 April Goettle, who previously spent many years in the service industry, tested the waters of a future in technology through coding classes a few years ago at a local computer programming school. Today, with a little encouragement and mentorship, she is set to earn her bachelor's degree in IT Innovation from UNO's College of Information Science and Technology.

"I wanted to specialize in Front-End Development and Web Design," Goettle says. "The IT Innovation program allowed me to learn key skills that are just as important as computer language skills, such as Agile Development, and pursue the design classes that I needed."

Goettle said the tutoring and mentorship she received through UNO's Computer Science Learning Center was key to her success.

"The tutoring program helped me get through many a Java programming assignment," she said.
Goettle also participated in the Women in IT Mentoring Program, which pairs students with community IT leaders to help others find their future career path in tech.

Understanding the importance of these mentorships and connections, Goettle didn't wait until graduation to start making an impact. Through the Do Space Women in Tech Fellowship, she developed Remoter.tech, a website that connects job seekers to full-time and part-time remote work opportunities in tech.

She plans to continue connecting people after receiving her degree.

"I'm currently looking at ways I can launch a program this fall where students, working with a mentor in the industry, can build needed websites and platforms for small businesses struggling during the pandemic," she says.

"I have a greater appreciation now for what it means to complete a four-year degree program," she said. "It's a lot of work and speaks to the dedication needed to finish. I'm considering a master's degree in a few years (I need a little break!). That's not something I would have considered before."
---
Michael Mazgaj
College of Information Science & Technology, Graduate College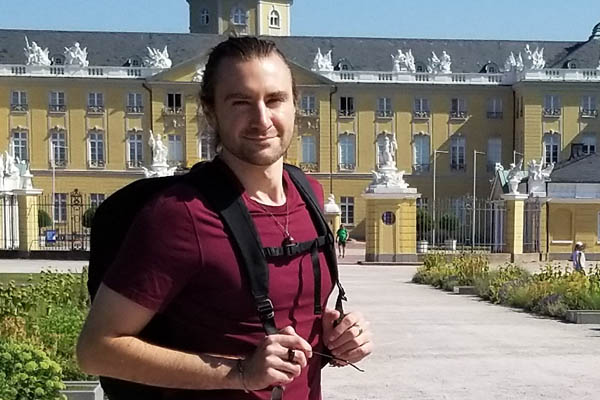 Michael Mazgaj's search for challenge and fulfillment took him away from his work as a project geologist for environmental consulting firms and led him back to the classroom.

After earning an MBA in International Business from UNO two years ago, graduate assistantships brought him back to UNO to pursue another master's degree—this time through UNO's College of Information Science and Technology (IS&T).

"I love UNO for the opportunities they have," Mazgaj said. "I completed my MBA and was given more opportunities to work within the domain of IT Innovation."

Getting involved in research was an important factor in Mazgaj's decision to enter a second graduate program, which is why UNO's Center for Collaboration Science was a big draw.

"I looked at the structure of the Center for Collaboration Science and saw the potential to learn not only about one discipline but many," he said. "The lab funded my ideas and gave me momentum to build self-efficacy around what I was learning."

His research has included exploring how 3-D holographic imagery can help make long-distance communication and collaboration most effective. Mazgaj and other IS&T students also visited Berlin, Germany, a hotbed for tech startups in Europe, through an IES Abroad Faculty-Led STEM program. There, he and other IS&T students learned how European companies operate and how technology complements business and organizational needs.

Next, he plans to take on a few side ventures while working full-time within Intrado's Future Leadership Development program. This 24-month rotational program will provide him with on-the-job experience as a business analyst or business technologist in a variety of fields.

It was all made possible by his time at UNO and embracing the Maverick Spirit.

"'Maverick Spirit' is taking the road less traveled, breaking away from the herd, and pursuing your own goals, despite expectations from others. My Maverick journey led me to leave a 'stable career,' learn the true meaning of interdisciplinary work, and reach out to participate in a master's program.
---
Alyssa Spartz
College of Public Affairs and Community Service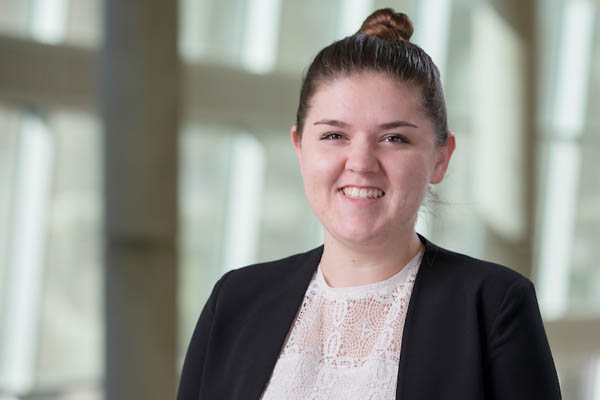 Helping others has always been a priority for emergency management and psychology major Alyssa Spartz. Originally from Hastings, Nebraska, Spartz was lured to UNO to pursue a promising career in physical therapy.

"Though the physical therapy program was amazing, I began to realize that I was not passionate about becoming a physical therapist. It was because of the volunteer opportunities that were offered that I was able to find an area that I was passionate about studying."

Spartz soon enrolled in UNO's psychology program where she felt at home studying the complexities of human behavior, more specifically, mental health. Spartz later added an Emergency Management major to her course of study and quickly learned how both areas relate to one another in terms of mental health following disasters.

While continuing her studies, there were many things Spartz, who is also a member of the UNO Honors Program, found she could do on campus and still fulfill her love for volunteering. Working with the Maverick Food Pantry was a great start; Spartz became a student manager and held the position for almost three years.

When the floods of 2019 devastated eastern Nebraska, Spartz jumped in to help. Through an NU system serviceship program, Spartz assisted Washington County in restoring their flood-ravaged fairgrounds.

"The project allowed me to expand my own knowledge and see first-hand how important resiliency is in recovering from a disaster," she recalls, "Without the knowledge I gained through my UNO course work and the NU system serviceship, I would not have been able to serve my community in such a meaningful way."

As her time at UNO comes to an end and she prepares for commencement, Spartz is not short on advice for incoming and prospective UNO students.

"I dealt with a lot of uncertainty when trying to decide what field of study I wanted to pursue and the career goals I wanted to have. As a Maverick, I was reminded to continue moving forward and to never give up trying to find my passion in life."
About the University of Nebraska at Omaha
Located in one of America's best cities to live, work and learn, the University of Nebraska at Omaha (UNO) is Nebraska's premier metropolitan university. With more than 15,000 students enrolled in 200-plus programs of study, UNO is recognized nationally for its online education, graduate education, military friendliness and community engagement efforts. Founded in 1908, UNO has served learners of all backgrounds for more than 100 years and is dedicated to another century of excellence both in the classroom and in the community.
Follow UNO on Facebook, Twitter (X), Instagram, TikTok, LinkedIn, and YouTube.