A Message from UNO Student Body President Aya Yousuf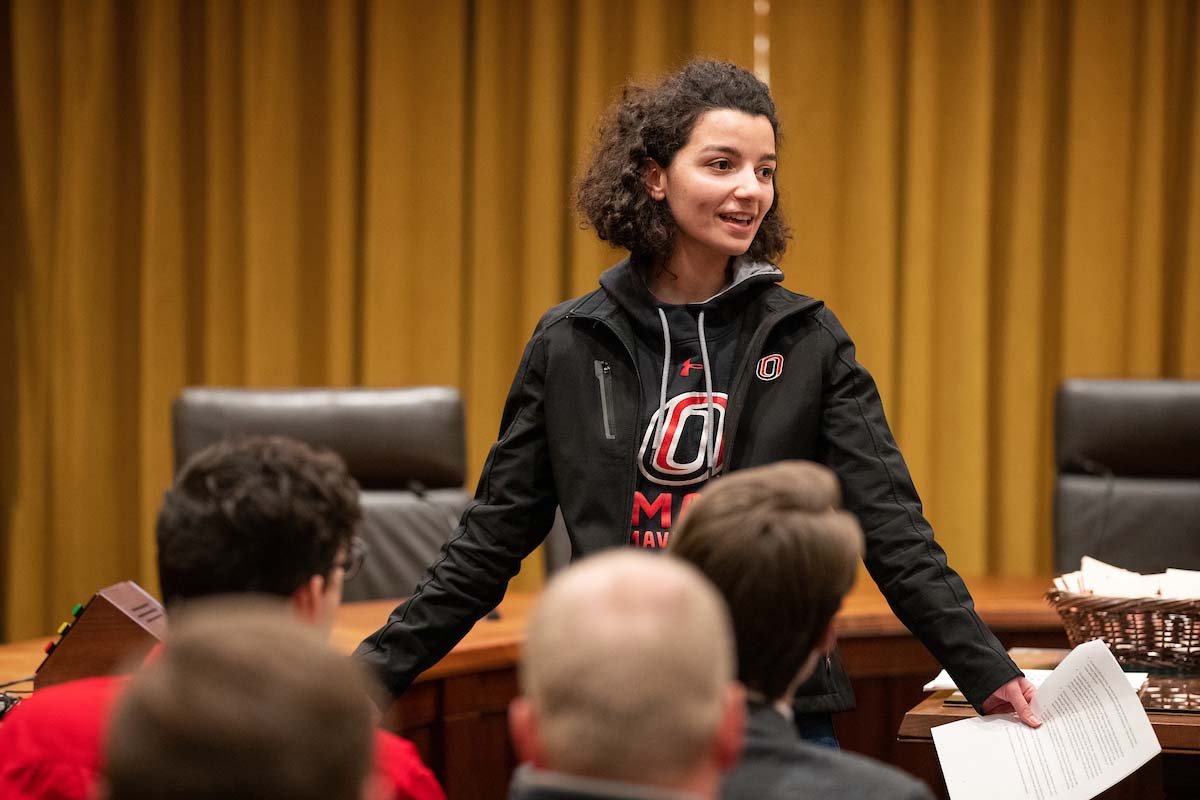 UNO Student Body President Aya Yousuf
Dear Mavericks,
I want to take a moment to thank of you for being committed to each other's health during such a difficult time in our lives.
We are facing a public health challenge together that students before us haven't had to face, and I am inspired by the way we have responded.
The spread of coronavirus around the world means the health of our family, friends and loved ones are at risk, but your attention, patience and cooperation during our university's transition into remote learning will play a major role in keeping you and the people you care about safe.
Social distancing will play a vital role in slowing down the virus's spread in the months to come, and the university has developed plans and guidance to help you on track with classes going forward:
While classes are conducted online, your professors will use tools like Canvas, Zoom and VidGrid.
Even though campuses will be taught online, services that this community relies on will stay open, including counseling services, dining services, residence halls and campus study spaces.
If you're able, I encourage you to return to your permanent residence to keep social distance as recommended by the Centers for Disease Control.
If you don't have equipment to learn online or have limited internet access, you can apply to use a laptop from the Office of Digital Learning.
During the extended Spring Break campus will remain open with key buildings and services adjusting their hours. Visit UNO's Spring Break information page for details and be sure to check your emails for important updates coming from the university or your individual instructors.
If you have questions about this transition, the university has created a frequently asked questions page on the Coronavirus Updates site to provide you with answers. They share new announcements and information on the site every day at 9 A.M. and update the FAQ page regularly as new questions come in, so I encourage all of you to check the page so you stay up to speed as this situation evolves.
With that, I will leave you with two things: There's a leader inside each and every one of you – we need each other, and we need you to help our communities. Take care of yourself, take care of one another, and be kind to each other.
This is a time where we can all truly show the Maverick Spirit of exemplifying strength, resilience, and more importantly, community.
On behalf of your Student Government, we are always here ready to support you and answer any questions you may have.
From the bottom of my heart, I am proud and thankful for how courageous, engaged, and thoughtful you all have been.
Thank you, and as always, go Mavericks!
Aya Yousuf
UNO Student Body President and Regent
About the University of Nebraska at Omaha
Located in one of America's best cities to live, work and learn, the University of Nebraska at Omaha (UNO) is Nebraska's premier metropolitan university. With more than 15,000 students enrolled in 200-plus programs of study, UNO is recognized nationally for its online education, graduate education, military friendliness and community engagement efforts. Founded in 1908, UNO has served learners of all backgrounds for more than 100 years and is dedicated to another century of excellence both in the classroom and in the community.
Follow UNO on Facebook, Twitter (X), Instagram, TikTok, LinkedIn, and YouTube.