Maverick Down Under; Nguyen Returns from Invictus Games With A Gold, Bronze
The games began in 2014 as an opportunity to compete in athletics for veterans or current service members who were wounded, either physically or mentally, while serving their country.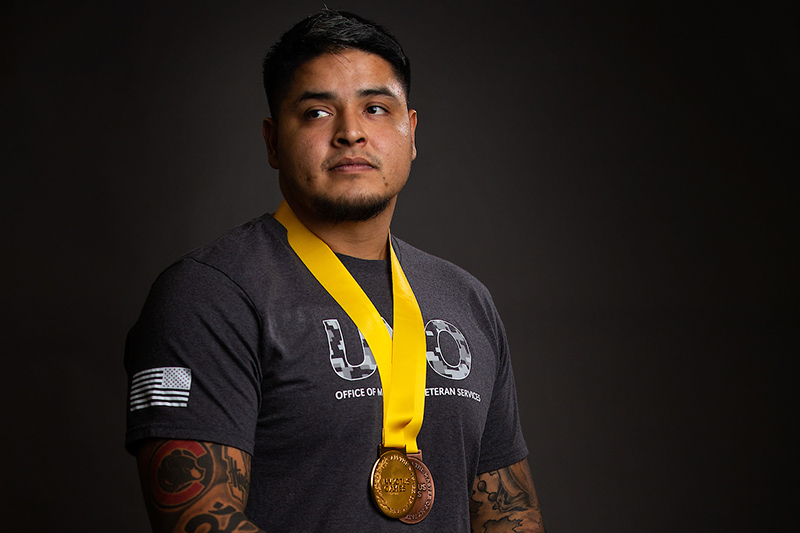 University of Nebraska at Omaha (UNO) junior Alex Nguyen had served as a member of the U.S. Marine Corps for almost nine years when the unexpected happened. On Sept. 20, 2011, Nguyen's vehicle struck a roadside bomb in Afghanistan. The explosion shattered both of his ankles, broke his left leg and left him with a decision to make regarding his right leg, which didn't seem to be healing.
"It came down to me either living with the pain and having my leg, or I could amputate it and be able to do stuff with my son as he gets older," he remembers. After processing that difficult decision, he decided amputation was for the best.
Because he was planning on making a career in the military and that was no longer an option, Nguyen came face-to-face with a question: "What's next?"
The answer led Nguyen to UNO.
Nguyen felt drawn to the school's wheelchair basketball team, which had officially become a university team his freshman year in 2016.
"I honestly didn't know if I wanted to go to college once I got out, but when I found out our coach was starting up the program, I gave in and said 'OK,' I'll go to college and use basketball as one of the motivations to keep my grades up," he said.
Nguyen is studying psychology with a minor in gerontology and hopes to help veterans who are struggling with post-traumatic stress disorder. "I've been there before and it's not a fun place to be. So, if I could help someone get over their PTSD, then that would be great."
His experience in the military served as preparation for his time at UNO and has aided him, both physically and mentally, in becoming a strong member of UNO's wheelchair basketball team.
"It helped prepare me to be a leader, push me to my breaking point, figure out who I was and what I'm capable of doing," he said.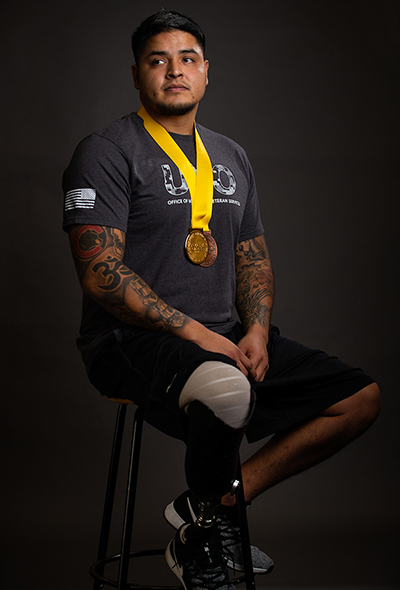 In October, Nguyen participated in the 2018 Invictus Games in Sydney, Australia. The games began in 2014 as an opportunity to compete in athletics for veterans or current service members who were wounded, either physically or mentally, while serving their country.
While representing both the U.S. and his university, Nguyen won a gold medal in basketball and a bronze in rugby. He had previously participated in the 2016 games, in Orlando, Florida where he won two gold medals in discus and rugby, as well as a silver in shot put.
Although the competition took him out of the classroom for a few weeks and caused him to miss the first UNO wheelchair basketball tournament of the season, Nguyen recalls the love and support from his Maverick family.
"My teammates always kept in touch with me while I was out there, just to see what I was doing and to watch the games. They wanted to see how much we won by and who we played and stuff like that," he said.
Nguyen's professors assured him they would be cheering him on and hoped that he was successful during his time away from the classroom.
Just as UNO emphasizes the importance of setting students on the right path to long-term success, the Invictus Games recognize difficult pasts and circumstances, all while looking toward brighter futures.
And as Nguyen achieves success in the classroom and the court, he'll continue to draw inspiration from the name of the games that took him to Australia and Florida. Invictus is Latin for unconquered, a word that just seems to fit for this Maverick.
About the University of Nebraska at Omaha
Located in one of America's best cities to live, work and learn, the University of Nebraska at Omaha (UNO) is Nebraska's premier metropolitan university. With more than 15,000 students enrolled in 200-plus programs of study, UNO is recognized nationally for its online education, graduate education, military friendliness and community engagement efforts. Founded in 1908, UNO has served learners of all backgrounds for more than 100 years and is dedicated to another century of excellence both in the classroom and in the community.
Follow UNO on Facebook, Twitter, Instagram, TikTok, LinkedIn, and YouTube. 
Contact Us
If you have a story idea, news tip, or other question, please email the UNO News team at unonews@unomaha.edu.