Student Scientists Forge Different Paths to Success
published: 2018/07/03
contact: Charley Steed - University Communications
email: cdreed@unomaha.edu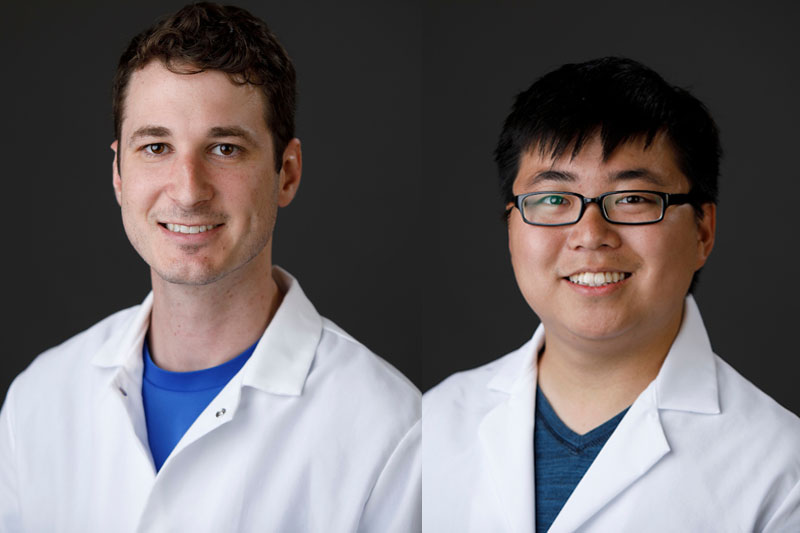 Toxoplasmosis is a disease that may not be well known among the general public, but its reach and impact are significant.
The disease, which could be infecting up to a third of the world's population, does not have any clear symptoms and those who are prone to the disease have been shown to be more prone to risky behaviors, including suicide.
Over the last several years, dozens of UNO students have spent a significant portion of their undergraduate careers studying toxoplasmosis and the parasite that causes it, Toxoplasma gondii, under the guidance of Paul H. Davis, associate professor of biology, who has studied the parasite since 2006.
"Studies done in mice show it reprograms them," Davis told UNO Magazine in 2016. "It makes them think they are no longer scared of cats. So, the question is whether the parasite actually enters our brains and does the same thing. Does it reprogram our fear response, make us more willing to take risks?"
Despite a disease that has such broad potential impact, there are currently no vaccines or cures available. This is where UNO students Harim Won and Sean Watson hope to make an impact.
Both students recently traveled to Washington D.C. to share their research at a national conference featuring scholars and researchers whose work is federally funded through the National Institutes of Health (NIH).
In fact, Won and Watson were two of just 30 students from across the country, and the only ones from Nebraska, to receive a fully-funded travel award to present their work at the conference.
While Won and Watson's recent accolades are certainly impressive, they are just a small piece of what makes them Mavericks.

Harim Won
A native of Omaha, Harim Won was fascinated by medical science for as long as he can remember with desires to become a doctor and help others. It was this focus that brought him to UNO, where he quickly connected with Davis, who serves as a faculty associate for Nebraska's chapter of INBRE, or Institutional Development Award Program (IDeA) Networks of Biomedical Research Excellence, which is federally funded through the NIH. The program allows students, like Won, to collaborate and share resources across the state.
Won graduated from UNO in May, earning a biotechnology degree that he will bring with him to Harvard's doctoral program in Biological Sciences in Public Health. As a member of the University Honors Program, NE STEM 4U, Phi Kappa Phi Honor Society, and Student Government, Won made sure he stayed involved and took advantage of every opportunity he was presented.
"In a bigger school you have larger classes, but here I've been able to form personal relationships with many of my professors who, through that personal relationship, encouraged me to apply things, or do things, or gave me advice at a level that I would not receive at a larger institution," he says. "Also, at a bigger institution, the work that Sean and I do would be led by a post-doc or a Ph.D. student just because there is such an abundance of those individuals at larger institutions."
While at UNO, Won's research focused largely on the progression of the parasite Toxoplasma gondii and how it moves between each stage of its development. It is the kind of research that he says is an opportunity that he would not have been able to get anywhere else.
He hopes to work on solutions for many of the critical health issues facing the world today, both including and beyond toxoplasmosis. Specifically, he would like to work on addressing malaria or tuberculosis on a global scale through his research as a Ph.D. student at Harvard. He says that it is because of UNO's unique position and access to facilities and equipment that will ensure he is prepared to hit the ground running in his doctoral program.
"With INBRE, it's really nice because all of the UNMC core facilities are available for use to us," he says. "I can just hop in my car and drive a mile down the road and drop my samples off at UNMC."
Won eventually hopes to give back to his alma mater—by becoming a professor and coming back home to teach at UNO.


Sean Watson
While some students immediately know what they want to do right out of high school and pursue that dream with ruthless tenacity, Sean Watson's journey to an academic career studying one of nature's most pervasive parasites is one that not only came as a surprise, but involves a unique perspective that many of his peers do not have.
An Omaha native and graduate of Burke High School, Watson first pursued a business degree at Metropolitan Community College beginning in 2007.
"I really wasn't sure what I wanted to do as a career," he explains. "But after my first semester I switched to biology because it was my favorite class in high school and I really liked it."
However, just several credits shy of earning his associate degree, Watson left school and headed to California to work as a golf instructor. Still, he remained restless, so he finished his associate degree online and then moved back to Omaha.
"I decided being a golf instructor was something I didn't want to do long term," he says. "So, I came to UNO and I knew one of the things I needed when coming back was a mentor or a role model that could really lead me in the right direction. I met Dr. Davis and shortly after joining his lab it was clear almost immediately upon meeting him that he was the mentor I had been looking for."
Thanks to UNO's close ties to Metropolitan Community College, Watson was able to easily transfer his credits over and is set to earn a dual degree in biotechnology and economics next May before going on to pursue a Ph.D.
"What's unique about Sean is that he is one of these undergraduate scientists who has a pretty broad eye on what he can do with science because of his economics training" Davis says. "I think it gives him a really unique perspective, a global perspective, a very data-centered perspective and it also gives him a little bit of an entrepreneurial spirit to realize that there is another side to the world rather than pure basic research."
With funding from the Nebraska INBRE program, Watson is able to dedicate himself not only to his studies and research, but to engagement with campus. In addition to being a member of the University Honors Program he is also president of the Economics Club and member of the Bioinformatics Club.
Now, more than a decade after graduating high school, Watson is helping Davis and the rest of his lab work with researchers at UNMC to identify pharmaceutical compounds that can help treat or even prevent toxoplasmosis. If they can identify a drug that shows results, it could begin to solve one of the most confusing parasitic and infectious diseases that exists today.
"My work is to figure out how a drug functions within the cell and to demonstrate that it is non-toxic for humans," he explains. "Moving forward we have a really promising drug, an experimental compound that I am currently working on, so hopefully things continue in a positive direction with that."
"I think that's what a university like the size of UNO allows for," Davis adds. "It's the idea that you can pioneer something. That you can make it work and thrive and have support from faculty, staff and administration. It's a perfect example of Maverick spirit."
About the University of Nebraska at Omaha
Located in one of America's best cities to live, work and learn, the University of Nebraska at Omaha (UNO) is Nebraska's premier metropolitan university. With more than 15,000 students enrolled in 200-plus programs of study, UNO is recognized nationally for its online education, graduate education, military friendliness and community engagement efforts. Founded in 1908, UNO has served learners of all backgrounds for more than 100 years and is dedicated to another century of excellence both in the classroom and in the community.
Follow UNO on Facebook, Twitter, Instagram, TikTok, LinkedIn, and YouTube. 
Contact Us
If you have a story idea, news tip, or other question, please email the UNO News team at unonews@unomaha.edu.