The War Against Toxoplasmosis
UNO students' research collaboration includes University of Nebraska Medical Center and University of Nebraska Kearney.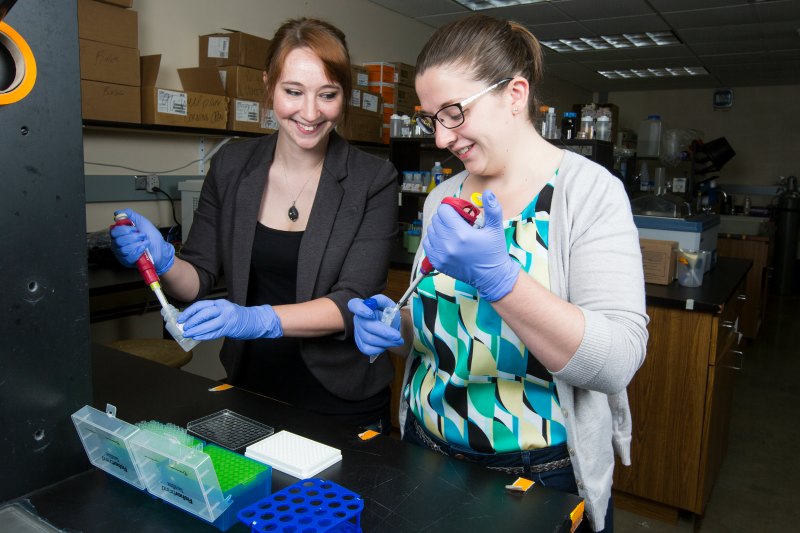 Madalyn McFarland and Maggie Bartlett are still students, but they are conducting research that may one day save your life.
The pair is part of UNO's Molecular Parasitology Lab where they are studying the molecular pathogenesis of the parasite called Toxoplasma gondii, which causes toxoplasmosis.
There's a one-in-three chance that you are infected with toxoplasmosis. Correlative studies indicate that, if infected, you are more prone to risk taking behaviors. People that are toxo-positive are more prone to suicide, infidelity, and other studies have found that schizophrenia and other mental illnesses are more common in people with toxoplasmosis.
Now take a deep breath. You aren't in any immediate danger if you happen to be infected. There aren't any cures or vaccinations available today, but that is what the bulk of McFarland and Bartlett's workload is dedicated towards.
McFarland's focus is developing drugs, in collaboration with the University of Nebraska Medical Center, which effectively combats and ultimately kills the parasite.
"I work with the whole parasite, we culture it and try to see if this compound works," she said. "We work with UNMC and their organic chemists to try and see what the best way to mold that compound, to change it just a little bit to try and make it a more effective drug and less toxic."
Humans aren't the only ones at risk though.
"The vaccine I am working on is moving towards livestock," said Bartlett, a Grand Island native and Buffett scholar.
It's all hands on deck in the battle against the parasite. The livestock vaccination is being developed in collaboration with researchers at UNMC and the University of Nebraska-Kearney.
McFarland, who is working towards her masters in biology, said the support from the research community at UNO makes all of the time spent in the lab worthwhile.
"Our entire biology department is very supportive," she said. "They work really hard to make sure we're supported in our research, but not only that just in our lives."
Outside of her own research, Bartlett said one of her favorite things about UNO is simply learning about what everyone else is doing.
"There is such a diverse research community at UNO," she said. "Anything you are interested in researching, there is someone here that is probably doing it."