UNO Advisor Wins Regional Award for Academic Advising
Lyndsey Rice is honored as the NACADA Region 6 honoree for Excellence in Advising as a Primary Role.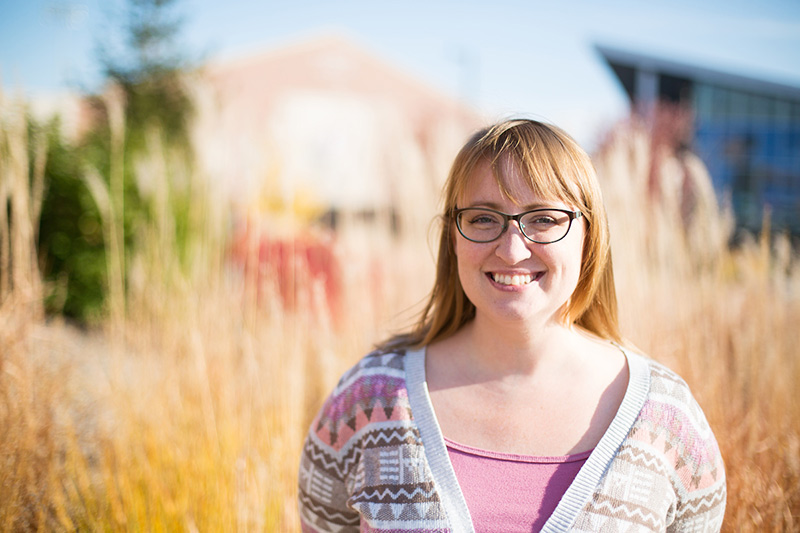 UNO's 2017 Advisor of the Year has been further recognized for excellence in advising. Lyndsey Rice, the Advisor/Recruitment Counselor in Emergency Management, is also the NACADA Region 6 honoree for Excellence in Advising as a Primary Role.
Her campus nominators recommended Lyndsey as among the best that the advising profession has to offer. Compiling letters from faculty, students and staff, they wrote:
"Lyndsey's commitment to her students in the College of Public Affairs and Community service is remarkable. Perhaps the best example is the coaching and mentoring program she created for students whose GPA is too low to enter the Emergency Management major that she serves. When students are struggling, Lyndsey coaches them toward success with study plans and referrals to tutoring and counseling, and her director credits her with giving nontraditional students the best chance to succeed. Lyndsey is the sole advisor in Emergency Management, tackling advising, recruitment and retention for the program."
Lyndsey is a stellar UNO employee and past Employee of the Month, but her leadership isn't limited to her work on campus. Lyndsey is deeply involved in NACADA, a global organization for academic advisors. One impressive highlight of Lyndsey's professional involvement was co-chairing a Region 6 NACADA conference in Omaha in 2016, providing professional development opportunities for advisors from 5 US states and 3 Canadian Provinces.
Lyndsey is a founding member and past president of the campus Academic Advisors Council, a supportive community dedicated to UNO's students and their advisors. The group meets monthly to share best practices, create opportunities and improve professional development for advisors at UNO. Lyndsey's most recent service to the council was to lead a 2017 committee updating the mission and vision of the group.
Lyndsey will be recognized at the NACADA Region 6 conference in Spring 2018.
Read more about Lyndsey's recognitions at the campus level