Garcia Receives National Honor From Home Country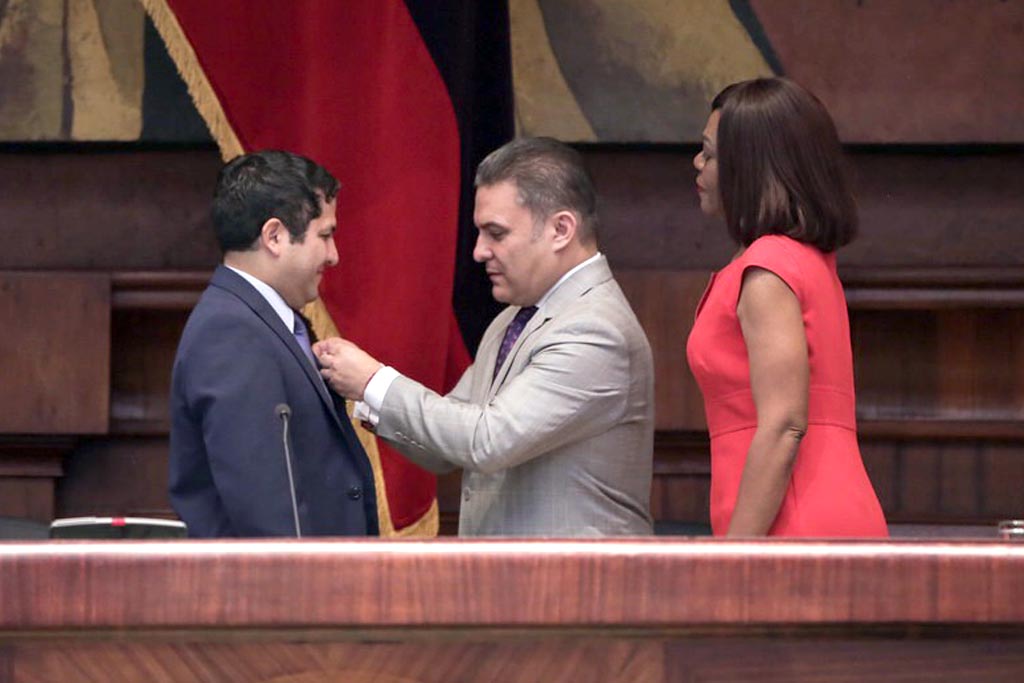 Washington Garcia receives the Dr. Vincente Rocafuerte Cultural Achievement Award from the president of the Ecuadorian National Assembly
Washington Garcia, D.M.A., director of UNO's School of Music, has accomplished a great many things in a relatively short amount of time; however, it was a recognition from his home country of Ecuador on Tuesday, Dec. 19, that is perhaps the most memorable.
Already in Ecuador to spend time with his family, Garcia received a call from a representative of the Ecuadorian National Assembly just days earlier to inform him that he was one of this year's recipients of the "Dr. Vincente Rocafuerte Cultural Achievement Award," which is the highest recognition given by the Ecuadorian government to those who have demonstrated excellence in the arts.
"It was a complete shock," Garcia says. "Somehow, someone knew I was traveling to Ecuador to visit my family and put in my name for nomination."
The nomination process, which requires approval from a legislative committee, then the entire 137-seat National Assembly and then the president of Ecuador, normally takes weeks, or even months, but Garcia's selection was unanimously approved in a matter of days.
"They actually called my mom's house to tell me," Garcia says. "Thank God I brought a suit with me."
The award, which is named after the second President of Ecuador, is equivalent in to the Presidential Medal of Freedom or Congressional Gold Medal in the United States. Garcia, at just 40 years old, is one of the youngest to ever receive the honor.
In his acceptance speech, held during a session of the full National Assembly, Garcia recognized those who have supported him throughout his life, including his parents, his wife and his first piano teacher. He also celebrated the ideas of unity and collaboration.
"I told them that this is not a recognition just for me, but for everybody in the country, for everybody who helped me get to where I am today," he says. "It is a great recognition, but it is even a greater responsibility."
Garcia also made sure to celebrate UNO by wearing an "O" lapel pin during his acceptance speech.
"I am just so proud to be a part of UNO and I wanted UNO to be out there as much as possible."
Garcia, who is an internationally-recognized concert pianist, took over as the founding director of the UNO School of Music in 2016. His career, which began at just 4 years, has led to performances in Italy, Switzerland, Austria, France, Spain, Hungary, Lithuania, Latvia, Canada, Chile, Mexico, Ecuador, Colombia, Japan, China, Indonesia, Singapore, Taiwan and the United States.
In 1996, Garcia was one of just two people across more than 30 countries in North and South America to receive a Kennedy Center Fellowship Award, which allowed him to attend John Hopkins University's Peabody Institute, which is where he earned his masters and doctoral degrees – all by the time he was 25 years old.
In less than two years at UNO, Garcia has helped establish an International Concert Series and secure the donation of a Steinway and Sons grand piano, which is considered one of the highest quality musical instruments in the world. He also worked to bring in tens of thousands of dollars in scholarship support for music students at UNO.
It is the support he has received at UNO and throughout the Omaha community that he wanted to share with the government of Ecuador. A message that he hopes resonates given the nature of his nomination.
"This award transcends politics," he says. "The National Assembly is made up of all different political parties and they could have divided people with their selection, but everybody unanimously voted for this award. It was truly about recognizing the importance of the arts than politics, that is why I wanted to talk about unity."
And while the United States has become Garcia's second home, his roots in Ecuador made the honor extra special.
"It is emotional. It is an entire country recognizing my career that I've been pursuing since I was four years old. But I would not be where I am today without the support of my friends, family and most especially my teachers. I want to make sure that we provide those same opportunities for students here at UNO."