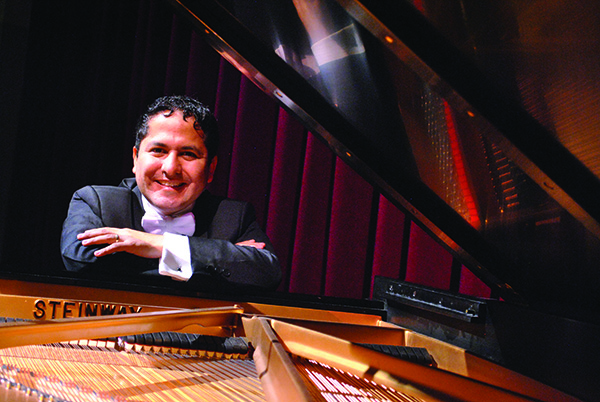 On behalf of our faculty, students, and staff, I invite you to join the University of Nebraska at Omaha School of Music to take advantage of a comprehensive experience of performance and academic opportunities. Our faculty is comprised of renowned teachers and performers committed to the academic and artistic development of students throughout the United States and around the world.
The School of Music at UNO provides opportunities for students to develop their solo, chamber, and ensemble skills both, on campus and in the community. In addition to weekly lessons, students attend a master class where they play on a regular basis and learn about technique, stage presence, practice methods, audition/jury/competition preparation, and essential concepts of pedagogy and literature. Students also learn outside the classroom by attending faculty and guest artist recitals, master classes and lectures, and collaborating with other students on and off-campus.
Music education is a major emphasis of the School of Music. A comprehensive curriculum leading toward a K-12 teaching certificate is offered to students in all areas of music study. A unique team-taught emphasis provides students with a diversity of hands-on teaching experiences, techniques, and resources required for a successful career. Nationally recognized clinicians and educators regularly conduct clinics and workshops throughout the year offering advanced experiences in a broad spectrum of teaching situations. Students have opportunity to observe and teach in diverse school settings throughout the metropolitan area.
Additionally, we offer the flexibility of more electives and areas of concentration through our Bachelor of Arts in music, which provides concentrations in performance, jazz, music technology and music entrepreneurship. Specifically, in the concentrations of music technology and music entrepreneurship, the Bachelor of Arts in Music facilitates music for the non-traditional music learner. This degree is also a perfect fit for students who are seeking double majors in music and some other area.
I invite you to join us in the musical journey that our newly established School of Music has embarked upon. We look forward to having you on our campus soon.
Sincerely,
Dr. Washington Garcia
Director, School of Music
University of Nebraska at Omaha