Bragg Honored for Fire Ecology Efforts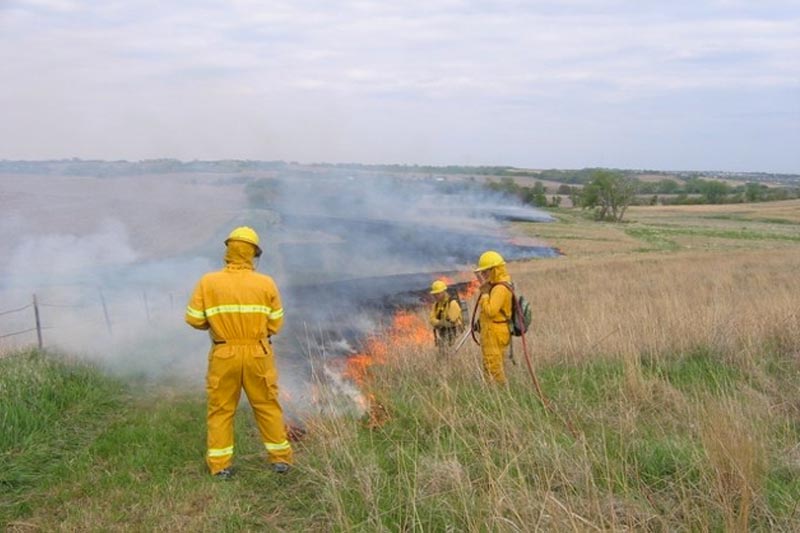 A controlled burn takes place at the Glacier Creek Preserve
On Thursday, Nov. 30, UNO's Thomas Bragg, professor of biology and director of UNO's Nature Preserves, was recognized by the Association for Fire Ecology with the Henry Wright Lifetime Achievement Award.
The accomplishment recognizes Bragg's decades of research, volunteer work and education on the topic of fire ecology, which deals with the impact of fire on natural environments.
Each year, the Association for Fire Ecology honors career achievements in fire ecology and management from across the United States.
Bragg was officially honored at the Association for Fire Ecology's annual International Fire Ecology and Management Congress in Orlando.
In his recognition, Bragg was credited with significant contributions to the field and inspiring and mentoring the next generation of fire ecologists.
Under Bragg's leadership, UNO has become home to one of the largest natural tallgrass prairie preserves in the region, the Glacier Creek Preserve, with 424 acres of preserved land located in northwest Omaha, large enough to sustain functioning plant and animal communities as well as its own watershed.
In 2012, Bragg helped organize the transportation of a 1900's era-history barn to the Glacier Creek Preserve, which functions as an educational, research and maintenance space for the preserve.
"This is an incredible honor that is well deserved for Tom," Arts and Sciences Dean David Boocker said. "He has dedicated more than 40 years at UNO to ensure that Glacier Creek Preserve will serve as an invaluable resource for UNO and the Omaha community in perpetuity."