Chancellor Emeritus Christensen Receives Award for Community Leadership
published: 2017/09/25
contact: Charley Reed - University Communications
email: unonews@unomaha.edu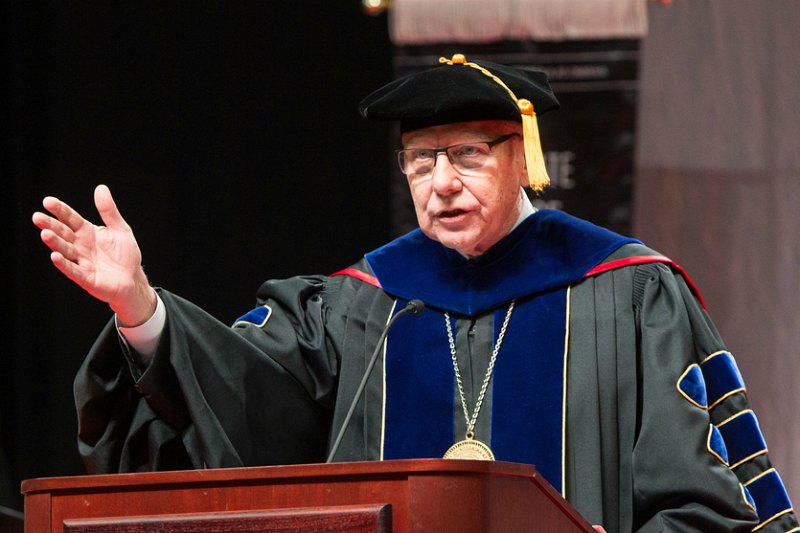 UNO Chancellor Emeritus John Christensen has recently been named the recipient of the inaugural Anchor Institution Task Force (AITF) Anchor Institution Community Partnership Award.
The AITF is a network of more than 700 leaders promoting engagement of anchor institutions - including colleges, universities, hospitals, community foundations, libraries, arts institutions, and other anchors—in community and economic development.

The award, which will be presented at AITF's annual conference next month, was created to recognize leaders who have demonstrated a lifetime of commitment to engaging anchor institutions in community partnership.
The award announcement was made by the Coalition of Urban and Metropolitan Universities (CUMU), a partner organization of AITF that is made up higher education institutions committed to serving their metropolitan communities through engagement and scholarship.
"John has been a champion for the power of higher education to focus on serving the needs of the city in which they reside throughout his career. He has led the way in many respects and all along the journey has made time to support others in helping to integrate the community engagement and anchor missions within their institutions and communities," said Bobbie Laur, Executive Director, CUMU.
From his time as a faculty member through his time as chancellor, Christensen has been committed to community engagement and creating economic opportunities in the Omaha area.
Under Christensen's leadership, UNO opened the Barbara Weitz Community Engagement Center in 2014, a first-of-its-kind space to bring together community organizations with campus resources, and received the 2014 Presidential Award for Economic Opportunity as part of the President's Higher Education Honor Roll.
Christensen began serving on the executive committe of CUMU in 2008 and served as president of CUMU from 2010 to 2012. In 2015, UNO was the host of the CUMU conference, bringing hundreds of metropolitan university scholars and administrators to campus.
Christensen officially retired from UNO this year after 10 years as chancellor and nearly 40 years as an educator and administrator.
Contact Us
If you have a story idea, news tip, or other question, please email the UNO News team at unonews@unomaha.edu.