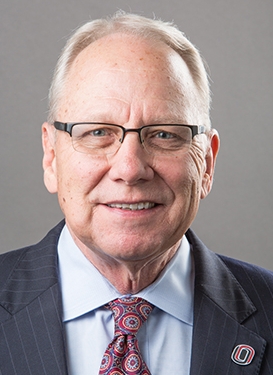 John E. Christensen, Ph.D.
Chancellor Emeritus
UNO Chancellor from 2007-2017
---
Additional Information
Retirement
After 10 years of service as the head of the University of Nebraska at Omaha (UNO), John E. Christensen, Ph.D., stepped down from his role as Chancellor on May 8, 2017. He was announced as Chancellor Emeritus on May 26, 2017.
Christensen's Time at UNO
Christensen was named interim Chancellor of UNO on Sept. 12, 2006, and was named Chancellor on May 8, 2007. However, his first interaction with the university dates back to the 1970s when he received a Master of Science in Special Education/Speech Pathology from UNO.
Like many UNO graduates, he was the first in his family to go to college. He is also the first UNO Chancellor to have earned a UNO degree.
Christensen began his tenure at the university in 1978 as a faculty member in the College of Education's Department of Special Education and Communication Disorders. He subsequently served as chair of the department, dean of the College of Education, as well as Vice Chancellor for Academic and Student Affairs.
During his career, Christensen has presented at dozens of conferences and published a number of articles and professional reports focused on education, community engagement, and related topics. His work has taken him around the world, to Austria, Belgium, China, Denmark, and Switzerland, just to name a few.
Christensen lead the University of Nebraska at Omaha in achieving its three overarching goals as part of its Strategic Plan – to be student-centered, academically excellent, and engaged with the community. This includes serving the metropolitan university mission to have strong academic values and significant relationships with the community that transforms and improves lives.
Education
Bachelor of Science in Speech Communications and Drama from Dana College
Master of Science in Special Education/Speech Pathology from UNO
Ph.D. in Speech Pathology/Audiology from the University of Kansas
Christensen's areas of specialization include pre-referral practices; teacher induction; fluency development and disorders; and special education service delivery. 
Achievements
Suburban Rotary, 2015 Omahan of the Year
Easter Seals Nebraska, Building a Better Tomorrow Award
Omicron Delta Kappa, 2014 Ronald W. Roskens Award
Phi Delta Kappa, Outstanding Educator Award
Nebraska Department of Correctional Services, Partnership Award
In addition to the achievements listed above, Christensen has been inducted into the Hall of Fame at Dana College, Benson High School, and the Millard Public Schools Foundation.
During his tenure, the University of Nebraska at Omaha:
completed a four-year transition to Division I Athletics
constructed a new arena south of Aksarben Village. Baxter Arena provides a home for UNO Athletics and adds to campus and community life. On January 13, 2016, Barack Obama, the 44th President of the United States, spoke at Baxter Arena for his first public speech following his final State of the Union Address.
celebrated back-to-back records for largest and most diverse incoming classes in UNO history.
expanded the protection of Glacier Creek Preserve and partnered with Turkey Creek Preserve for ecosystems research. These efforts enhanced ecosystems learning and research opportunities and allowed for expansion of STEM-related experiences for K-12 student involvement.
hosted the national Coalition of Urban Metropolitan Universities Conference, a clear statement of UNO's advancement as a metropolitan university.
opened the doors to the Barbara Weitz Community Engagement Center, a building on campus fully dedicated to collaboration.
was named the 2014 Presidential Award Winner for Economic Opportunity as part of the President's Higher Education Community Service Honor Roll
built the Biomechanics Research Building, the world's first stand-alone building dedicated to biomechanics research and home to the first Center for Research in Human Movement Variability
completed renovations in the Milo Bail Student Center, to maximize student support services and provide state-of-the-art gathering and meeting places for students as well as faculty and staff.
was named the best four-year school in the nation for military friendliness back-to-back years, 2015 and 2016, by Military Times magazine.
launched the Metropolitan Advantage Program, which has offered residents or high school graduates of several southwestern Iowa counties the opportunity to attend UNO at significantly reduced tuition rates since 2007.
constructed UNO's first Leadership in Energy and Environmental Design (LEED) certified building on campus, Mammel Hall. Home of the College of Business Administration, Mammel Hall is the place where Warren Buffett sent his first tweet.
remodeled Roskens Hall, the former College of Business Administration building, to become the center for the College of Education.
Growing partnerships with the local community
Since its inception in 1908, the University of Nebraska at Omaha has been firmly anchored in the community, forging partnerships with business, education, government, arts, and civic organizations. These partnerships under Christensen's leadership included:
The University of Nebraska at Omaha's partnership with the Omaha Archdiocese: The St. John Paul II Newman Center, constructed and managed by the Archdiocese, provides housing and a gathering place for UNO students who are Catholic and other students who express interest in the facility.
The University of Nebraska at Omaha's partnership with Metropolitan Community College and community organizations such as Avenue Scholars, College Possible, and the Aksarben Foundation - working toward enhancing education and career success for all students, and growing tomorrow's workforce pipeline for Omaha and Nebraska.
The Barbara Weitz Community Engagement Center's partnerships with countless community organizations. Since its opening in 2014, the Weitz CEC has hosted more than 625 unique groups and more than 151,000 guests from external community organizations and internal UNO organizations. Community organizations have saved more than $4.8 million dollars in room rental and technology fees.
Committed to serving UNO's campus, otherwise known as Omaha, Christensen sits on several local boards:
Education Co-Chair of United Way of the Midlands 2016 Campaign
Member of the Board of Directors for the Omaha Community Partnership
Member of the Board of Directors of Nebraska Shakespeare
Member of the Board of Trustees of the Mid-America Council Boy Scouts of America
Member of the Board of Directors of the Greater Omaha Chamber of Commerce
Member of the Millard Public Schools Business Advisory Board
Former member of the Salvation Army Omaha Advisory Board
Former member of the Board of Directors of the Women's Center for Advancement
Former member of the Board of Directors of United Way of the Midlands
Family life
Christensen was born and raised in Omaha, Nebraska. He has been married to his wife, Jan, for more than 40 years. The Christensens have three sons, all of whom are UNO graduates. They also have six grandchildren, and counting.
---
Official Remarks and Speeches
State of the University Addresses
The State of the University Address is given each fall to the campus community. 
Community and Global Engagement
Community and global engagement were often at the heart of speeches or remarks given by Chancellor Emeritus Christensen. Explore the links below for transcripts of these messages.
Chancellor Christensen Announces Retirement
Chancellor John Christensen Announces Retirement (2016)