South Omaha Classic: More Than Just a Game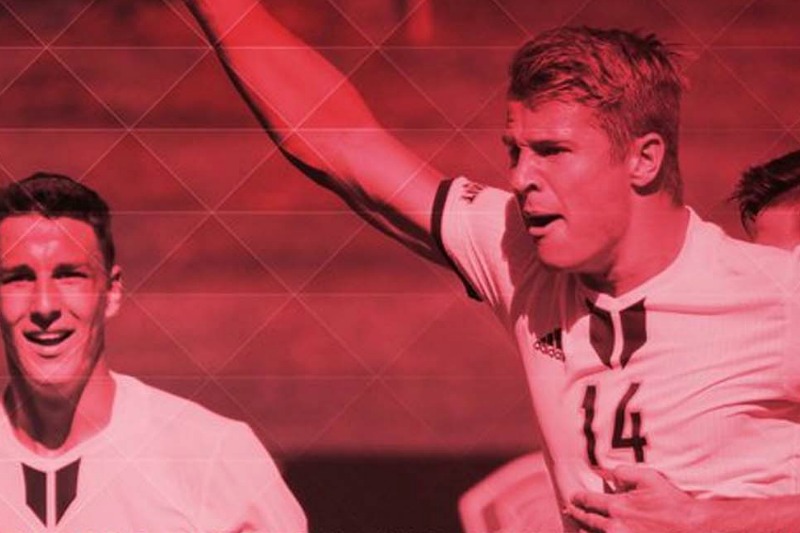 Information about the game, including how to get tickets, can be found on the Omaha Athletics website.
A longstanding tradition that goes back to 2013, the South Omaha Classic is much more than just a soccer game. It's the culmination of a century long partnership between UNO and one of the regions most diverse communities.
Here are just a few examples of how UNO and South Omaha are working together to make our city a better place to live:
I Vote For My Family
Last fall, UNO professor Dr. Jonathan Benjamin-Alvarado partnered with UNO adjunct professor and South High Magnet School faculty Mrs. Melissa Peterson to assist the Heartland Worker's Center in their "I Vote for My Family" campaign that worked to increase voter turnout of South Omaha residents for the 2016 presidential election.
As part of a P-16 Initiative project, UNO's Latino Politics and Introduction to Political Science classes worked with students in Peterson's AP American Government course at South High Magnet School. Students learned about issues that affect Latino voters and barriers the Latino population face in America's political system while they partnered with the staff at the Heartland Worker's Center (HWC).
UNO and South students assisted the HWC in canvassing South Omaha neighborhoods, registering residents to vote, and phone banking in an effort to increase voter turnout.
"Community members get happy when they see youth knock on their doors," said Stephanie Zambrano, UNO student and staff member at the Heartland Worker's Center.
UNO and South students put more than 150 hours into the "I Vote for My Family" campaign during the Fall 2016 semester. The students, faculty, HWC staff, and community members celebrated their efforts while sharing pupusas and pan dulce, and data indicating some South Omaha precincts increased voter turnout by 25 percent.
The Secret Kindness Agents
When Ferial Pearson taught at Omaha South High School she challenged her students with a question: Do modest acts of kindness and compassion have the power to change someone's life? She believes so.
Pearson was a 2016 recipient of the Kennedy Center/Stephen Sondheim Center Inspirational Teacher Award. The award recognizes some of the country's most influential and inspirational teachers.
She was recognized for her work with the "secret kindness agents." A small movement began, and now there are secret kindness agents all over Nebraska and beyond.
Read more about the secret kindness agents.
Research and Service Learning
UNO and South Omaha's most famous attraction, the Henry Doorly Zoo, have collaborated on a number of projects over the years. The two organizations are partners on Omaha's STEM Ecosystem. The initiative is focused on bringing all in and out-of-school learning platforms together, from Pre-K through higher education, including the voice of the workforce, to ensure that all people have equal access and opportunity to succeed in the STEM fields.

This past spring, elementary and early childhood inclusive education majors also gained some real teaching experience at the zoo's onsite preschool.

Jorge Zuniga, Ph.D., has been earning acclaim for his work with 3D-printed prostheses for children. Zuniga is also working with students from Omaha South High School to train them on how to produce 3D-printed prostheses in his lab. It's one of 12 projects in the Teacher-Researcher Partnership Program that includes 12 OPS teachers and 12 UNO faculty mentors.
Notable Alumni
Magdalena Garcia, executive director of El Museo Latino, is a UNO alumna. El Museo Latino is one of only a handful of U.S. Latino museums.

Omaha Police Deputy Chief Greg Gonzalez is a UNO alumnus and has also served as an adjunct instructor. He is active in the Police Athletics for Community Engagement program, which is very active in South Omaha.

Former Union Pacific CEO Jim Young was an alumnus of both Omaha South High Magnet School and UNO. In 2009, he led a fundraising effort to install a new field at the school's Collin Field. He died in 2014.

Marlin Briscoe, the first black stating quarterback in pro football history, is an Omaha South and UNO alumnus. We celebrated his success at a special event last year (2016), and unveiled a statue of Briscoe at Baxter Arena.

Retired U.S. Air Force Major General Michael Kudlacz is an alumnus of UNO and attended Assumption-Guadalupe Catholic School.
Contact Us
If you have a story idea, news tip, or other question, please email the UNO News team at unonews@unomaha.edu.