Five Ways UNO is a Sustainable Campus
UNO integrates sustainability - concern for people, the environment, and fiscal responsibility - into everything that we do.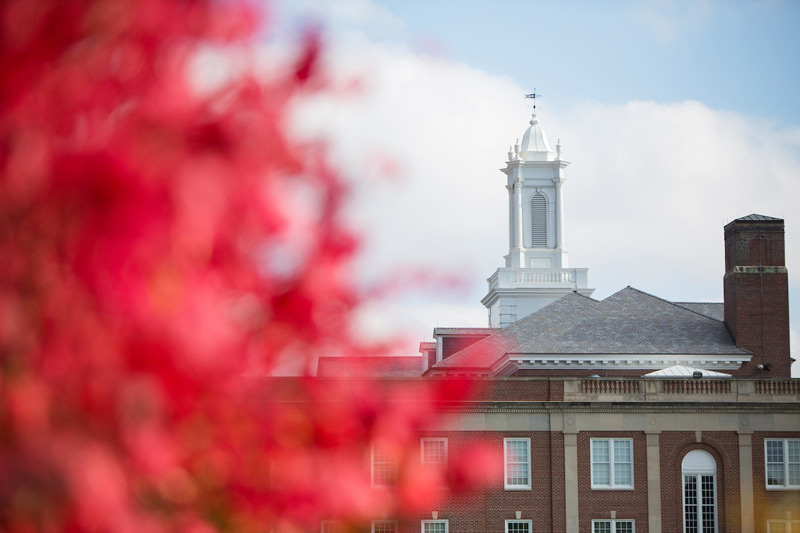 ---
1. Xeriscaping
For more than 15 years, UNO's facilities team has been using xeriscaping (pronounced zeer-i-skey-ping) techniques all across campus.
"It's a type of landscaping that can 
tolerate drought conditions," said Steve Rodie, director of the UNO Center for Urban Sustainability.
The xeriscaped areas near Kayser Hall and the Arts and Sciences Hall have not cost any money to maintain since they were
 put there 15 years ago.
- Lowell Neuhaus
In 2001, two turf lawns on campus were replaced with native junipers 
and gravel mulch. This has saved 
the university time and resources because junipers keep their foliage year-round and do not require water once established.
At first, people were skeptical due to the unusual look of the space, but perceptions are now changing, Rodie said.
This change in perception and the benefits means its being used more and more on campus, said Lowell Neuhaus, manager of Landscape Services at UNO.
"We're starting to re-evaluate 
areas where turf lawns do not serve a purpose," Neuhaus said. "The xeriscaped 
areas near Kayser Hall and the Arts and Sciences Hall have not cost any money to maintain since they were
 put there 15 years ago."
2. Hydration Stations
UNO began installing hydration stations on campus almost three years ago. The stations fill a bottle three times faster than a traditional fountain. A digital counter keeps track of the amount of plastic bottles saved.
Currently, hydration stations can be found in Roskens and Kayser Halls, Criss Library, the Community Engagement Center (CEC), HPER, Eppley Administration building and Mammel Hall.
Hydration stations provide 
a great jumping-off point to several sustainability threads: the importance of prevention over recycling; the power of purchasing for the planet; a personal action view that reinforces how small local actions have community impact, 
and a systems view with a water-energy nexus discussion, said Rick Yoder, sustainability program director at UNO's College of Business Administration.
3. The Center for Urban Sustainability
This is a group of faculty and staff that is dedicated toward making sure UNO is as sustainable of a campus as possible. You may be surprised at how much work goes into this.
The Sustainability Master Plan, for example, includes intiatives about energy-saving lighting, transportation, on-campus organic gardens, water-saving showerheads, and much more.
Scroll down to page 26 for "A Day in the Life of a UNO Student in 2025."
The center also hosts the annual Sustainability Launchpad, which is a think tank for local sustainability leaders. Experts from all over the University of Nebraska system, OPPD, and the Nebraska Department of Natural Resources attend to discuss challenges and opportunities relevant to urban sustainability.
4. Sustainable Transportation
City planners continue to put emphasis on being bike-friendly and offering more public transportation options.
As of January 2, 2016, UNO students, faculty, and staff can use their MavCARD as a pass for the Omaha Metro bus system (MavRide).
There are bike racks conveniently near every building on campus, there are bike fix-stations, and you can even rent a bike at one of the B-Cycle stations around campus or in nearby Aksarben Village.
Explore the many ways to get to campus
5. The Nebraska Business Development Center
The Nebraska Business Development Center (NBDC), connected to UNO's College of Business Administration, offers services for companies in developing and implementing an effective and measurable sustainability strategy.
The NBDC "Green Team" regularly sends out newsletters that encourage environmental purchasing.
NBDC also tracks the amount of energy and resource savings UNO has each year. The UNO Purchasing Fact Sheet outlines where we have saved money in recent years, and it tells us how we can improve. 
Additional Links
UNO's Earth Week 2016 Events
UNO Sustainability Coordinator: Five Ways to Live More Sustainably
Director of UNO's Center for Urban Sustainability: Five Sustainable Gardening Tips
Contact Us
If you have a story idea, news tip, or other question, please email the UNO News team at unonews@unomaha.edu.