Five Sustainable Gardening Tips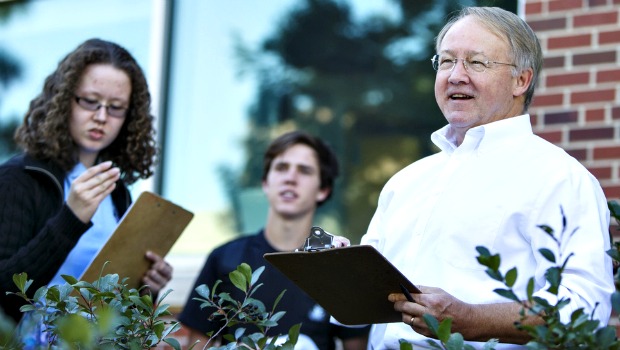 Steve Rodie is the Director of UNO's Center for Urban Sustainability
---

While it's not quite the deserts of the southwest, making sure your gardens or landscapes are beautiful while also being sustainable can be a significant challenge in the Great Plains region of the United States. Here are five key suggestions on how to meet that challenge:

1) Think Like Nature

The most important overall concept in enhanced landscape sustainability is to think like nature.
- NATURE plants the right plants in the right places

- NATURE typically mulches landscapes; a two- to three-inch layer of mulch (NOT piled up next to tree trunks) covering tree and plant root zones conserves soil moisture, minimizes weeds and continually improves soil quality and health

- NATURE is attentive to biological diversity, habitat value, and combinations of plants in communities

- NATURE does not combine plants that have diverse moisture, soil and hardiness requirements adjacent to one another

- NATURE grows plants patiently; extensive root systems are often established prior to significant top growth, relatively short time is spent on extravagant blooming periods, and growing seasons start after and stop prior to the wild swings in spring and fall temperatures and weather that often kill or damage many non-native plants.
2) Gardens Should Simultaneously Address Beauty, Function and Maintenance
Continually ask how your garden can fulfill your needs and the needs of the environment. Landscape decisions and choices should be made in the context of:
- What problems are being solved and are there opportunities to be taken advantage of?

- What are the existing site properties, including climate, drainage, privacy and family uses?

- What are the goals and objectives of the landscape (as seen through the eyes and biases of the people who will experience it), whether it be an entire backyard or the selection of one plant?

- Who will take care of it, and how many resources are available for short-term (every new plant needs water) and long-term (a traditional rose garden typically require lots of care over time) management?
3) Know Your Soil
Landscapes are typically planted with no assessment of soil properties. Developed landscapes are often lacking in quality soils due to compaction from construction equipment and loss of topsoil due to site grading.
In addition, soils that originally supported prairies often have pH levels that are higher than the soils many landscape plants and trees naturally thrive in. Soil tests can help identify soil nutrient and chemistry levels that are best for plants, which helps focus chemical use and reduce wasteful applications that aren't necessary.

Virtually every urban soil can be improved with additions of compost. If landscape soils cannot be reasonably improved, it's often best to grow plants in raised beds where soils and plants can be managed more effectively.
4) Select Native and Adapted Plants
Plants that are native to our region are often a good place to start in selecting hardy reliable landscape plants, but well-adapted, non-invasive, deep-rooted plants from outside our region can also serve valuable landscape roles.
Native plants are not a cure-all, especially if planted in non-native poor urban soils in sun/shade and moisture conditions they are not adapted to in their natural habitat; however, they should be considered whenever possible for their overall landscape value.
As an example, native trees such as bur oaks may live hundreds of years and host hundreds of species of insects, caterpillars, birds, squirrels and other animals. In contrast, a callery pear, an exotic tree from China and Vietnam, has virtually no habitat value for insects and animals. In addition, it is often a short-lived tree due to structural damage from ice and snow as a result of very late leaf drop in the fall (well after late fall snowstorms can occur) and is now invading natural areas in the Midwest.
5) Maximize Efficient Water Use in Gardens and Landscapes, and Eliminate Water Waste
All of the previous steps above help make the most of landscape water usage.
The scale of water waste in landscapes is often not realized – an inch of irrigation water applied to an average-sized 5,000 square foot residential yard - when it isn't needed due to previous rainfall - wastes over 3,000 gallons of water, which could otherwise provide 17 people with drinking water for a year.
When landscape plants require supplemental irrigation (such as most food crops), rules-of-thumb for maximized water efficiency include use of drip irrigation, watering early in the morning to reduce evaporation, and providing water where it is accessible to the plant (ex. – at the canopy drip line of trees).
In addition, rain gardens, rain barrels and other measures to capture runoff help conserve water as well as filter runoff to improve water quality and direct water back into the soil where it can be used by plants.

Additional Links
- UNO's Earth Week 2016 Events
- Steve Rodie Speaks at TEDxUNO
- UNO Sustainability Coordinator: Five Ways to Live More Sustainably