Discover the Many Ways to Get to Campus
Explore your options for getting to and from campus.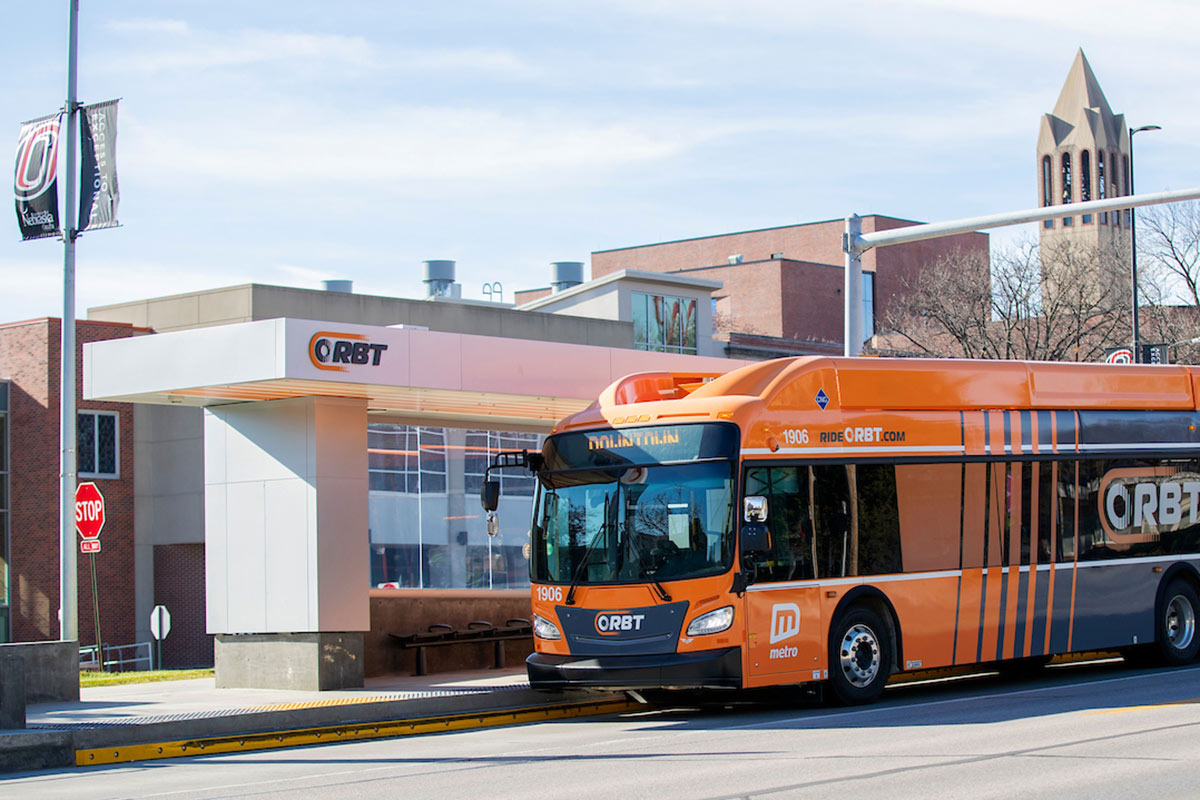 MavRIDE on all Omaha Metro buses is just one of the many ways you can get to and from campus.
A variety of sustainable options exist for commuting to, from, and between UNO campuses. Using these methods reduces traffic and parking congestion; saves money; and is better for the environment.
Getting To, From, and Around Campus
Bicycling and B-Cycle
UNO is a bike-friendly campus. Bike racks are conveniently placed in close proximity to every university building. A network of low-volume streets, streets with bicycle lanes and major trails surround our university.
Chain slip? No problem. There are bike fix-it stations on Dodge and Scott Campuses. The stations come equipped with virtually every tool you might need to make a repair - as well as a pump.
If you don't own a bicycle, you have a convenient alternative.
You'll find B-cycle stations on Dodge and Scott Campuses. There are stations throughout the city, including the Dundee and Aksarben neighborhoods. Heartland B-Cycle is a bike sharing system that allows you to get a bicycle when you need one, and return it safely to any station.
A pass enables you to check out a bike as many times as you'd like. You can bike for one hour with no additional charge.
B-Cycle passes vary in cost.
Learn more at heartland.bcycle.com.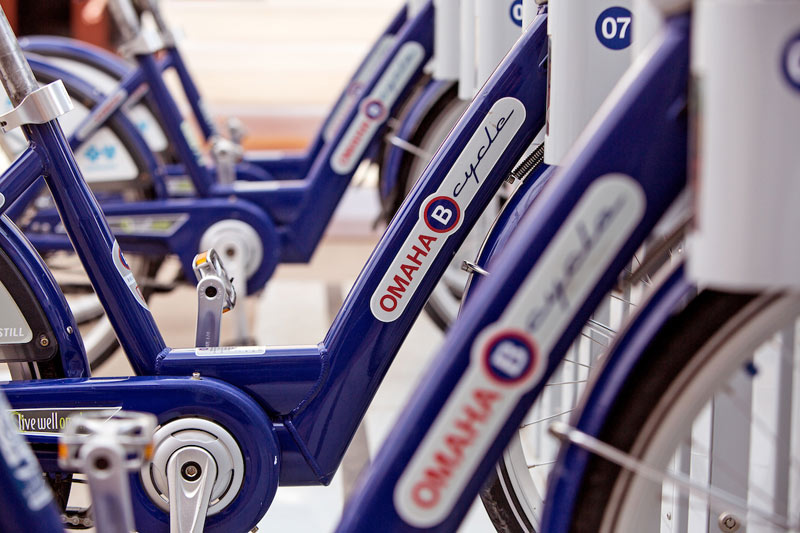 MavRIDE
All Mavericks have access to ORBT (Omaha's Rapid Bus Transit Line) and all Metro routes for free with their MavCARD, thanks to the MavRIDE free bus pass program.
To use your MavCARD as a bus pass, wait for the bus at an approved stop.
On buses and MOBY vans: riders will use fareboxes

On ORBT: riders will board without swiping their cards and must have the MavCARD available for periodic fare inspection
Metro accepts all active students, faculty and staff MavCARDs on any route, any day. Students are considered active if they are currently taking classes or registered for the upcoming semester. The individual on the card must be the one using the card. Moby service routes are also included.
Plan your trip on the Omaha Metro website
Learn more about riding with ORBT

Shuttles
On-campus shuttles run between Dodge Campus and Scott Campus. There is no cost to ride any of the shuttle routes.
The routes operate as express or point-to-point routes. This moves riders from one point on Dodge Campus to one point on Scott Campus quickly and efficiently.
A shuttle app is also available to help plan your travel schedule and track when the next shuttle is scheduled to arrive.
View the current shuttle schedule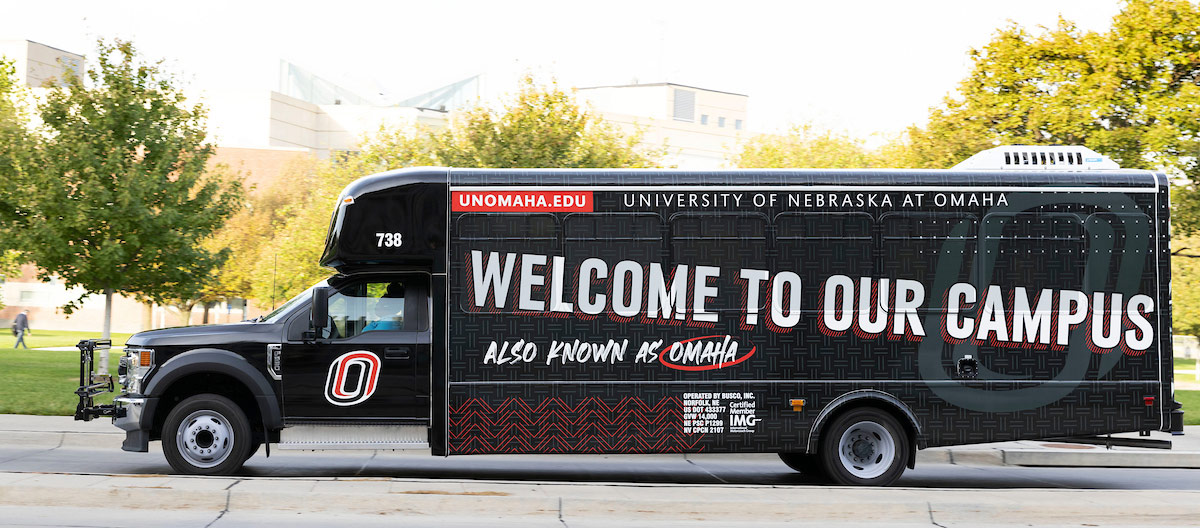 Electric Vehicle Charging Stations
If you commute to campus using an electric vehicle, UNO offers charging stations on both Dodge and Scott Campus to park your vehicle for a short time and recharge. Charging fees do apply.
For more information on the location of these stations, fees rates and time limits, please visit the sustainable transportation page.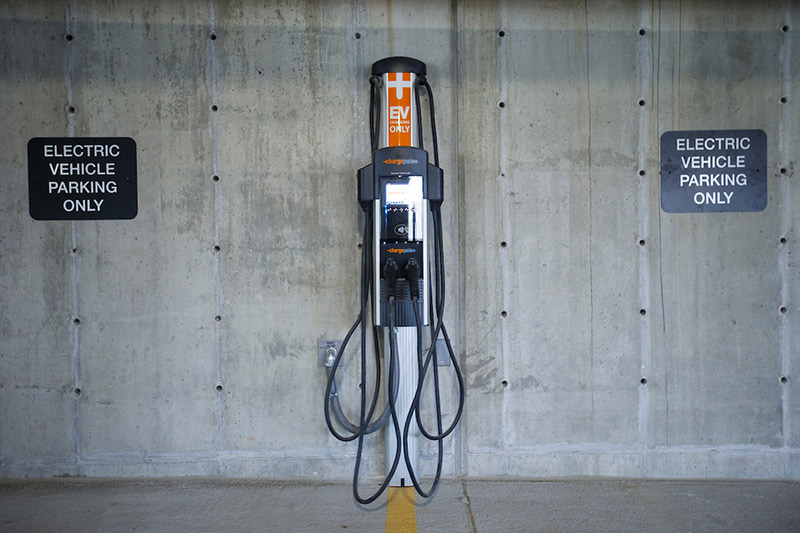 About the University of Nebraska at Omaha
Located in one of America's best cities to live, work and learn, the University of Nebraska at Omaha (UNO) is Nebraska's premier metropolitan university. With more than 15,000 students enrolled in 200-plus programs of study, UNO is recognized nationally for its online education, graduate education, military friendliness and community engagement efforts. Founded in 1908, UNO has served learners of all backgrounds for more than 100 years and is dedicated to another century of excellence both in the classroom and in the community.
Follow UNO on Facebook, Twitter, Instagram, TikTok, LinkedIn, and YouTube.