International Student Excels in the Classroom and as UNO Mascot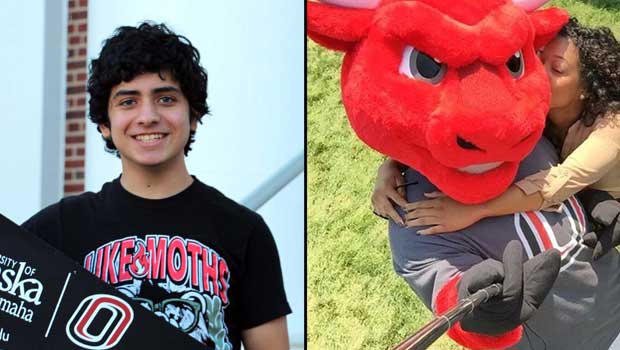 Durango, the UNO Mavericks mascot, has become quite the presence at the University of Nebraska Omaha (UNO) and in the Omaha community. But just who is behind that big red snout?
One of the energetic Durangos is Yousef Awwad, an international student currently studying English in the Intensive English Language program at UNO (ILUNO).
"I wanted to work to improve my English skills, but got the job as the mascot where there is no talking," says Awwad, with a chuckle, "But I was surprised to find that it has improved my non-verbal communication skills, which is awesome."
Awwad has also learned a lot about Americans through his work as Durango.
"I didn't know that people would be so friendly here," Awwad says, "You feel the love from people, you can hug them and make them so happy, even if they're having a bad day."
 Learn more about English Language Programs and International Admissions at UNO.
"You feel the love from people, you can hug them and make them so happy, even if they're having a bad day."
Pam Schwarting, Awwad's supervisor, says they are lucky to have him as part of their events.
"He is always willing to step up when needed and never, ever complains. When he puts on his Durango costume his energy and enthusiasm truly comes out," says Schwarting.
Awwad came to UNO six months ago from Saudi Arabia, although he is of Jordanian and Brazilian descent, and is preparing to begin his Bachelors of Science in Neuroscience. At first, he says he felt isolated as a non-American student living off campus. That all changed when he decided to get involved in the multitude of activities available at UNO, starting with the weekly Conversation and Culture Hour.
"It has really helped me make new friends and find out about other cultures."
Through Conversation and Culture Hour, Awwad was introduced to another student group on campus, Sustained Dialogue.
"I was able to talk about topics that are not discussed in my country. I can really be myself here, without being judged."
The new Baxter Arena on the UNO campus has also given Awwad the opportunity to partake in a favorite past time from home: ice-skating.
"I go about five times per week!" he exclaimed. He also utilizes the campus shuttle from Baxter Arena to the Dodge Street campus, no longer having the ride his bike to class every day.
All of these experiences have made Omaha and UNO more than just the safe town described to him before his arrival, it has made it home.
"Being here has destroyed the stereotypes I had of Americans. People are so friendly and willing to help you, especially my ILUNO teachers."
You can meet Awwad as Durango at a number of Men's and Women's Basketball games this Spring.
Contact Us
If you have a story idea, news tip, or other question, please email the UNO News team at unonews@unomaha.edu.