Best of 2015: Mavericks on the Rise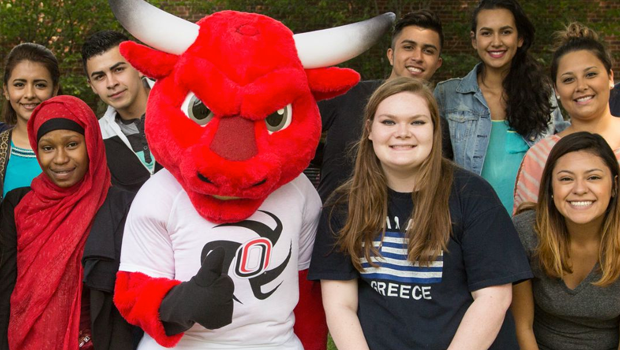 Over the past year, UNO has continued making history. Whether it be in the classroom, on the field, right here in Omaha, or across the world - the students, faculty, and staff of UNO have set the bar for what it means to be a successful and engaged metropolitan university. 

This year was particularly exciting because, this August, UNO welcomed more than 3,000 new students to campus - the largest incoming class in history.
Below is the story that ran in early September highlighting this exciting news and is just one of 15 stories that will be published through the month of December to highlight the "Best of 2015" at UNO. 

---
Originally Published on September 8

More than a decade of Maverick momentum has given the University of Nebraska at Omaha (UNO) its strongest enrollment numbers in campus history.

Following a record graduating class of more than 2,900 students in the 2014-2015 academic year, UNO welcomes its largest and most diverse incoming freshman class ever for 2015-2016.

"All of the positive changes at UNO in recent years, whether it's new programs or new infrastructure, have not only improved student enrollment, but also student success," UNO Chancellor John Christensen said. "We are bringing in more students and making sure they become Maverick alumni."

A record number of 3,266 new Mavericks are at UNO this fall, including 2,007 new freshmen and 1,259 transfer students. All three numbers are 8 percent increases from last fall.
Additionally, this year's incoming freshman class is the most diverse is history, with 33 percent of the cohort being students of color. Overall, minority students make up 25 percent of UNO's entire undergraduate class.
Overall, UNO's total enrollment increased 2 percent over last fall with 15,526 students pursuing a degree. The growth continues a trend that has seen UNO's overall population grow more than 15 percent over the past two decades.

"UNO's fall student enrollment has once again reached a new historic high. It is apparent that more and more students and families, both inside and outside of Omaha are realizing the advantages of earning their college degrees in a first-class metropolitan environment,"said Dan Shipp, UNO Vice Chancellor for Student Affairs and Enrollment Management.
---

UNO's Incoming Class By the Numbers
140 are active military, veterans, or dependents
86 percent are from Nebraska
57 percent are female, 43 percent are male
47 percent are first-generation students
33 percent are students of color
22.5 is the average ACT score
3.38 is the average GPA

Increases: 2014 to 2015
17 percent more students from western Iowa
12 percent more students from out of state
10 percent more new Graduate enrollees
9 percent more international enrollees
8.6 percent more incoming Freshmen
8.2 percent more transfer students


---
This trend is also evident in UNO's rapidly-growing graduate programs, which welcomed 10 percent more new students compared to last year. Overall, graduate student enrollment, which is now over 3,000, has risen nearly 15 percent over the past three years.
"We are continuing to grow our programs and capacity to meet a national demand for post-baccalaureate degrees," said Deborah Smith-Howell, UNO Associate Vice Chancellor for Academic Affairs and Dean of Graduate Studies. "As more students earn their Masters or Doctoral degrees, even more first-time students are enrolling to take their place."
In addition to retaining existing students at high levels, UNO also continues to see increases in its transfer student population, which is up 8.2 percent from 2014. A growing number of students earning UNO degrees are doing so after completing programs at other institutions, including two-year like Metropolitan Community College and Iowa Western University.
"These students are responding to the expanding services that we offer in order to make their transition from other institutions as simple as possible," said Omar Correa, Associate Vice Chancellor of Enrollment Management. "We are growing our ability to make sure the time students spend earning credits elsewhere is also time spent toward earning a UNO degree."  
As UNO's student body continues to grow, so too does the ability for those students to graduate and contribute to the Nebraska economy. With nearly 90 percent of all UNO students coming from across Nebraska, UNO continues to serve the state as a premier metropolitan university.
For questions and media requests, please contact Charley Reed at 402.554.2129 or by email at unonews@unomaha.edu.
Contact Us
If you have a story idea, news tip, or other question, please email the UNO News team at unonews@unomaha.edu.