Student Highlight : Yaya Dao
Native of Ouagadougou, Burkina Faso, CBA Student Yaya Dao participated in the Innovation Challenge, hosted by Direct Effect, a unit of USPS. He answered questions about his experience in this competition where he brilliantly finished second.
contact: Ugo Tritz - CBA Marketing Department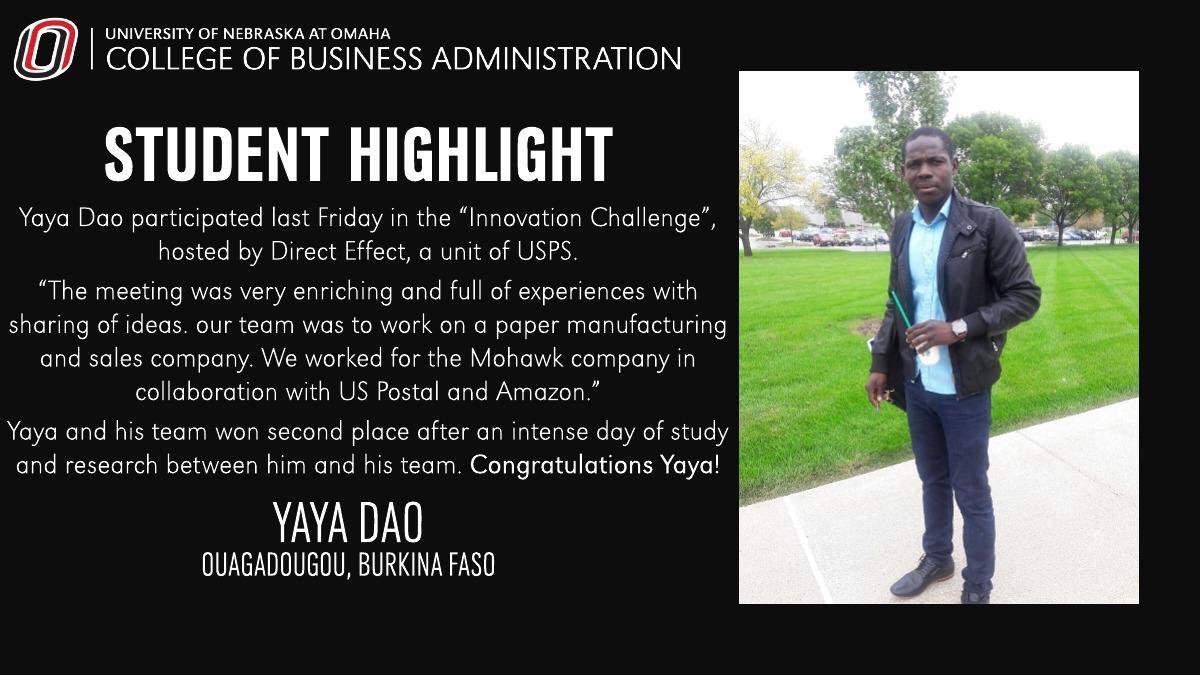 Yaya Dao participated in the "Innovation Challenge", hosted by Direct Effect, a unit of USPS. Students from seven colleges all around the country have participated in this virtual event.
Direct Effect® Innovation Challenges provide students and faculty with hands-on experience in creating integrated marketing campaigns that link digital and traditional marketing. They foster creative thinking and learning—not just about marketing, but about business, customers, and communities—and inspire students and faculty to learn more about integrated direct marketing and how it can benefit their work and careers.
Yaya Dao and his team won second place after an intense day of study and research between him and his team.
"The meeting was very enriching and full of experiences with sharing of ideas. our team was to work on a paper manufacturing and sales company. We worked for the Mohawk company in collaboration with US Postal and Amazon."
After having presented their activities, the jury members asked a series of questions concerning their plan on the integrated direct marketing campaign.
Yaya and his team brilliantly answered all the questions, and after the deliberation from the jury, they had the privilege to finish second in this great competition. Yaya has been invited to connect with the jury members and guests on LinkedIn and submit internships and hiring requests.