Justin Krug Named 2020 Outstanding CEO Chapter Leader After Creating Opportunities for Student Entrepreneurs
Krug was recognized for his efforts in fundraising and his creation of groundbreaking new opportunities, in partnership with local businesses, for Omaha-area young entrepreneurs.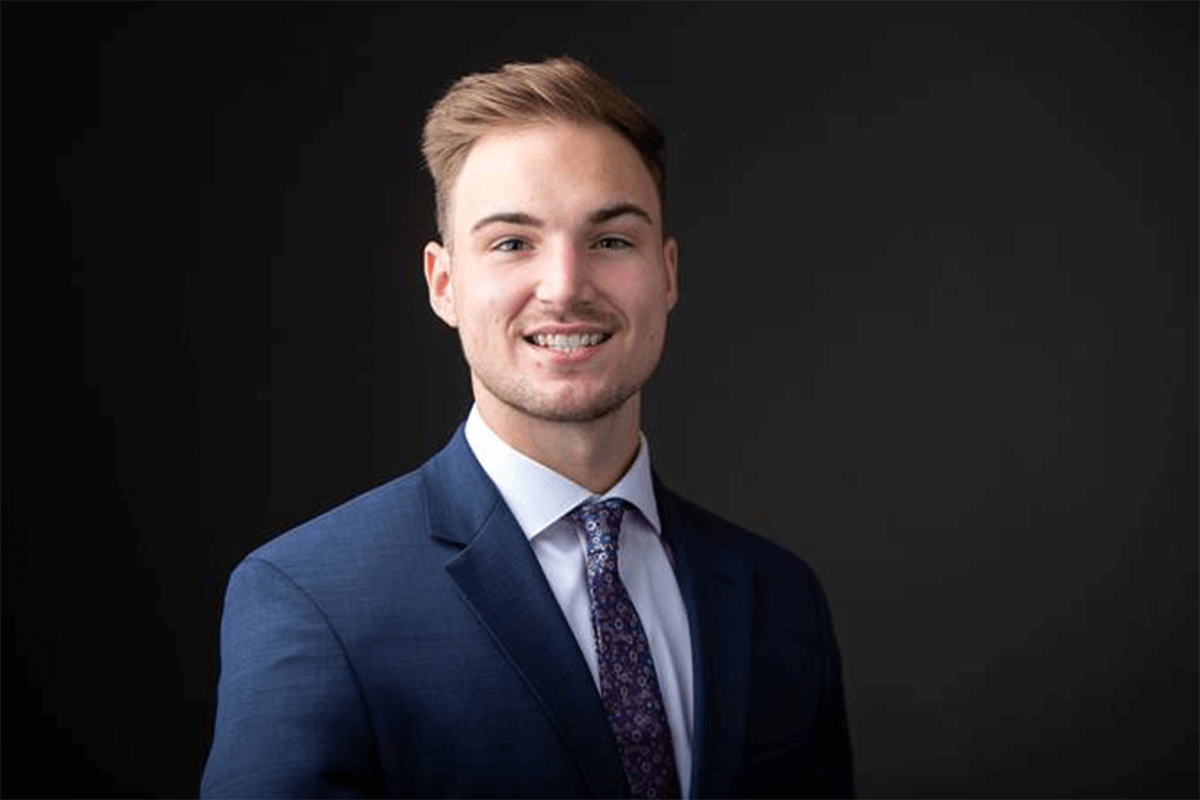 UNO CBA senior Justin Krug, president of UNO's Collegiate Entrepreneurs Organization (CEO), recently took another step towards his entrepreneurial dreams. Krug was named the 2020 Outstanding CEO Chapter Leader, an honor that UNO has never won before. Krug was recognized for his efforts in raising more than $2,000 for CEO from local sponsors, promoting entrepreneurship across college lines with the "Young Entrepreneurship Meet-Up" arranged with UNL and Creighton, and creating the Aviture x CEO Garage Fund – what he calls "the most monumental change since the organization's inception in 2007."
Krug will graduate in spring 2021 with a BSBA in Marketing and Business Management. He is also a member of the UNO Dean's Student Advisory Council, 2020's 3rd place winner in the UNO BigIdea! Pitch Contest, and was a part of the 2nd place team at the 2019 UNO Breakthrough Weekend competition. He took 4th place at the Spring 2020 UNO Toast Kick-Off Pitch Competition.
Krug was initially drawn to UNO's CBA for involvement opportunities and the college's reputation among the local business community. He knew he wanted to get involved and become a part of something bigger than himself. In CEO, he found this sense of purpose, as well as "a great way to validate the lessons [he's] learned along the way as a CBA student."
"CEO has taught me so much with regards to leadership, entrepreneurship, and overall future success – like the importance of building a professional network, and not being afraid to reach out and connect with fellow students or even established professionals in your industry," said Krug. "Another lesson that CEO has taught me is the importance of collaboration. Especially as an entrepreneur, it is crucial to consider other perspectives on issues that you are attempting to solve, as it may lead you to develop a better end product."
Speaking of collaboration, Krug's Aviture x CEO Garage Fund launches Spring 2021. This groundbreaking initiative will allow UNO's CEO to invite all UNO undergraduate and graduate students (regardless of degree) to craft and submit a 90-second pitch video explaining their existing business idea. After the submissions are gathered, three UNO student finalists will earn an invite to pitch live at one of UNO CEO's weekly meetings. The winner will receive $500 (to be used to help support their business's needs) and will be supported by UNO's CEO for the rest of the semester. Achievements like this make it clear why Krug was chosen for 2020's Outstanding CEO Chapter Leader.
"This honor means so much to me as it validates all of the sweat equity that I've contributed to this organization thus far," said Krug. "I am extremely honored to have represented UNO on the global stage, which makes this honor even more rewarding."
One of Krug's goals post-graduation is to secure a full-time position with an Omaha or Lincoln-based company. Through his efforts, he's already making a great name for himself among the local business community.
"Justin has shown impressive drive, communication, and leadership. His passion for CEO is apparent, and it is clear that he wants the best for CEO and its members," said Zach Peters, digital marketing director for Aviture. "The pandemic has created problems for the university and CEO alike, but Justin has worked hard to re-evaluate the group's organization and process to keep CEO's core values in place."
After graduating and passing on the CEO helm, Krug also plans to earn his MBA while preparing to launch his own business within Nebraska.
"One thing is for certain: I want to be a catalyst for the success of Nebraska's entrepreneurial ecosystem. I firmly believe that my time at UNO's CBA will assist me in reaching these goals, as UNO has provided me with an incredible education and experience thus far (both in and out of the classroom)," said Krug. "The connections that I've made as a result of being a student at UNO are what I believe have set me up for success upon graduating and will ultimately help me reach my goals for the future."