Student Highlight : Mohammad Sadegh Amrollahi
MBA student, Mohammad Sadegh Amrollahi tells us about his experience in Nebraska, why he decided to come back to UNO to get his MBA, and what are his goals after graduation.
published: 2020/11/25
contact: Ugo Tritz - CBA Marketing Department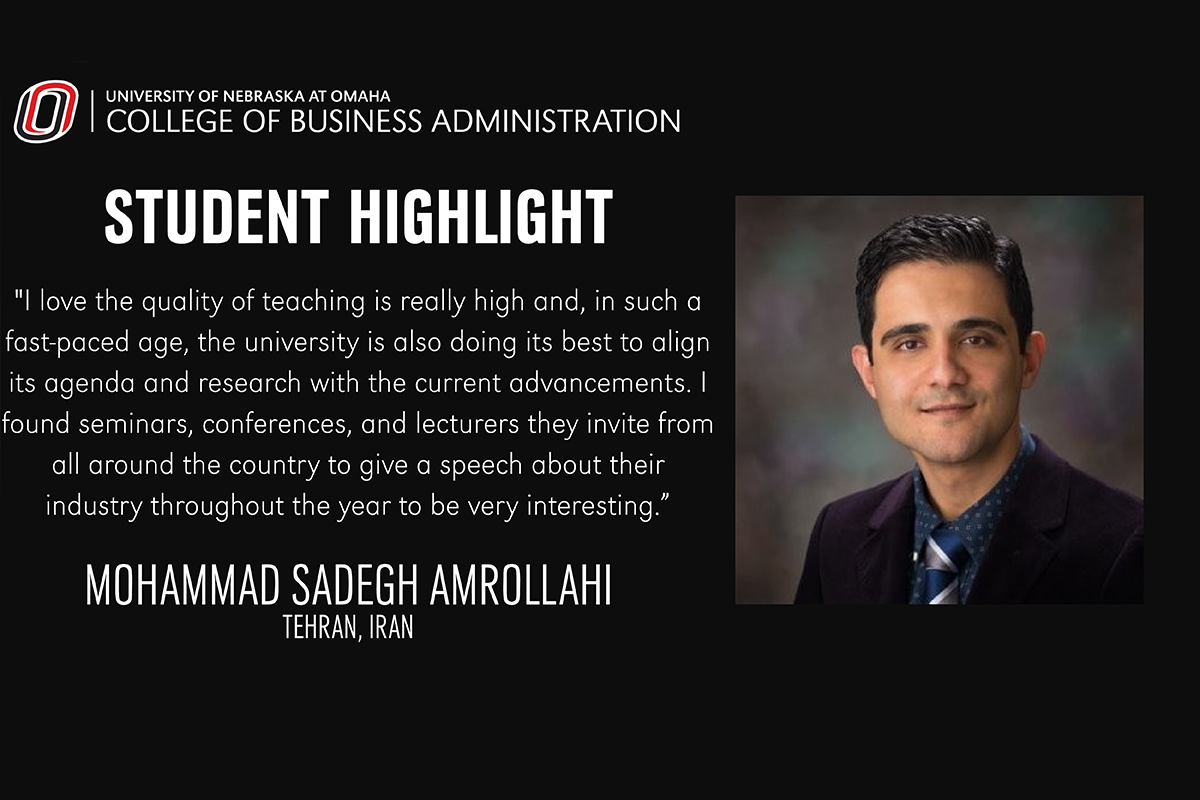 Mohammad Sadegh Amrollahi always looked to find a reason to come inside Mammel Hall. After completing his engineering graduate degree at UNO/UNL, he finally found the reason to do so when he decided to come back to UNO to earn an MBA with a Data Analytics emphasis.
Mohammad currently works as a product designer in the Utility department for Valmont Industries. On a daily basis, he uses a lot of data and enjoys moving them around to get different kinds of results to present them. He decided to earn his MBA and learn more about business and management. Even though his company was offering generous tuition reimbursement plans for other local universities, he chose to come back to UNO. In a world of Big data, and Mohammad wanted to acquire the skills necessary to apply them at Valmont. He is planning a move in his career to oversight and get involved in the financial and operational side of the company.
Mohammad is calling Omaha home since 2015 but is originally from Tehran, Iran, he used to play soccer professionally there and one of his favorite memories as a Maverick was to come to Caniglia Field and enjoy soccer games, where he could identify to the game he loves.
He loves the "quality of teaching is really high and, in such a fast-paced age, the university is also doing its best to align its agenda and research with the current advancements. I found seminars, conferences, and lecturers they invite from all around the country to give a speech about their industry throughout the year to be very interesting."