CBA-Omaha Rodeo Inc. Capstone Project Spurs MBA Students' Recommendations
The non-profit Omaha Rodeo Inc. lassoed several innovative ideas for improving its marketing, self-promotion, and organizational practices by taking part in a capstone consulting project with teams of graduating MBA students from the UNO College of Business Administration (CBA).
published: 2020/09/02
contact: Nick Schinker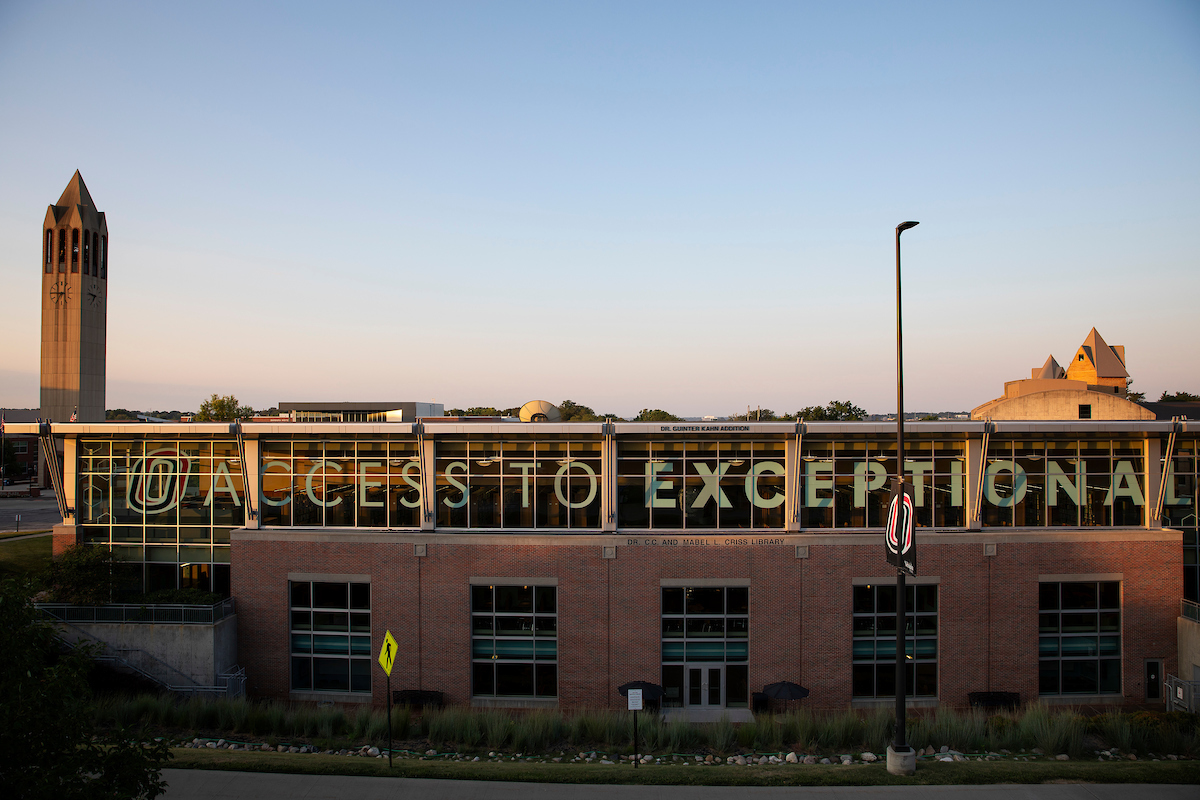 Omaha Rodeo President Beth Greiner says the diversity of the student teams yielded a unique perspective for the rodeo board members to consider. "Some of the students had been to a rodeo and others had not," she says. "Some came at the project from a business perspective; some from a public relations perspective. Each brought his or her own background to the table, and they presented their ideas honestly and in a professional way that we found very engaging."
The project was sparked by NU Connections, a program that unites the University of Nebraska system to promote the university programs, services, and resources that Nebraska businesses can utilize to grow and diversify. NU Connections is administered by the Nebraska Business Development Center (NBDC) with all four university campuses participating in program leadership and development.
NBDC State Director and CBA Assistant Dean Catherine Lang spoke with Lynette Singer, a longtime Omaha Rodeo supporter and volunteer, about the evolving goals of the Omaha Rodeo board of directors and suggested involving CBA MBA students as consultants.
"NU Connections links the assets of the University of Nebraska system, including its faculty and students, with businesses and the community to further economic growth," Lang says. "In this case, bringing a fresh set of eyes to the issues facing the Omaha Rodeo benefitted the organization and the student teams."
In the capstone course, MBA students in their final semester usually form teams and are matched with different organizations to apply their acquired knowledge in a pro-bono project. With this particular project, seven teams of students were formed to work with Omaha Rodeo and develop specific recommendations on seven different aspects of the organization. They were led by CBA Professor of Management Gina Scott Ligon, Ph.D.
The student teams initially met with Greiner and other Omaha Rodeo board members who provided an overview of the organization and history of the Omaha River City Rodeo. The board members shared the organization's short-term goals, growth projections, and expectations of the MBA teams.
Formerly known as the Ak-Sar-Ben Rodeo, the event was established in 1947. Beginning in 2015, the Knights of Ak-Sar-Ben reorganized focusing on youth development and the stock show. Sponsored by First National Bank Omaha, the Professional Rodeo Cowboy Association (PRCA) affiliated Omaha River City Rodeo is normally a two-night annual event each September. It was canceled this year due to the coronavirus pandemic. The rodeo will return on September 24-25, 2021 at CHI Health Center Omaha.
The seven projects concentrated on providing a marketing plan for key target populations, developing metrics to evaluate community and local economic impact of the rodeo, creating a plan to increase ticket revenue, revising the rodeo patron membership program, developing three-, five- and 10-year plans for other rodeo events; establishing an organizational structure for the 501C3 organization; and devising a report of best practices for professional sponsorships.
The student team of Pat Hanlon, Kate Porto, and Kaelin Schilling was asked to re-imagine and add value to the existing Omaha Rodeo Chute Club Membership program. The team surveyed current Chute Club members, and examined the perks other regional rodeos offered their VIP members.
In its final presentation in March, the team delivered several specific recommendations, including the creation of membership tiers and different prices, inaugural and annual membership gifts and discounts, a pre-rodeo private reception, and other yearly events.
Hanlon, a haz-mat manager at Offutt Air Force Base, says there were several highlights to the course, from the collaboration between the teams as they worked on their ideas, to the enthusiasm the teams received from the board members. "At our presentation, they were totally glued in to what we were saying," Hanlon says. "They honed in on what we wanted to do, and we're looking forward to seeing if and how our ideas are implemented."
Billie Kunzman, Abbie Zimmerer, and Aaron Mason comprised the Maverick Marketing consulting team. The trio reviewed demographic data from previous ticket purchases and created electronic surveys to find effective ways to market to the local population and assess overall interest in the event.
The team's recommendations included focusing early efforts on developing awareness in Omaha and surrounding areas, pairing local marketing efforts with increased use of social media, offering supplementary events during the rodeo weekend, offering group discounts to Omaha employers, and creating additional awareness and interest by developing partnerships with Omaha schools.
"It was very rewarding to have them sit down with us and say, 'Here's where we want to go. Now we want you to tell us how to get there,'" says Kunzman, an account manager at a local medical staffing company. "I think in the end they were pleased with our efforts, and we harvested some marketing experience as well as social media experience."
Board Member Robb Spence says participating in the project proved "very worthwhile" for the rodeo representatives. "Our board includes CPAs, attorneys, financial people – a good level of experienced business people," Spence says. "The variety of students who took part really represented the average consumer, and that gave us all sorts of perspectives and ideas. It was an excellent experience."
Greiner says she was impressed how NU Connections unites corporations and non-profits with the university's resources. "This project is a really good example of that concept in action," she says. "Engaging students gives them ownership and makes a better community for all of us."