Roopa Venkatesh Fosters Ingenuity and Empathy in the Online Classroom
Venkatesh, associate professor of accounting, has seen great success in the online classroom. She owes it to empathy, patience, and flexibility.
published: 2020/05/11
contact: Rachael Smith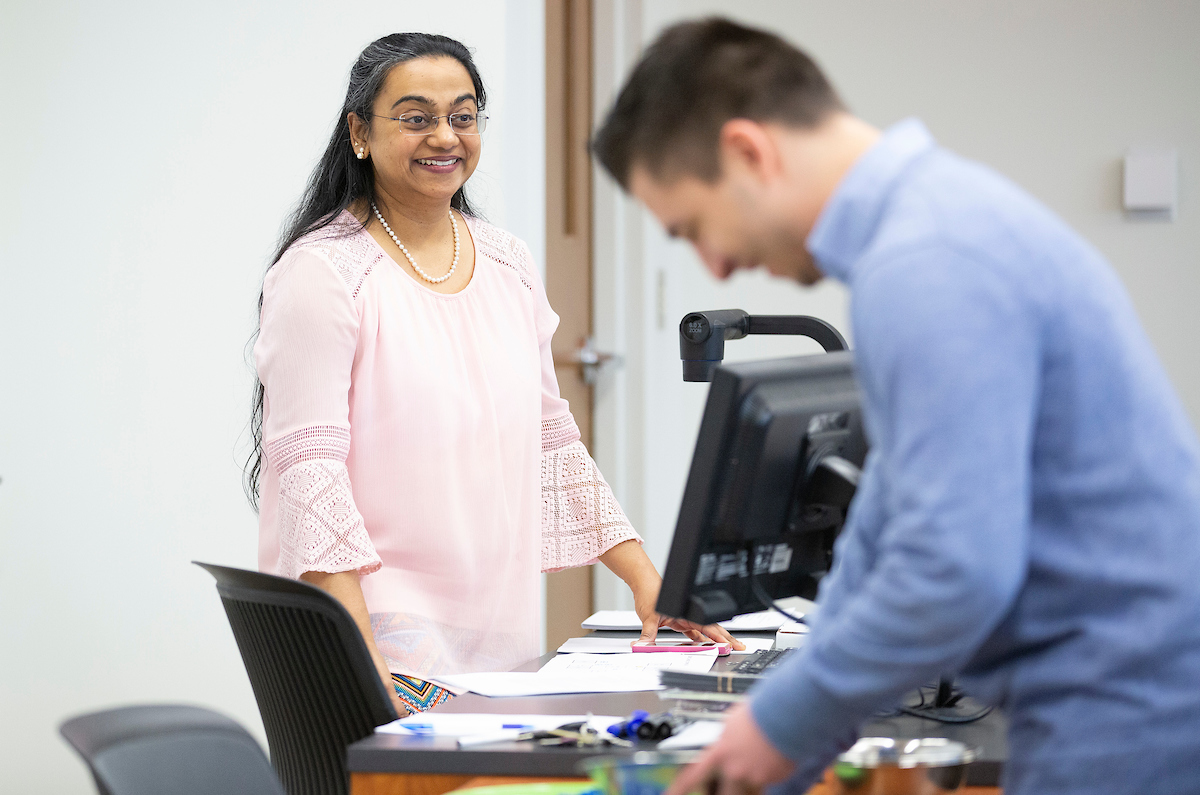 Roopa Venkatesh, associate Professor of accounting at the UNO College of Business Administration, understands that the sudden switch to virtual learning can be a challenge for students and teachers alike. When she was tasked with taking her classes online, she chose to emphasize ingenuity and empathy, and her strategy has proven itself successful.
Venkatesh leverages multiple tools in creating effective online classrooms. Working through Zoom and Zoom breakout rooms for teaching, she also improves interactivity through the "Explain Everything" app. Combining these tools has allowed her online classroom to be just as engaging as an in-person session, and to keep up the communication, she also stays in touch with students through VidGrid and Canvas.
By structuring her courses with these tools, and ensuring learning resources were easily available, Venkatesh kept the stress on students low.
"I promised my students that it was my responsibility to make the seamless transition from a highly interactive in-class course to creating an equally interactive virtual classroom," said Venkatesh. "Nothing would change at their end, and they would not need to do any more or anything outside of what had already been outlined in the course syllabus and schedule."
This student-centered approach has been rewarding for Venkatesh. She said she was inspired by her students' positivity, faith, and trust in her – and her efforts for her students have paid off.
"During this remote learning period, each class has had full attendance, and excellent participation from students in the form of in-class Zoom student presentations, questions, discussions, writing along with me as we work through complex managerial accounting concepts, and so on," said Venkatesh. "I am impressed with how resilient and supportive my students have been. I am very proud of them!"
Dr. Susan Eldridge, Director of UNO's School of Accounting, highlighted Venkatesh's "real-time engagement with students" as what's keeping them logging on and learning. For professors seeking to replicate Venkatesh's success, she stresses a flexible approach to addressing student needs and concerns.
"We have to be patient with our students, and also structure our courses to
give students time and flexibility to become patient learners without sacrificing rigor in
the learning process," she suggests. "Flexibility in submission deadlines, for instance, is not a factor that should hinder a student's learning."
And for students managing the varying demands of the online classroom, Venkatesh encourages interactivity and communication as some of the key factors that help professors identify what's going well, and what should be changed.
"Have faith in and trust your professors' abilities," Venkatesh said. "Your success and your learning are the most important factors that motivate your professors' efforts in preparing the structure and materials for a course."
As we continue to work together while apart, stay tuned to UNO CBA's remote learning resources for updates on how we can all keep teaching – keep learning – and keep working.