UNO CBA Career Center Director Laura Sansoni Empowers Students' Career Journeys
Through programming from the CBA Career Center, students are offered networking and career prep opportunities benefiting them far after they graduate.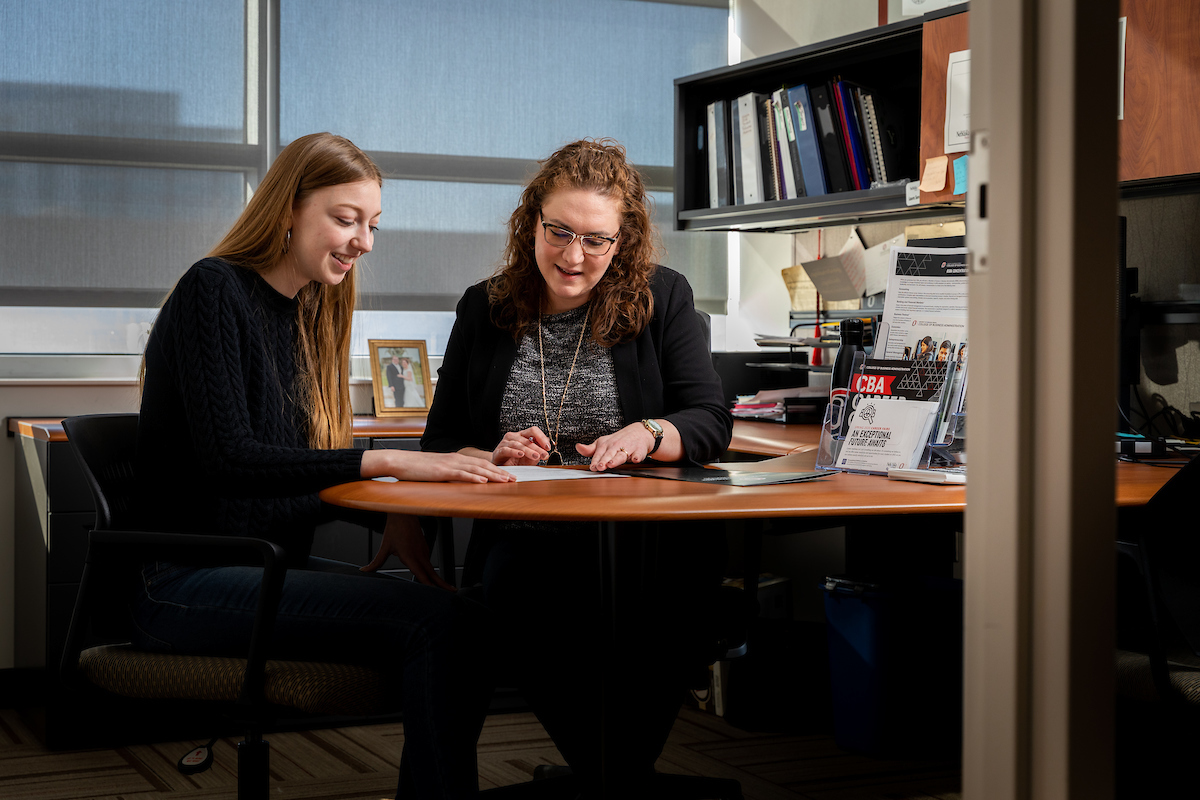 UNO CBA Career Center Director Laura Sansoni is dedicated to helping students on their career journey from the moment they walk into Mammel Hall to well into their working life. She does this by teaching students about the essentials – networking, job hunting, and marketing yourself.
When Sansoni graduated college and entered the job market during the Great Recession, she faced several complications. She was forced to ask herself how she could land a well-paying job that she still felt happy with during the difficult economic time. The lessons she learned in this process now play a major role in how she, and the Career Center, help CBA students.
"We don't just help students find jobs," said Sansoni. "We empower them with the tools, resources, and skills to find the opportunities that are the best fit for them so they can develop a lifelong career."
Sansoni's passion for helping college students with their careers also prompted her to earn a Master of Educational Administration degree with a focus in Student Affairs from UNL. Since taking over as director of CBA's Career Center, Sansoni has revolutionized the college's career programming by acting on feedback from those she's here to serve: the students.
Through surveys and one-on-one discussions, Sansoni collects candid student feedback and transforms it into beneficial career initiatives at UNO CBA.
This feedback has prompted many of CBA's most successful career events, such as the biannual CBA Career Fair, CBA Business Week, alumni lunches, and career-focused workshops like "Understanding the Job Offer."
Sansoni also forges connections with the local Omaha community, speaking to employers on a daily basis. Several choose to be UNO Employer Partners, which are companies that maintain a close relationship with the university and express eagerness to hire UNO students. These employers often send open job positions to UNO to be shared with students.
"CBA students really shine in the marketplace. They're truly phenomenal and competitive, "said Sansoni. "When they land a job, it shows that they're from UNO."
Sansoni's commitment to community connectedness, like the Employer Partner program, offers invaluable networking opportunities for CBA students. When employers visit the college for career fairs or reach out to UNO with open positions, these are the type of connections that Sansoni calls "king" in the job world.
"At events like career fairs – every student should go at least once – you can make so many connections in a very short period of time," said Sansoni. "It doesn't have to be just about a job. You can ask employers about career paths or more in-depth questions. Once you leave CBA, you have to work harder to make it to these types of large networking events where there's 50 employers looking to hire you. We make it easier for you while you're here by bringing connections and opportunities to you."
In addition to hosting events like career fairs and workshops, the CBA Career Center is always open to students, who are welcome to stop by, provide input, ask questions, and get help with their job search or career prep.
"We're here to give students more confidence in navigating the job search and their career exploration," said Sansoni. "More confidence comes when you know more, and that's why the Career Center is so valuable."
Students can keep up with the CBA Career Center on Instagram at @unocareercentercba, on the Career Center website, and on Handshake, where jobs and events are frequently posted. Students can also use Handshake to schedule career advising appointments with Sansoni or CBA's Career Advisor, Rebecca Atkins.