Third Annual Accounting Careers Expo Offers Networking, Personal Insight
published: 2019/02/06
contact: Rachael Smith - CBA Marketing Department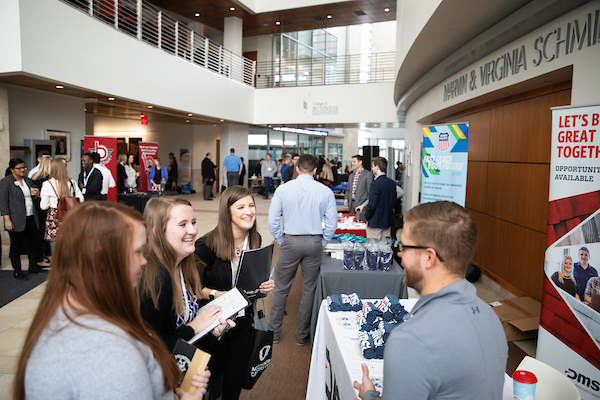 The Third Annual Accounting Careers Expo was held at Mammel Hall on January 25, 2019.
The 2019 Accounting Careers Expo welcomed nearly 110 students and 44 business exhibitors to Mammel Hall. The event was open to UNO students, local high schools, and community colleges and aimed to answer questions about the accounting profession while offering networking opportunities.
The half-day conference also offered career path exploration, Q&A, workshops, and prizes for student participants.
Accounting Lecturer and Accounting Career Advisor Jillian Poyzer organizes the yearly event to "provide resources to students about the various opportunities available in an accounting career and to facilitate student and professional interaction."
With local businesses in attendance, including First National Bank, TD Ameritrade, and WoodmenLife, the event achieved its goal of showcasing accounting career opportunities in the Omaha metro.
The expo was also effective at providing students with personal and professional insight into the accounting profession.
"At the end of the event, a question was asked to all attendees in the auditorium: 'Raise your hand if this event has solidified your decision to either enter or not enter the accounting profession'," Poyzer says. "I would say that 80-90% of students raised their hand. That's a success story because that summarizes why we put on this event."
Students attending the expo are meant to leave with a better understanding of what an accounting career looks like so they can better gauge if it is an area they will continue to pursue. Comments from the 2018 exposition praised the event for being an enlightening experience for potential and current accounting students, and this year proved equally successful.
Poyzer looks forward to compiling this year's comments and offering continued opportunities for accounting students to gain insight into accounting, potential careers, and themselves.
Poyzer would also like to thank the CBA's Accounting Corporate Partners (recognized below) for making this event free for all participants. The Accounting program is now looking forward to its next event, a Power Lunch on February 26 in which students interact with local accounting professionals and learn about accounting careers in specialized industries.
Thank you to the College of Business Administration Accounting Corporate Partners
Berkshire Hathaway Homestate Companies and National Indemnity Company
BKD LLP
Bland & Associates, P.C.
Deloitte
Hancock & Dana, PC
Lutz
O'Donnell, Ficenec, Wills & Ferdig, LLP
WoodmenLife