UNO Executive MBA Program Recognizes 2019 Graduates and Award Winners
The Executive MBA Class of 2019 graduated on December 13, with several students recognized for exceptional achievement in the classroom and beyond.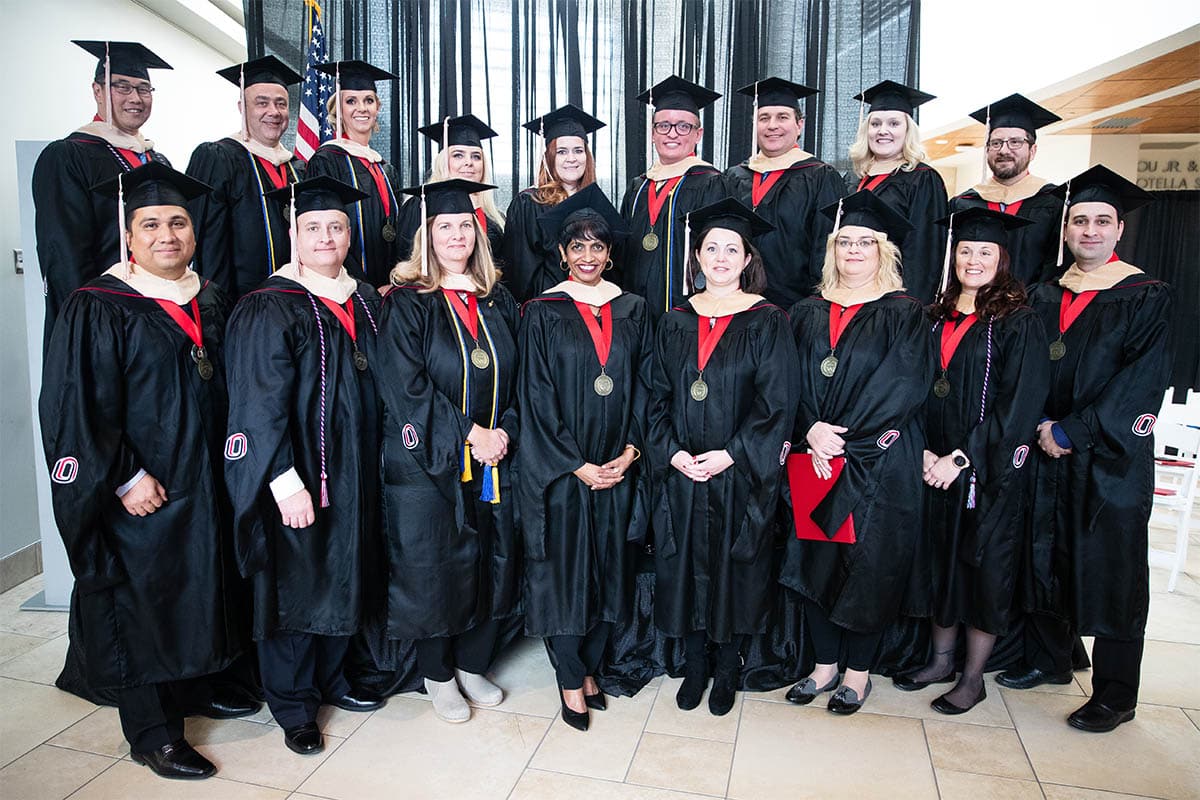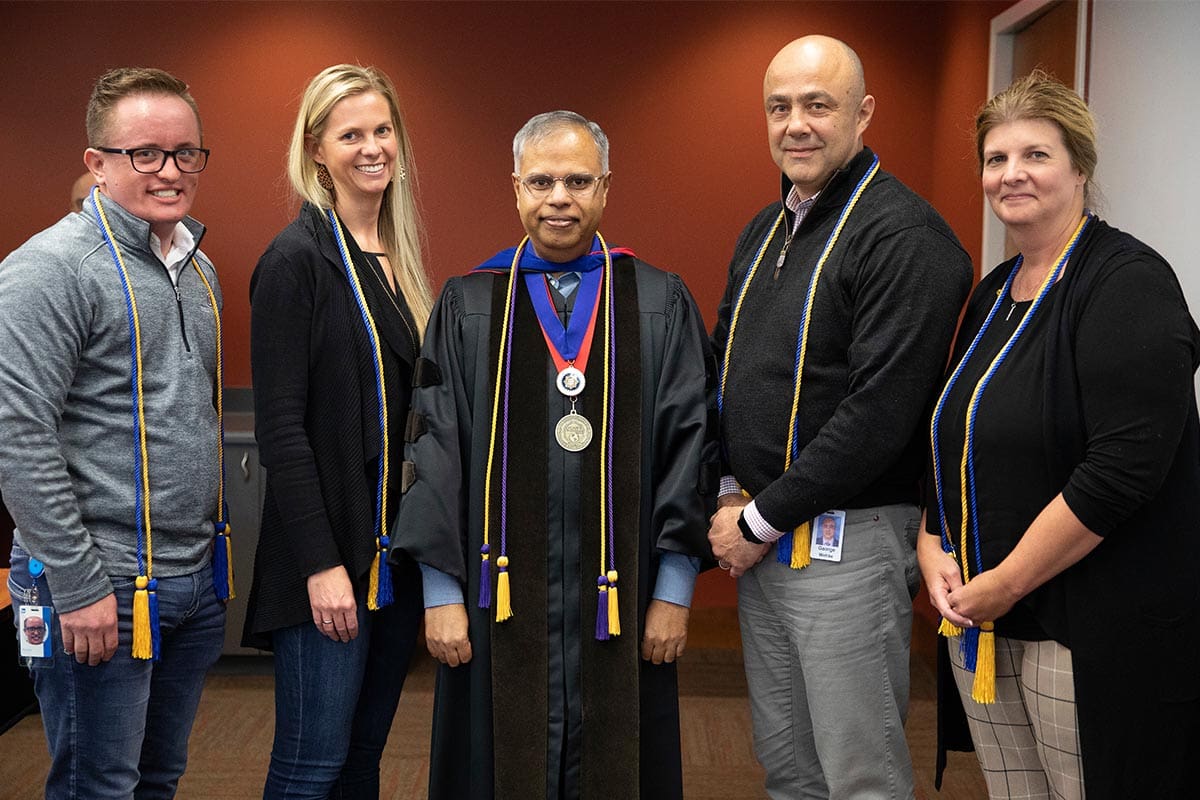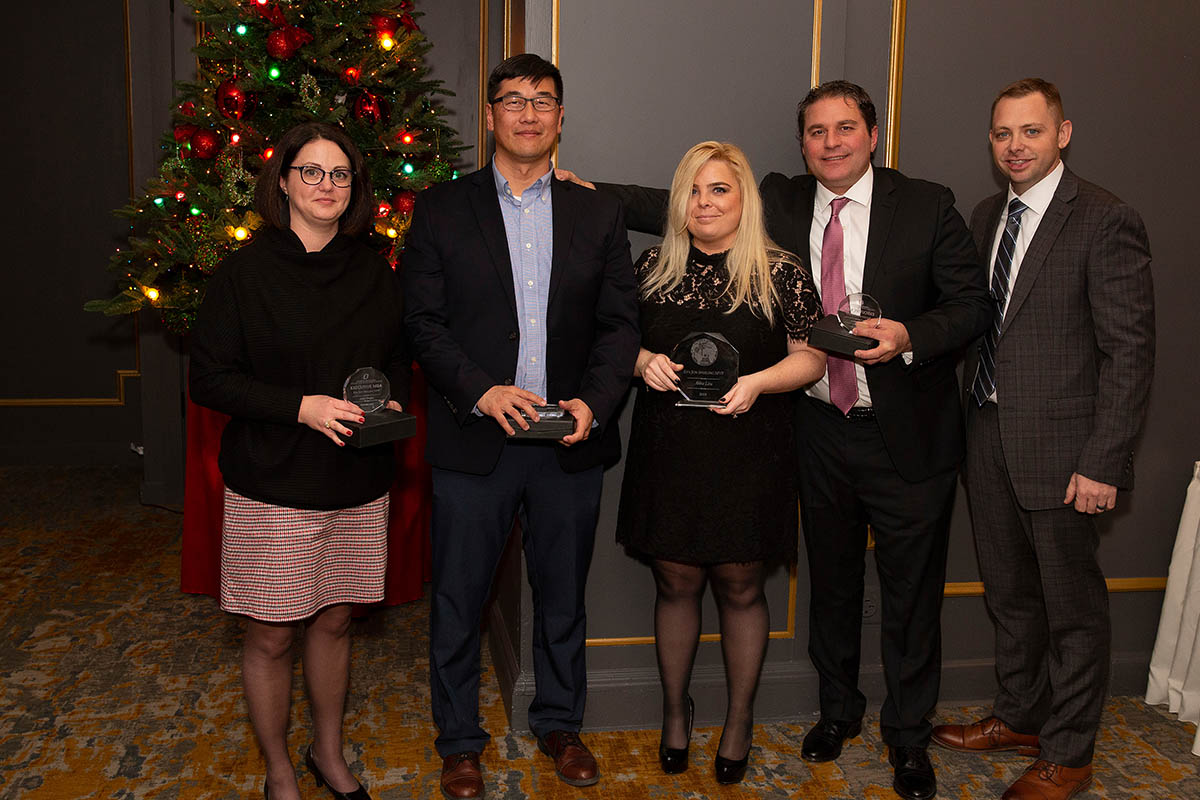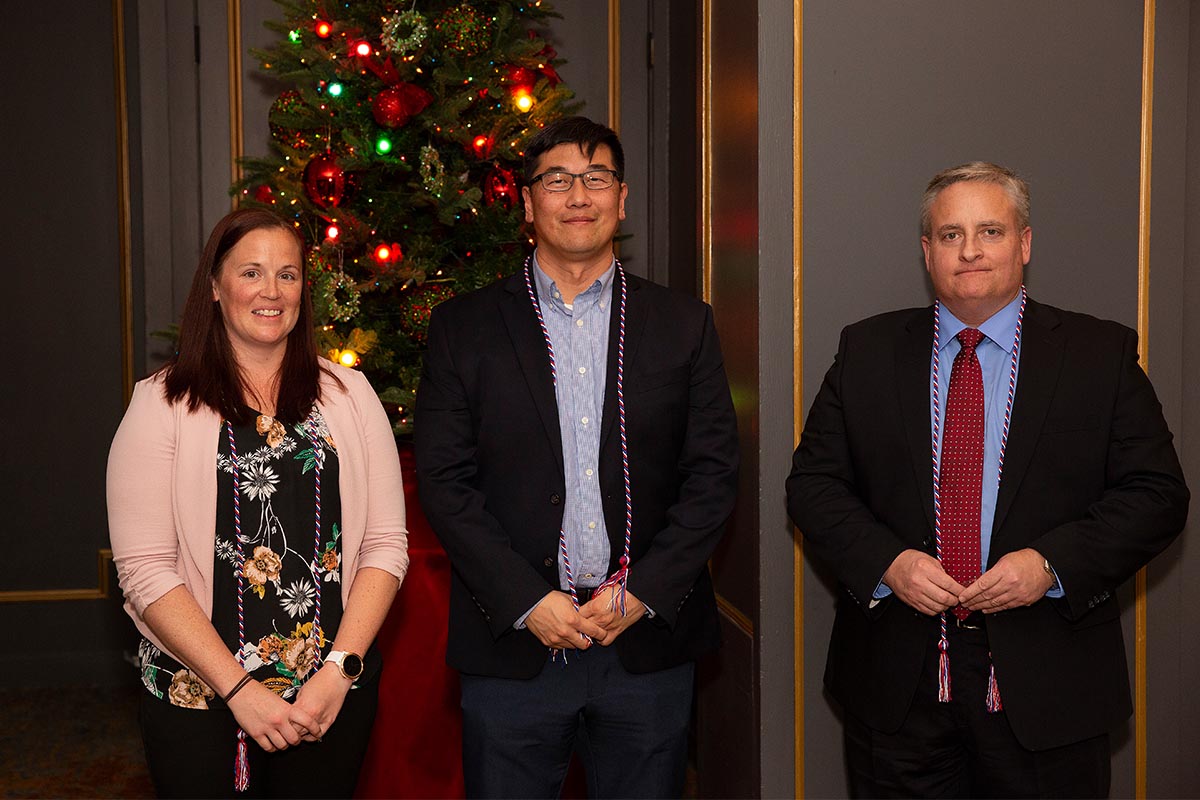 The UNO Executive MBA program is proud to announce the graduation of 17 exceptional professionals in the Class of 2019. The cohort averages 17 years of professional experience in industries including healthcare, technology, consumer products, manufacturing, financial services, and legal services. Graduates completed a rigorous program that included an extensive international business consulting project, during which teams conducted business research in Chile, Costa Rica, Tanzania, and the United Kingdom.
Congratulations to the Class of 2019 Graduates:
Melissa Anderson
Timothy Bennett
Nicholas Bergin
Jean Bierman
Erin Delatorre
Philip Gomez
Cecily Haggerty
Wesley Heiser
Benjamin Hwang

Eswari Kalugasalam Lawson
Brandon Lecher
Brooke LeQuire
Abbie Lira
Jennifer Messick
Marlon Morales
Ashley Priefert
George Wehbe
Special recognition was given to the following students and faculty for exceptional achievement in the classroom, workplace, and community.
Beta Gamma Sigma International Honor Society
Awarded solely on academic performance, this honor is the highest recognition a business student can receive at a school accredited by the AACSB International.
Melissa Anderson
Cecily Haggerty
Brandon Lecher
George Wehbe
---
Distinguished Student
Awardees demonstrate the highest combination of academic and personal achievement, commitment to serving the community, and contributions to the success of their Executive MBA class. Individuals with the highest academic results are presented to EMBA faculty, who select the winners.
Cecily Haggerty
George Wehbe
---
Distinguished Faculty
Honors the Executive MBA faculty member who, in the opinion of the graduating class, made the greatest contribution to student academic and professional growth and success.
Dr. Christopher Decker, Economics
---
Eva Jon Sperling
Candidates for this peer-voted award must demonstrate the leadership skills espoused by alumna Eva Jon Sperling, including a positive, take-charge attitude, motivation of self and others, and leadership by example within their team, classroom, workplace, and community.
Winner: Abbie Lira
Nominees: Erin Delatorre, Wesley Heiser, Benjamin Hwang, and Ashley Priefert
Recognizing Military-Affiliated Students
Timothy Bennett, Lieutenant Colonel, U.S. Air Force, Retired
Benjamin Hwang, Lieutenant Colonel, U.S. Army, Retired
Brooke LeQuire, Sergeant, U.S. Army Reserves, Veteran
---
About the UNO Executive MBA
The UNO EMBA is a 17-month, alternating weekend program that provides executive-level support services so professionals can maximize their education, careers, and personal life. This concierge approach means UNO takes care of everything — from scheduling courses and purchasing textbooks to distributing course materials, parking permits, and catered meals. The program is designed specifically for busy professionals who balance a demanding workload, frequent travel, and life outside of the office.
Students never feel like they're going through the process alone – support and encouragement comes from faculty, staff, and peers. Going through the program with professionals who average more than 15 years of professional experience from a broad range of industries is a major advantage of the program. Students expand their leadership skillsets, business acumen, and professional network in Nebraska's only internationally-accredited, globally-ranked Executive Business program. The next cohort begins August 2020. Learn more about the UNO EMBA.