UNO College of Business Administration Hosts 62nd Annual Midwest Academy of Management Conference
Mammel Hall brought nearly 2,000 management faculty, speakers, and graduate students to Omaha for the Midwest Academy of Management Conference, with a focus on "developing the whole professor to change the organizational world."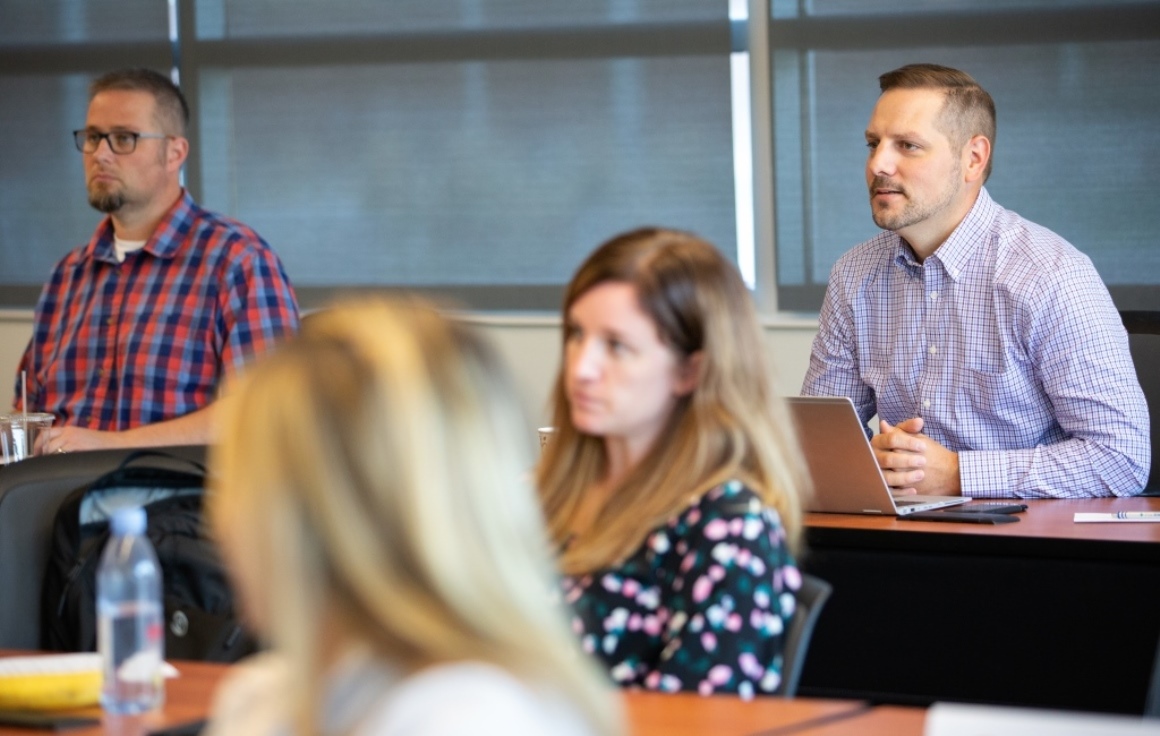 Mammel Hall – In October 2019, the UNO College of Business Administration's Mammel Hall hosted management faculty, speakers, and graduate students from across the country for the 62nd annual Midwest Academy of Management Conference.
The Midwest Academy of Management was founded in 1957 and serves as a professional association for management scholars. Each year, the academy provides opportunities for management faculty to share their passion for research, teaching, and service through speakers, symposia, and professional development workshops.
Among the organizers of the conference was Dr. Lynn Harland, UNO CBA interim dean and professor of management.
"Hosting the 62nd Midwest Academy of Management Conference at the UNO College of Business Administration highlights the superior quality of what takes place here," says Harland. "We are not just a business college – we are a hub for innovation, a gathering place for collaborative thought, and Omaha is a destination rife with opportunities for both our faculty and students and those visiting from outside the region."
CBA faculty took on several leadership roles. Conference track chairs included Dr. Gina Ligon for organizational behavior and Dr. Erin Bass for strategy, both associate professors of management at UNO.
Mammel Hall also drew influential minds from outside Omaha. This year's distinguished speakers were Dr. Sangeeta Badal, principal scientist for Gallup's Entrepreneurship and Job Creation initiative and best-selling author; Catharyn Baird, JD, Founder and CEO of EthicsGame, LLC and professor of business, emeritus, at Regis University; and Kim Cameron, William Russell Kelly professor of management and organizations at the University of Michigan.
In the spirit of encouraging innovation and research in higher education, the conference also provided unique career development opportunities for students. CBA graduate students viewed scholarly presentations, participating individually and alongside UNO faculty. Presentations included:
"That Was Intense: The Effects of Case Moral Intensity On Individual Awareness and Judgement" (Adam Damadzic, Kelsey Medeiros)
"A Model of Workload Assignment Preference and Its Effect on Performance, Productivity, and Stress" (Christopher Winchester, Amy Risch Rodie)
"Exploring the Brand: Brand Personality of ISIS Messaging" (Alexis d'Amato, Michael K. Logan, Douglas C. Derrick)
These presentations provided research publicity for faculty, professional exposure for graduate students, and an opportunity to share a glimpse into the forward-thinking research taking place at the college.
"Holding this conference at Mammel Hall further invigorated our love for learning, collaboration, and innovation," says Harland. "Gathering so many passionate scholars in our building added fuel to the energy that already thrives here. The theme of this conference was professional development in pursuit of positive change – and changing the world is something we certainly plan to keep doing at UNO CBA."