Breakthrough Weekend Allows Students to Brainstorm and Build Business Ideas
Breakthrough Weekend is an accelerated workshop event where student participants are given opportunities to start a business and pitch their idea to a panel of judges.
published: 2019/10/10
contact: Connor Berg and Levi Cermak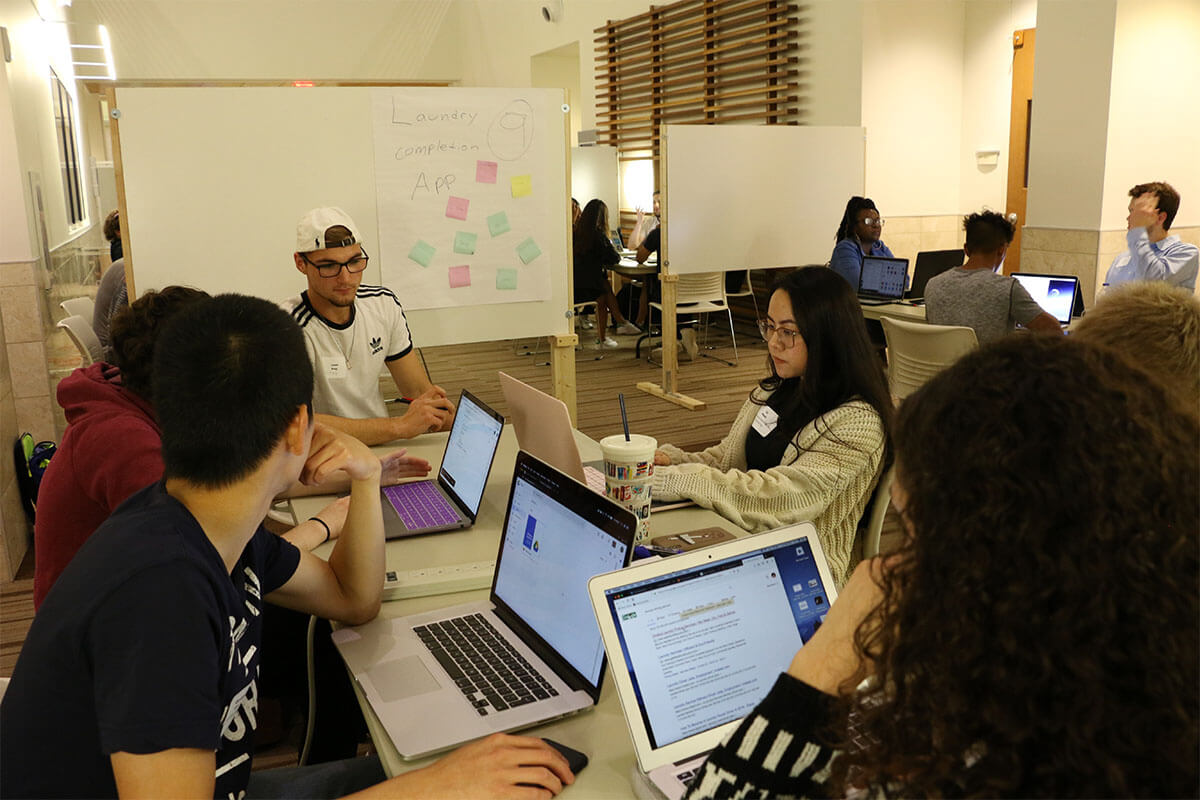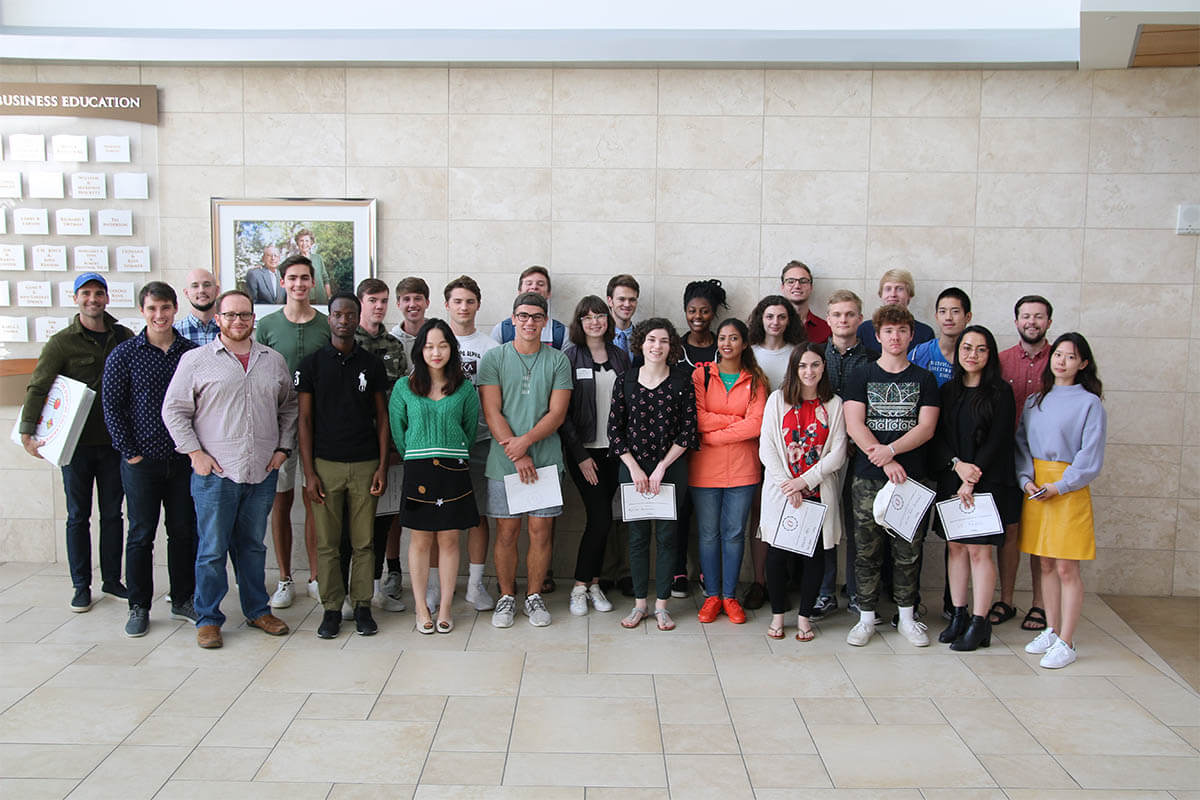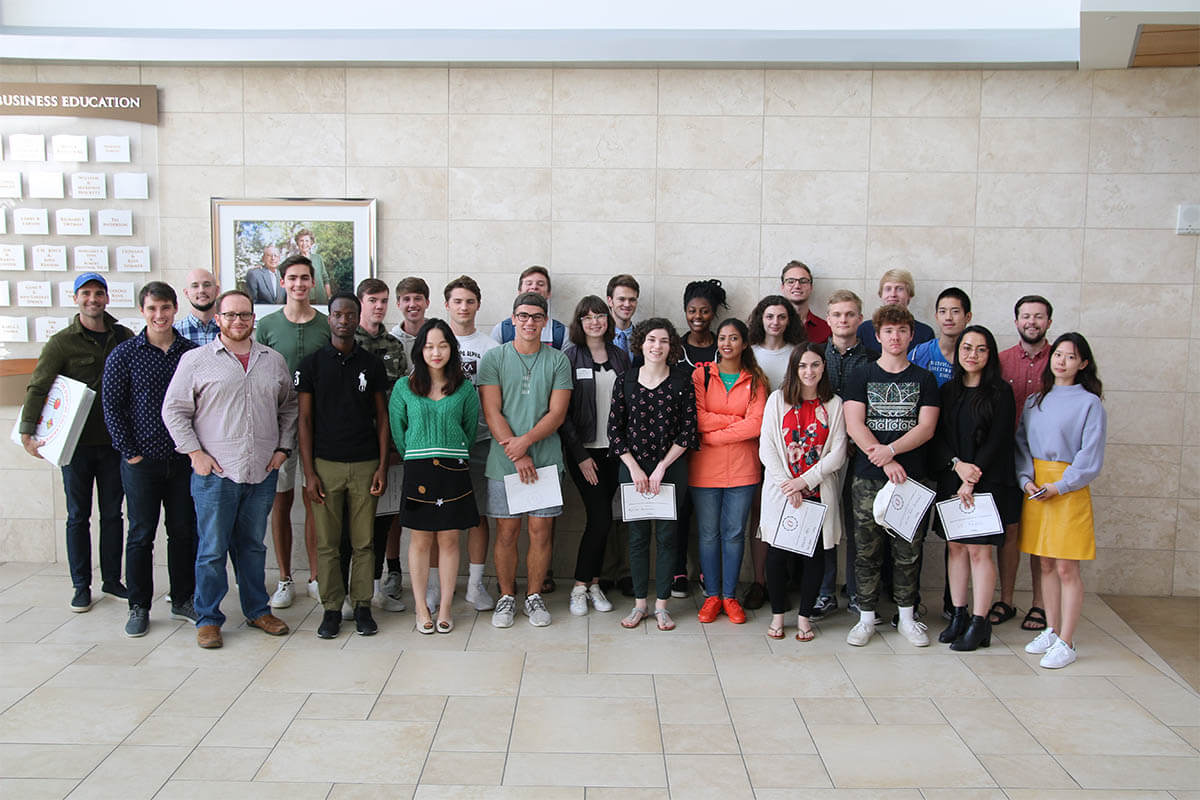 Mammel Hall – On September 20, UNO's Center for Innovation, Entrepreneurship and Franchising kicked off its 2019 Breakthrough Weekend. In partnership with The Startup Collaborative, the annual Breakthrough Weekend event is an accelerated workshop where participants learn how to start a business from an idea and are given an opportunity to pitch their business to a panel of judges. This year's Breakthrough Weekend was sponsored by Aviture, Fiserv, Husch Blackwell, and The Startup Collaborative, and brought in over 50 students from different colleges at the University of Nebraska at Omaha, members from the Omaha community, and students from outside universities.
Breakthrough Weekend participants worked in teams to brainstorm their business idea, consult with mentors to find their first customer, conduct surveys for research, and build prototypes. On Saturday, October 21, mentors from the Omaha community, such as Roger Kassebaum from Founders Bootcamp, Adrian Petrescu from Innovation Trek, Justin Nabity from Physicians Thrive, Jason Feldman from live402, and Mitch Treu from The Startup Collaborative, came to UNO to collaborate with and mentor teams. By interacting with these mentors, students gained valuable entrepreneurial experience and networked with meaningful connections in the community.
"I thought having local business owners as mentors was really impactful throughout Breakthrough Weekend," said Madeline Allen, a team member of startup SoVOYAGE. "Involving them really allowed my group to flesh out some of our concerns with our product. In addition, speaking to someone who had a lot of experience and advice was really beneficial to my Breakthrough Weekend experience."
After mentoring and brainstorming, each team created their own unique brand art and pitch, which they presented to a panel of judges on Sunday. The winners of Breakthrough Weekend received gift cards to local restaurants in Omaha, meant to inspire further innovation and support the continued development of their business ideas.
Breakthrough Weekend distributed awards to three teams. The winning team was Just Landed, a social media application that helps friends reconnect when traveling away from home. Founders Noah Schalley and Ottilie Cooper-Ohm aimed to target a common problem facing long-distance friends, who may struggle with losing touch after moving away. Their solution is an application that alerts users about connections in their current city and uses a unique "set it and forget it" notification model where users can avoid the annoyance of traditional social media applications.
First runner-up was awarded to Team Clean Colorz, a subscription-driven laundry service. Clean Colorz modeled its business plan around effortless laundry by differentiating itself from current competitors and customizing its offerings to be customer focused.
"Breakthrough Weekend is the best real-world business event I have attended," said Daisy Dean, a team member of Clean Colorz.
Second runner-up was awarded to Team SoVOYAGE, a personalized travel agency that digitalizes the trip planning process, all while making it more affordable for the consumer. SoVOYAGE would partner with companies such as Delta, Airbnb, and Spotify to help make the trip planning process hassle-free and cost effective.