A Recap of This Year's Invaluable CBA Study Abroad Experiences
CBA students enjoyed plenty of opportunities to study abroad in 2018-2019, returning with business and life lessons that will resonate throughout their careers.
published: 2019/07/25
contact: Rachael Smith - CBA Marketing Department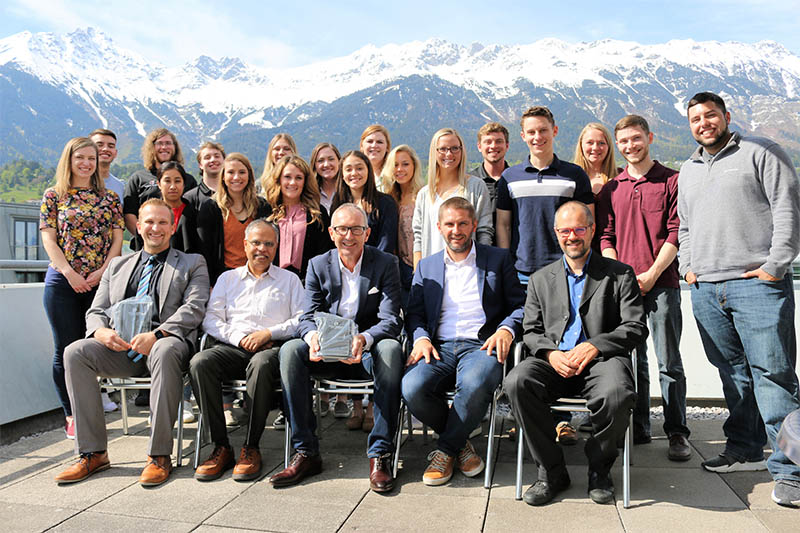 CBA Scholars Academy students and accompanying faculty in Innsbruck.
It's not enough anymore to graduate college and emerge into the workforce, freshly minted degree in hand and starry-eyed over career aspirations. The world is becoming increasingly interconnected, and businesses are seeking not only the best and brightest, but the cultured, too. UNO CBA addresses that company need directly with study abroad experiences tailored to giving students a "look at life through a new lens," says Kristi Lynch, MBA Program Director.
In the 2018-2019 academic year, CBA students took part in several excursions abroad:
Concepts Come to Life in India
Students and faculty arrived at IMT, Ghaziabad, an MBA-only university in India. The UNO CBA cohort experienced immediate immersion in Indian culture, business, and government as students were exposed to everything from rural villages to larger environmental NGOs like Toxics Link, which researches waste management to influence policy and social change.
The trip offered preparatory first-hand experience in India for students, where they interacted with business owners, executives, government policymakers, and community members. Students also explored the social impact of global business, including its effects on the people and environments in which it is conducted.
---
Making Vital Connections in China
Dr. Birud Sindhav and class visited China to investigate how it's pulled 500 million people out of poverty in the last 30 years while developing the second largest economy in the world. Students learned how to interact with an economic giant through simulated product marketing exercises in which they were asked to integrate a product into Chinese culture and identify demand size.
This trip was particularly relevant and essential for Omaha students. Valmont, Werner Enterprises, Union Pacific – all companies headquartered in Omaha – and Nebraska's booming beef industry have major presences in China. "For some China businesses, the entry point is Nebraska," Sindhav says. "Students need to make that link. We need to have that connection."
---
Immersive International Culture in Austria and Germany
With the importance of international business on the rise, Scholars Academy students traveled to Austria and Germany to gain immersive, first-hand experience in European culture and business. Students engaged in corporate visits and tours of prominent locations like the Management Center Innsbruck, Grassmayr Bell Foundry, and BMW corporate headquarters.
Students also broadened their cultural understanding through guided tours to important landmarks like Neuschwanstein and Hohenschwangau castles. "Euro-US interactions are some of the biggest influencing factors on today's world," says attendee and Scholars Academy student Dylan Loerts. "This trip impacted my understanding of the trends and forces affecting the world today by giving me greater insight into the cultural and political nature of Europe."