Mandi Backhaus Wins 2019 National CREW Network Foundation Scholarship
UNO CBA senior Mandi Backhaus has become Omaha's second ever Commercial Real Estate Women (CREW) Network Foundation scholarship recipient.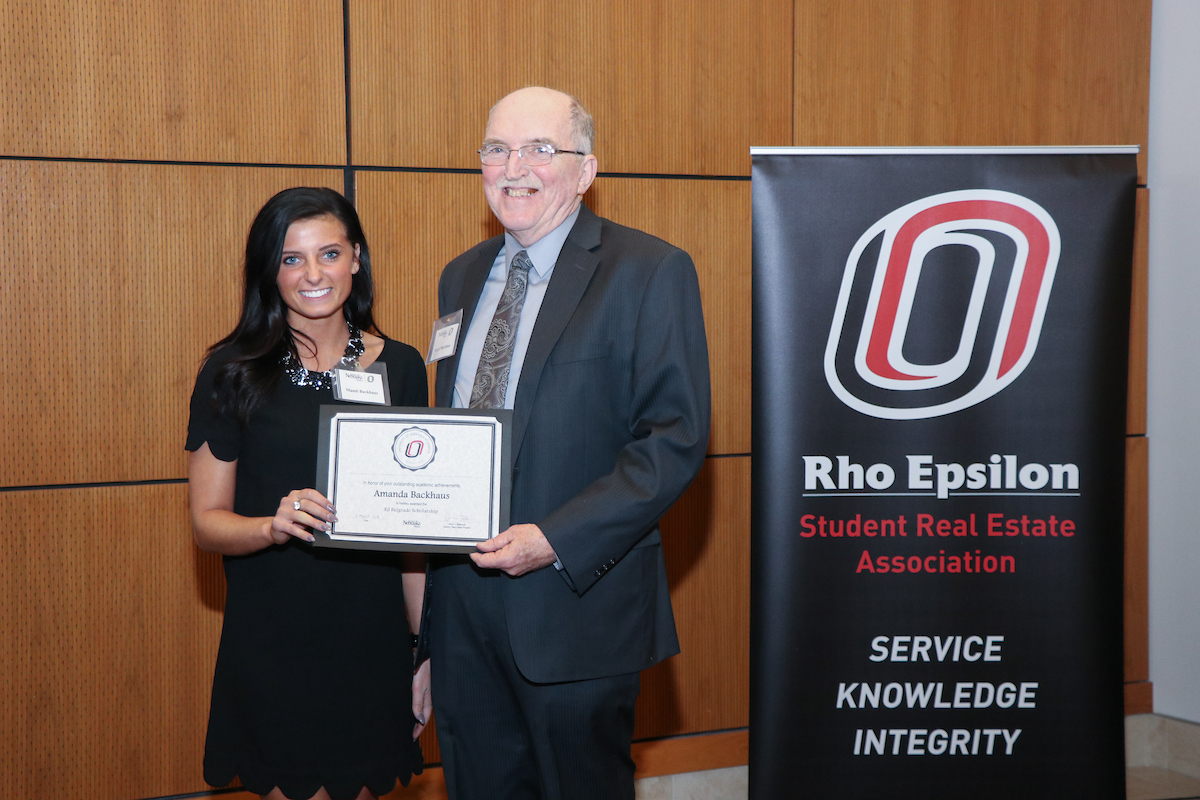 Mandi Backhaus is recognized at the 2018 Rho Epsilon banquet at Mammel Hall.
When Mandi Backhaus first began her journey at the UNO College of Business Administration, she wasn't sure about concentrations. After a meeting with instructor David Beberwyk and academic advisor Kristy Schweitz, Backhaus realized that her interests and skill set aligned with the real estate program.
Now, a BSBA senior with concentrations in Real Estate and Land Use Economics, Marketing, and Management, Backhaus has become Omaha's second ever Commercial Real Estate Women (CREW) Network Foundation scholarship recipient after alumna Tiffany Hunter won in 2018. Backhaus is one of only 20 women to receive the $5,000 scholarship this year, which selects female students poised to become leaders in commercial real estate.
"I am endlessly grateful to be a recipient of a CREW Foundation Network Scholarship this year," says Backhaus. "This will help my goals and dreams turn into a reality as I finish my last year at UNO."
Backhaus will also attend the 2019 CREW Convention in Orlando, Florida later this year and automatically gains membership to both the CREW Omaha and CREW Iowa chapters. These perks provide valuable networking and learning opportunities as she starts her career.
"To be a part of organizations focused on advancing women within the commercial real estate industry is so beneficial and special," says Backhaus. "I'm ecstatic to learn more about the field, meet new people, and grow as an individual."
These opportunities are essential for Backhaus, who is fully committed to the industry. After she graduates May 2020, she plans to work full-time in commercial real estate. She currently interns at The Lerner Company, a commercial brokerage in Omaha. From the beginning, she clicked with the program and has since established herself as a growing real estate professional.
"From day one in her first real estate class, Mandi was completely engaged in lectures, asked thoughtful questions, and routinely helped others," says David Beberwyk, real estate instructor and broker. "She possesses a rare blend of humility, zeal, and intellect."
Backhaus' drive and willingness to be involved has not only propelled her to success, but Beberwyk feels that her partnership with the Omaha chapter of CREW will also strengthen the link between UNO and the community. Backhaus' efforts bring positive attention to Omaha, and her scholarship win encourages new membership in the growing CREW local chapter.
All of these connections are possible because of the synergistic relationship between UNO Real Estate and CREW. Both are committed to supporting the next generation of female leaders in commercial real estate.
"This addition of talented, mentored young professionals to the Omaha commercial real estate market will ensure its vibrancy and viability in the coming decades," says Beberwyk. "It will also 'balance the scales' in this previously male-dominated industry."
And Backhaus is a perfect leader for this effort because she's no stranger to bringing energy and passion to her endeavors. She's the Executive Secretary and Social Media Chair for Rho Epsilon Real Estate Fraternity, Executive Secretary and Director of Programming for Chi Omega Sorority, and a member of both Beta Gamma Sigma and the Student Marketing Association. Above all, she remains open to making connections and finding chances for growth.
"UNO is such a great college because of the many opportunities to get involved, small-community feel, and the ability to connect students with the professional world," she says.
The success and happiness she's experienced in the real estate program is something Backhaus plans on giving back to Omaha in spades.
"A few of my future goals consist of working hard to broker deals and represent clients, develop our beautiful city and surrounding areas, use my creative marketing skills, and ultimately live a happy life!" she says.
---
About the University of Nebraska at Omaha
Located in one of America's best cities to live, work and learn, the University of Nebraska at Omaha (UNO) is Nebraska's premier metropolitan university. With more than 15,000 students enrolled in 200-plus programs of study, UNO is recognized nationally for its online education, graduate education, military friendliness and community engagement efforts. Founded in 1908, UNO has served learners of all backgrounds for more than 100 years and is dedicated to another century of excellence both in the classroom and in the community.