UNO Real Estate's Career-Boosting AQB Certification Renewed
UNO's real estate program achieved renewal of its 2016 certification by the Appraiser Qualifications Board, allowing graduates to apply a majority of their coursework towards becoming a real property appraiser.
published: 2019/06/28
contact: Rachael Smith - CBA Marketing Department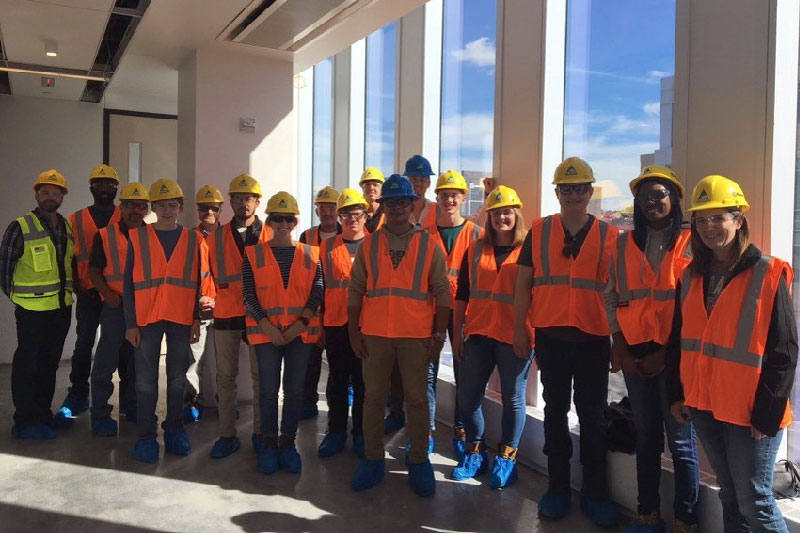 UNO real estate students on a field trip to HDR.
In April, UNO's real estate program achieved renewal of its original 2016 certification by the Appraiser Qualifications Board (AQB), which allows graduates to apply a majority of their coursework towards the hours required to receive real property appraiser licensure.
The AQB is part of the Appraisal Foundation, which is authorized by Congress to establish standards and qualifications for the valuation profession.
This certification is a career-boosting benefit for UNO CBA real estate students, accelerating their ability to break into the appraisal profession by completing approved real estate coursework and ultimately earning or holding a bachelor's degree in business.
"UNO's real estate major encompasses almost all of the facets of real estate, such as finance, brokerage, appraisal, and management," says John Bredemeyer, president of Realcorp Inc., a real estate appraisal company. "With a real estate degree from UNO, a student will have completed most of the courses necessary to become a certified appraiser, and they are also eligible to sit for the Nebraska Real Estate Broker exam."
The UNO CBA Advantage
The breadth of the real estate program differentiates UNO CBA from other business colleges. Bredemeyer says that while colleges may offer some classes in real estate, many don't offer full majors in the field. This gives UNO CBA students an advantage.
Bredemeyer notes that real estate makes up a large component of any business, from identifying the best location to deciding lease terms, and every student should be prepared to understand and provide input on these decisions.
"At Realcorp, we always look to the UNO real estate program for top candidates to join our firm," says Bredemeyer. "We know that their academic studies have prepared them for the next step, which is gaining real-world experience in real estate and appraisal."
AQB certification also allows UNO's real estate program to accelerate students' appraisal careers through interactions with appraisal professionals.
"One of the hallmarks of the UNO real estate program has been, and continues to be, the integration of industry experts into every facet of learning," says David Beberwyk, UNO real estate program director. "This includes class presentations, field trips, networking opportunities, and the regular inclusion of adjunct professors in the classroom."
Invaluable Opportunities, Tangible Benefits
This exposure gives students like Chris Andress, spring 2019 real estate graduate, invaluable opportunities to network with "people of impact" in the appraisal profession.
"While attending UNO, I already started working with my mentor, John Bredemeyer, at Realcorp Inc.," says Andress. "The convenience of the UNO real estate coursework was that upon completion, there were only 2 additional classes and some training hours needed to qualify as a certified residential appraiser."
According to Andress, this career-accelerating benefit was made easier by the unique partnership between UNO and the AQB. The process of preparing for appraisal licensure was trouble-free, accessible, and integrated into his real estate program without ever being overwhelming.
"Since I already had a bachelor's degree in business, I only needed 8 real estate and land use courses required by the AQB," Andress explains. "I was able to take all 8 courses within 3 semesters, while working full-time and having the full support of my wife and 3 girls."
The option to learn through both in-class and online offerings was a major benefit for Andress, too. He was able to gain experience in a wide breadth of real estate topics in convenient class formats – all while working towards his appraisal licensure and holding a full-time job.
"The value of the program is the opportunity for students to apply their education in a broad area of career paths," says Bredemeyer. "They can engage in mortgage lending, appraisal, brokerage, and more. This matters, since real estate makes up one of the largest components of the American economy."
An Emphasis on Quality
Andress stands as proof of the certification's value and why UNO CBA places such emphasis on the quality of the real estate program. Since graduating from UNO, Andress started gaining experience hours as an appraiser trainee under the Realcorp appraisal team. He gets to work on tax appeal and litigation cases with his mentor, both tasks that most appraisers aren't able to take on so early in their career.
Andress is even studying for his Nebraska broker's license, another credential he soon plans to have under his belt. His career is taking off thanks to the boost that UNO's certified real estate program provided him – a perk of attending one of only 11 undergraduate colleges in the nation with AQB real estate approval.
"With the education students receive at UNO, they are prepared to leverage their skills into a successful career," says Bredemeyer. And now, for years more, students can realize and enjoy their career faster through the AQB-approved curriculum at UNO CBA.
UNO CBA offers a Bachelor of Science in Business Administration with a concentration in Real Estate and Land Use Economics. In 2015, the college established the Center for Real Estate and Asset Management to further advance real estate education and research.