Dr. Dusty White Honored with Journal of Economics Teaching's Best Paper Award
White teaches students about labor markets through a beloved sport – baseball.
published: 2019/06/28
contact: Rachael Smith - CBA Marketing Department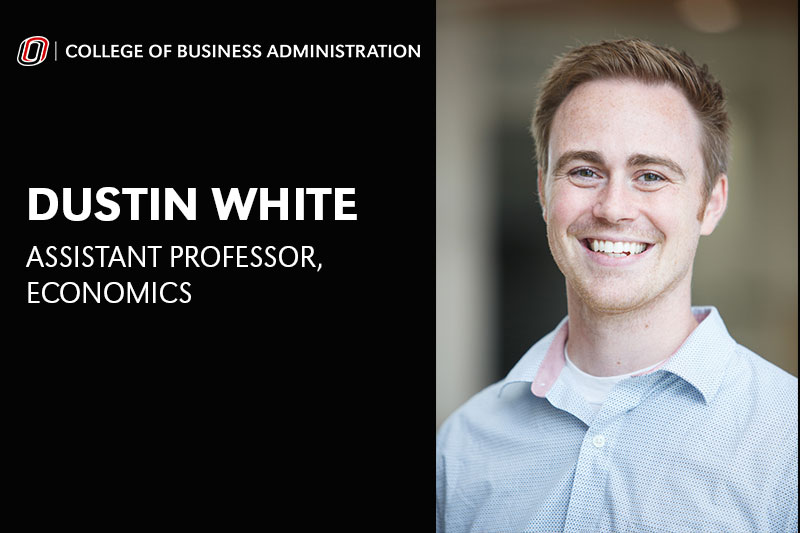 Dr. Dusty White, assistant professor of economics for UNO's College of Business Administration, adds a major accolade to his name after winning the Journal of Economics Teaching's 2019 Best Paper Award for "An In-Class Experiment to Teach Marginal Revenue Product Using the Baseball Labor Market and Moneyball." The Journal of Economics Teaching focuses on providing open-access resources to improve the teaching of economics at all levels, from K-12 to universities.
White's paper details how to use the book and film Moneyball to teach students about labor valuation by firms. He outlines a project in which students collect information about free agent baseball players – those not contracted to a specific team – and, during an in-class competition, create the most talented baseball team possible. The article is paired with a Moneyball simulation game.
The paper and game make a unique contribution to economics by placing students in a simulated labor valuation setting. Students are encouraged to perform thoughtful analysis and collection of data and are engaged through sports, a topic students "are typically familiar with and excited about," White says. "After finishing the competition, students realize that the same technique used to value baseball players can be used to determine the value of workers in any business," he states.
Concepts outlined in the paper and simulation program can be applied to any member of the workforce. In class, White applies the process to his own salary so students understand the reach of the paper's valuation techniques.
The process behind the project has been years in the making. White started his research as a graduate student at Washington State University while teaching Sports Economics. He worked with a colleague to create the process of using Moneyball for economics teaching, and for the simulation program, White went back to Computer Science 101. He learned to program, and now the third version of the Moneyball simulator game is available on most computers.
Both the paper and software are open access in an effort to teach and engage economics students everywhere.
Congratulations to Professor White for this achievement!